Nashville Predators: Full Recap of Preds' Epic First Day of Free Agency
July 2, 2012

Christian Petersen/Getty Images
The Nashville Predators entered the July 1 opening of the NHL free agency period with the future of their franchise up in the air, and the most telling moves have still yet to be done. 
However, there was absolutely no shortage of shocking deals that left Preds fans feeling the roller coaster effect at day's end.
With free-agent defenseman Ryan Suter emerging as one of the top two names in the whole field, numbers have soared for a deal that should likely lock him down in one city for potentially the remainder of his career. ESPN reports that Suter is "fielding many calls" and that Detroit, Pittsburgh, Philadelphia, Minnesota and Carolina are all talking to Suter alongside Nashville. 
Talk of Shea Weber's circumstances as a restricted free agent have been hard to find, so it's possible that he could be waiting to see what Suter and other free agents do before exploring his options.
Regardless, the Predators still had a busy day in the headlines. Here are the moves that actually happened that will affect Nashville on the ice next season. 
*NOTE: Results are continuous
Jordin Tootoo leaves Nashville, signs with rival Red Wings
By effectively pissing off the entire rest of the NHL with gritty play and tenacity during his time with the Preds, Jordin Tootoo became a fan favorite and an icon in Nashville. That didn't keep Tootoo from signing with the enemy. 
TSN's hockey insider Darren Dreger broke the story: 
TooToo agrees to Detroit. 3 years $1.9 per

— Darren Dreger (@DarrenDreger) July 1, 2012
Tootoo has seen his fortune turn many times as a Predator. From troubled to focused and from wildly productive to noticeably expendable, many Preds fans couldn't make up their minds on how they felt overall about the 29-year-old.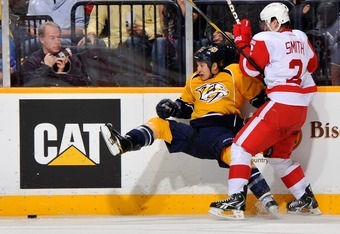 Frederick Breedon/Getty Images
That said, Tootoo saw his numbers spike overall in 2011-12 as he finished with 30 points, which is a dozen more than his previous high. 
Nashville fans have got to have a bitter taste in their mouth with the thought of seeing Tootoo in the enemy red and white six times next season. 
Chris Mason returns to Predators as proven backup goalie
After trading last season's backup Anders Lindback to the Tampa Bay Lightning earlier this month, GM David Poile made it obvious that Nashville planned to turn to free agency for backup-to-star goaltender Pekka Rinne.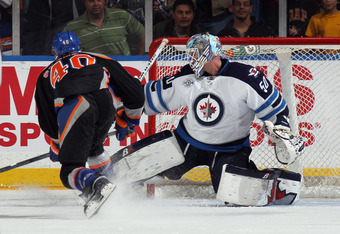 Bruce Bennett/Getty Images
Mason made perfect sense for a Predators organization that is decidedly familiar with the goalie. The 36-year-old started for the Preds for a brief period of his six-year tenure that lasted between 1998 and 2008. 
Kevin Allen of USA Today lays out the numbers of the deal on Twitter: 
Chris Mason will be Pekka Rinne's backup in Nashville. One year deal for $1.25 million plus bonuses.

— Kevin Allen (@kausatoday) July 1, 2012
Mason went 8-7-1 last season with a diminished role in Winnipeg. 
Playing in 73 games last year, Rinne undoubtedly needs a bit of a weight lifted off his shoulders. A proven and reliable backup should be the answer for that.
Francis Bouillon re-signs with former team, Montreal Canadiens
The Preds and Canadiens have been very busy with each other in the last six months with multiple trades that brought in Andrei Kostitsyn and Hal Gill, and they continued their inter-mingling on Sunday.
Free-agent defender Francis Bouillon signed a one-year deal with his former team, according to TSN's Bob McKenzie. 
Francis Bouillon signs in MTL for one year, $1.5M.

— Bob McKenzie (@TSNBobMcKenzie) July 1, 2012
Bouillon has proven reliable as a solid second or third-line defenseman with his stint in Nashville, and should be a solid addition in Montreal.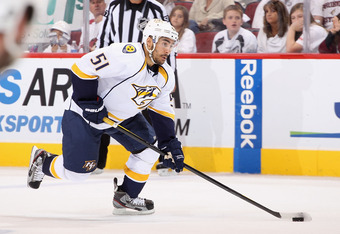 Christian Petersen/Getty Images
He becomes far more expendable to the Preds if they are able to work out deals with Suter or Weber. And with a high-ceiling group of youngsters at the position, this move was no surprise. 
Enforcer Brian McGrattan remains in Nashville
Brian McGrattan didn't lace up too often for Nashville last season, but he was a force to be reckoned with when he did. 
One of the NHL's fiercest enforcers will remain in Nashville to the tune of a one-year, $600,000 contract (per Josh Cooper of The Tennessean) to protect his star players and keep the "smash" in "Smashville." McGrattan took to his personal Twitter account to verify the reports.
the big ern is back in smashville!!!!!

— brian mcgrattan (@bigern10) July 2, 2012
McGrattan is a solid piece to Nashville's puzzle and should prove to be valuable when things get chippy and the "Big Ern" is required to pull out the haymaker. 
-- Stay tuned to this article for more news on the Preds' wild free agency period
-- Follow me on Twitter: @StevenCookBR