Is Buster Posey Really the Best Catcher in the National League?
July 1, 2012

Ezra Shaw/Getty Images
Buster Posey was the leading vote getter for the entire National League with 7,621,370 votes.  He not only beat out his fellow catchers Yadier Molina and Carlos Ruiz for the starting position, he set a new record for the amount of votes received by a National League starter previously set by Milwaukee's Ryan Braun in 2011 (5,928,004). 
While Posey's numbers are deserving of All-Star consideration, he's not leading in any offensive categories, and in fact doesn't even lead his own position in home runs, RBI, average, slugging percentage or OPS.
Astoundingly, he's not even in the top two in any of these categories as many of them are dominated by Molina and Ruiz.  Additionally, with his six errors behind the plate, his fielding percentage doesn't make the top 10 for catchers in the National League. 
The midsummer classic is a game that is played for the fans.  Therefore it is appropriate they are the ones who decide which position players will start the game for each league. 
There is no denying Posey's popularity with the fans, but why do they suddenly feel he is the best catcher in the game, and deserving of the most votes ever for a National League starter?  
Having yet to play a full season in the big leagues, Posey's young career has been full of ups and downs from the very moment he was called up. 
In May of 2010, the San Francisco Giants brought up their star catching prospect after he hit .349 in Fresno with a .552 slugging percentage and a .995 OPS.  Briefly on the big league team in September of 2009, the Giants made the move in hopes that he was ready to make major contributions and ignite an offense that had been struggling.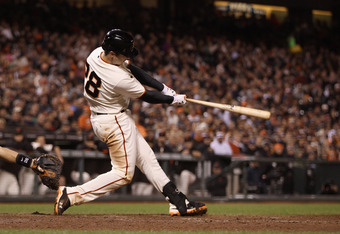 Ezra Shaw/Getty Images
It worked.  Going 6-for-9 with four RBI in his first two games, the young catcher made an immediate impact.  Posey would go on to hit .305, with 18 home runs and 67 RBI en route to winning the NL Rookie of the Year award.  He capped it off by hitting .300 with a home run and two RBI against Texas, and brilliantly handled a dominant staff to help the Giants win the World Series.
Entering the 2011 season, some were already calling Posey the best catcher in the league, and by most accounts, he was in the top five.  All this attention and Posey had less than a year of big league service.
Additionally, Posey didn't catch enough games to qualify for the official stats, but for the 76 games he did catch in 2010, his .991 fielding percentage would've ranked in the bottom 10 for all catchers in the league. 
Still, with most analysts looking at Posey's natural ability, incredible arm and how much he would improve in his second season, the buzz around Posey was his upside and how quickly he would take over the mantle as the next superstar catcher in the league. 
Then Scott Cousins happened.  On May 25, 2011, Cousins came across the plate and hit Posey who was in a bad position after the relay came in late from right field.  Posey was bent backwards and his ankle got caught underneath, breaking his leg and tearing ligaments in his ankle. 
Missing the rest of 2011, no one was sure how Posey would come back from such a horrific injury, especially at such a physically challenging position as catcher. 
Entering play Sunday, Posey is proving he's back and it's not an issue.  Currently hitting .296 with 10 home runs and 40 RBI, Posey has caught 54 of the 78 games the Giants have played, and another 10 at first base.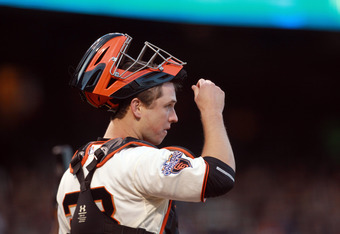 Ezra Shaw/Getty Images
There's no doubting Posey's ability to hit major league pitching and handle a pitching staff, and his value to the Giants in the middle of their order, but is he the best catcher in the game?  Is he even top two?
Statistically this year, he's not.  Yadier Molina and Carlos Ruiz are both ahead of Posey in hits, average, home runs, RBI, slugging percentage and OPS.  Ruiz currently leads the big leagues with a .356 average, and Molina leads all National League catchers with 44 RBI. 
While Posey has been invaluable to the Giants behind the plate, handling the best staff in the big leagues, there's been none better than Molina over the past five years.  Winner of the last four Gold Gloves at his position, Molina is also a three-time All-Star and has two World Series rings. 
It is curious why the fans have suddenly deemed Posey the best in the league when the numbers don't back it up.  Gary Radnich on KNBR's morning show from 9am -12pm likes to make the point that if Buster went by his real name Gerald, there wouldn't be as much hype.
At first I didn't buy it but I'm starting to come around.  Part of it is his young, clean and wholesome, all American look that attracts young and old alike.  It does help that he has the catchy baseball name to go with it, and you can't go to the ballpark without hearing, "let's go Buster."  There's no doubt that Gerald doesn't have the same ring in that cheer.
While Posey may prove to be better than his counterparts as he develops and gets a full season under his belt, what is clear now is the fans are voting on something other than just statistical numbers, and whatever that is, Buster's got it.