Kelly Pavlik: How 'the Ghost' Can Continue His Successful Comeback
July 1, 2012
Ethan Miller/Getty Images
Since his well-documented battle with alcoholism and rehabilitation stint at the Betty Ford Center, Kelly Pavlik has slowly begun to climb out of obscurity and back towards the spotlight of boxing relevance and stardom that he used to occupy as the lineal middleweight champion from 2007 through 2009.
Before his personal demons derailed what seemed like an inevitable march towards superstardom, Pavlik (39-2, 34 KOs) had enjoyed a solid run as champion, though he began to lose some in-ring luster after his second victory over Jermain Taylor.
Part of this had to do with Pavlik's lopsided defeat to Bernard Hopkins in a non-title fight at a catch-weight of 170 pounds, while the three defenses of his middleweight title against Gary Lockett, Marco Antonio Rubio and Miguel Espino were cases of underwhelming opposition supplanting the excitement of Pavlik winning each fight via stoppage.
After losing his title to Sergio Martinez, Pavlik returned to the ring and defeated Alfonso Lopez via majority decision in a close, but lackluster fight—granted, Pavlik's ring-rust was expected after such an emotionally and physically draining layoff.
Another lengthy hiatus ensued, but Pavlik can now comfortably be classified as a fighter on a purposeful comeback after two consecutive wins and a fight scheduled for July 7 against Will Rosinsky (16-1, 9 KOs) on the undercard of the Nonito Donaire-Jeffrey Mathebula super bantamweight unification fight at the Home Depot Center in Carson, California.
In building up to the Rosinsky fight, Pavlik has directed his attention towards his opponent and how to continue his recent positive momentum as opposed to dwelling on the past and the constant queries into his personal life and drinking.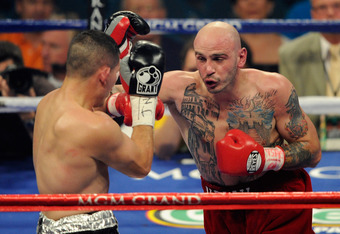 Ethan Miller/Getty Images
It is this singular focus—a focus on boxing and honing his craft—that will help Pavlik continue to be successful in his comeback.
Pavlik has attributed his resurgence to new trainer Robert Garcia and the decision to part ways with longtime coach Jack Loew. Furthermore, by setting up camp with Garcia, Pavlik has moved away from his comfort zone of Youngstown, Ohio and established his boxing base of operations with Garcia in Oxnard, California.
This change of scenery has undoubtedly enabled Pavlik to focus more intensely on his boxing, and the ability to shun the negative temptations of the overly familiar now forms the basis of the positive situation Pavlik has built for himself. If Pavlik wants to win a world title in a second weight division, this serenity will be essential.
Still, Pavlik's partnership with Garcia seems to be more about the craft of boxing than finding a quiet refuge. Pavlik, who has been criticized for his over-reliance on his jab and straight right hand, notices, according to the above-cited article on worldboxingnews.net, that his work with Garcia has led to a greater diversity in his offensive arsenal, including the development of his left hand:
That's what we work on a lot, even on the mitts. A three-piece or four-piece combo — and it's repetitious. It's not once or twice in that round and you're done. Your body gets in that habit—the motor reflex of throwing that combo. We don't just do something then forget about it, we work on it round after round.
If Pavlik wants to again contend for a world title, it is essential that he vary his offensive output. The robotic predictability of a jab followed by a straight right hand—regardless of how powerful that right hand is—is a bare-bones strategy that almost any elite fighter can counter or avoid.
By incorporating a left hook and committed body work into his repertoire, Pavlik can better utilize his natural boxing and athletic ability. That is not to say that Pavlik is the slickest or smoothest boxer around, but the fact that Pavlik, at 30, is keen on learning and developing new skills bodes well for his future success.
While Pavlik's two most recent wins over Aaron Jaco and Scott Sigmon weren't exactly triumphs over world-beaters, they have instilled within Pavlik an essential virtue that could provide the foundation for his comeback: patience.
Naturally, Pavlik desires to recapture the championship success of his days campaigning as a middleweight. Now fighting at super middleweight and not having been in a high-profile fight since losing to Sergio Martinez, Pavlik, it would seem, understands the deliberate process necessary to make him a viable and eventually elite super middleweight.
The fight against Sigmon certainly reinforced this idea of patience as Pavlik systematically battered an opponent who could have gotten under his skin with incessant trash talk. Pavlik's poise and commitment to his game plan was admirable, and he will certainly require similar concentration against Will Rosinsky.
Key to any successful comeback is gradually increasing one's opposition. In fighting Rosinsky, Pavlik is doing just that. As a four-time New York Golden Gloves champion and 2005 U.S. Amateur Champion at light heavyweight, Rosinsky's only loss as a professional came to hot super middleweight prospect Edwin Rodriguez in a fight where the lopsided scores in Rodriguez's favor were dubious. 
Should Pavlik defeat Rosinsky, he will have triumphed over a fighter who has had professional success after a standout amateur career. The Rosinsky fight is challenging, but certainly a test Pavlik should expect to pass if he wants to move towards a high-profile fight.
Assuming Pavlik wins on July 7, it seems plausible that his team will look to secure a major fight. Pavlik has stated his interest in fighting newly-minted 168-pound IBF champion Carl Froch. While Froch will likely look to capitalize on a more significant opportunity, a fight against the likes of Adonis Stevenson or Lucian Bute—who recently lost the IBF strap to Froch—makes sense for Pavlik, at least in principle.
While Pavlik likely wouldn't want to travel to Montreal for either of those fights, both matchups, especially the one against Bute, would be a high-stakes crossroads fight.
Kelly Pavlik seems to be in a good place. As for Pavlik's comeback, its careful crafting has been perfectly reasonable, and, considering everything he's been through, Pavlik appears poised to continue his march towards world championship redemption.