Can North Carolina Be the Next Big Mecca of Professional Sports?
July 2, 2012

Scott Cunningham/Getty Images
There are three professional teams in North Carolina (not including minor league affiliates). The Carolina Panthers and the Charlotte Bobcats both call Charlotte home, and the Carolina Hurricanes are a short ride up to mid-state in Raleigh.
I know what you're thinking...what the hell is this guy going on about?
These are three franchises that, for the most part, have been mediocre for as long as mediocrity can be had. This is especially true of the Bobcats, who only have one playoff appearance and no playoff wins in their entire franchise history. The Panthers have one Super Bowl appearance, which they lost in 2003, and the Hurricanes own the state's only professional sporting championship with the 2006 Stanley Cup victory.
I'm not going to share the history of all three teams with you—it's full of depression, underachievement and mediocrity for the most part.
But we, as Carolina sports fans, are standing at a crossroads. There is still a ways to go for each team (one in particular), but these three teams are beginning to make a permanent mark on the world of sports that can't be ignored for much longer.
Carolina Panthers
I'll start with, I guess, the fairly obvious. After drafting Cam Newton last year, the Panthers saw immediate improvement. Not only did Cam have the best rookie season on record, he revitalized Steve Smith's career and opened up what was already a dangerous running game even more (both Jonathan Stewart and DeAngeleo Williams averaged 5.4 yards per carry in 2011-12).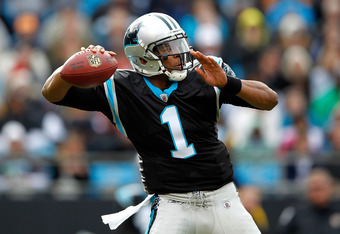 Streeter Lecka/Getty Images
Jon Beason is back, Thomas Davis might be back, they added a future Pro Bowler in Luke Kuechly, injuries are gone and there are several other rookie defenders with high expectations and exciting futures. The point is, the defense is going to be much better than last year.
The offense, led by the running attack, will be one of the best in the NFL. Cam Newton can run and throw, and with Rob Chudzinski making the plays, the Panthers are going to shock whatever team they play with their open-ended creativeness.
They could win what is a fairly wide-open NFC South, they could be a wild-card team, or they might miss the playoffs in need of one more year of building the team, but the Panthers are on the right track to building a dynasty.
Carolina Hurricanes
As mentioned earlier in this article, the 'Canes have the only professional sporting trophy in the Carolinas, back in 2006 when they shocked the world and won the Stanley Cup. Since then, the 'Canes haven't been bad, but with exception to another rather remarkable 2009 playoff run, they haven't been great either.
They have the right pieces in many regards. Eric Staal is one of the best players in the game, Jeff Skinner is one of the best young players in the game and Cam Ward (when he has a defense in front of him) can be one of the best goalies in the game.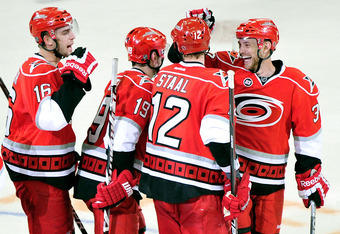 Grant Halverson/Getty Images
The 'Canes took a major step forward this offseason by trading for Eric's brother, Jordan, who also plays centre. The former Penguin then signed a 10-year, $60 million extension with the 'Canes, ensuring many years of Staal-Staal connections. The truly exciting thing about Jordan is his desire to come to Carolina to play with what he saw as a team with a great future and his brother, as he turned down the same deal offered to him by the Pittsburgh Penguins.
The Hurricanes are going to remain active in free agency, and seem to be a front-runner for the biggest prize of them all in Zach Parise. There are questions about how they are going to play the Staal brothers (both are centres) and Parise. 
Skinner is a young up-and-comer, the Staal brothers are leaders and provide excellent chemistry to the team, and with Cam Ward guarding the net, all they have to do is score—which they will do in abundance, with or without Parise.
Hopefully they get Parise, though. Just sayin'.
Charlotte Bobcats
Okay, okay. Look...I get it. They're bad. They're really, really bad.
That out of the way, they're not that bad—at least, not for long. I'm trying to keep all three of these relatively short, but I'm inclined to tell you about how young this team is, and how much raw talent is there that is just waiting to explode.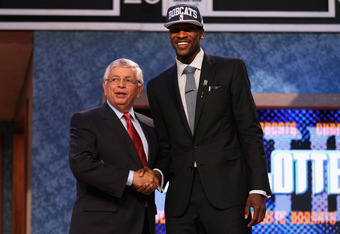 Elsa/Getty Images
With a new head coach, a new style of play, more emphasis on up-tempo offense and transition, and aggressive defense, the Bobcats have something to work with. Kemba Walker was a victim of the shortened season and no offseason to prepare properly, as was power forward Bismack Biyombo, both of whom were rookies.
They are both going to continue to get better. Gerald Henderson had something of a breakout year with the 'Cats, and in my humble opinion, will be the best player on this team next year by averaging around 20 points per game.
They got the better of a trade, getting three-point specialist Ben Gordon to come off the bench and give the team a veteran presence. Gordon has already stated that this is his chance to revitalize his career, and he has every chance to do that.
The Bobcats also had an excellent draft by selecting small forward Michael Kidd-Gilchrist second overall, and small forward Jeffery Taylor with the first pick of the second round. MKG is a natural leader, and he's only 18. He needs a jump shot, but once he develops it (which he will), he's going to be the next, better version of Gerald Wallace.
Taylor is more offensively refined than MKG at this point, and could split time with Hendo at the 2. He can score from all points of the court, including from behind the arc, where he shot over 40 percent last season at Vanderbilt.
I could keep going on and on. The Bobcats are not going to be a great team next year—there is still development to do. But with a ton of cap space in the next two seasons, some free agents might look at this youthful, energetic and rawly talented team, and decide they want to play here to help these kids get better. Sooner or later, with the talent tapped and the right players on the court based around the excellent building blocks already in place, Charlotte could become a contender within three to four years.
Yeah, I said it. A contender. 
So there you have it. I know we don't have an MLB team (*mumble mumble sob groan*), but there are three major franchises in the state of North Carolina that are bursting at the seams ready to explode with the talent they have.
The Hurricanes and the Panthers are likely going to be playoff contenders in the coming year, the Bobcats are still a while away, but all three have very bright futures North Carolina is about to become a state of champions.
A mecca of great professional sporting teams.