NHL Free Agents 2012: Ryan Suter, Does History Favor a Deal with the Flyers?
July 1, 2012
Christian Petersen/Getty Images
Ryan Suter to the Philadelphia Flyers? Free agency rumors are flying around wildly now that July 1 is upon the NHL world. Suter is the best available unrestricted free agent defenseman this summer.
The All-Star defenseman totaled 46 points in 79 games last season with the Nashville Predators. Touted as a "complete package" defenseman with shut-down abilities in addition to his offensive skill, Suter is sure to receive long-term offers with cap hits above $6 million per season.
The Philadelphia Flyers have six competent defenseman signed for next season: Kimmo Timonen, Braydon Coburn, Andrej Meszaros, Nicklas Grossmann, Luke Schenn and Chris Pronger.
Pronger's health has been in question since being declared out for rest of the 2011-12 season after suffering a concussion. Periodic updates on Pronger are not optimistic; every time news about Pronger's condition comes out, it is almost always something similar to "relatively the same, headaches from time to time."
Still, any time a team can put players like Grossman and Schenn on their third defensive pair, they are doing well.
So, if the Flyers were able to add Suter, it would be a very good group of defenseman playing in front of Ilya Bryzgalov, who was once nominated for the Vezina Trophy as the NHL's best goalie.
The Flyers have enough space to sign Suter; with a $70.2 million salary cap, the Flyers have $10.4 million in cap space. After signing Suter, who could require a $7 million cap hit, the Flyers would still need to sign two forwards to fill out a 22-man roster.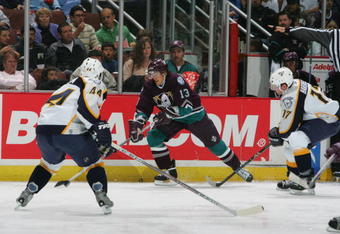 Harry How/Getty Images
One of those players could be restricted free agent Jake Voracek. He would likely cost above a $3 million cap hit. NHL teams are allowed to exceed the salary cap by up to 10 percent in the offseason, so Philadelphia could certainly sign both players.
They would be able to afford them by putting Pronger on the Long Term Injury Reserve. If they were up against the cap when Pronger goes on the LTIR, the move could provide up to $4.9 million in relief.
Sam Carchidi of the Philadelphia Inquirer and Pierre LeBrun of ESPN reported that the Flyers offered a contract to Suter after the NHL's free agency period opened on July 1.
Tim Panaccio of CSN Philly reported that the offer is a 10-year contract.
The Flyers' history of signing former Nashville Predators free agents would not begin with Suter.
During the 2006-07 season, the Flyers were on their way to finishing last in the league. While this eventually resulted in the team drafting James van Riemsdyk second overall in the NHL draft (who was traded for Schenn last week), it also resulted in the team trading Peter Forsberg to the Predators for a first round draft pick, Scottie Upshall and Ryan Parent.
Upshall was eventually traded for Dan Carcillo, who left through free agency last summer. Parent left through free agency after 2010.
The first round draft pick was traded back to Nashville that summer for the rights to Scott Hartnell and Kimmo Timonen. Timonen was arguably the best available free agent that summer, much like Suter is now.
The Flyers signed both players to long-term deals. They are both core members of the Flyers who have worn the alternate captain's "A" in Philadelphia.
It would not be out of the ordinary for Philadelphia to pick up the former big-time free agent from Nashville.
Jason Sapunka covers a variety of NHL topics and is available on Twitter for day-to-day updates, commentary and analysis.