Wimbledon 2012 Draw Analysis from 4th Round: Novak Djokovic Favored
July 1, 2012

Julian Finney/Getty Images
Wimbledon is taking its annual break as the middle Sunday has arrived in London—the day in the tournament's fortnight when there typically is no play. What will follow is the biggest day of tennis in the calendar year with all 16 of the players remaining in the men's draw scheduled for action on Monday.
Novak Djokovic, the World No. 1 and Wimbledon's defending champion, is still considered the favorite to win Wimbledon 2012.
He has to be happy with his fourth-round matchup as he faces countryman Viktor Troicki on Monday—a player that he has dominated over the years.
Since losing their first matchup back in 2007, Djokovic has defeated Troicki in 11 straight matches. That's part of the reason why the World No. 1 is considered a crushing -4000 (1/40) favorite to beat Troicki in the fourth round (via bet365).
Djokovic is likely to face Richard Gasquet in the quarters.
Gasquet, a noteworthy grass-courter, is scheduled to face No. 31-seeded Florian Mayer on Monday. Mayer, who was in Tomas Berdych's section of the draw, has played some of his best tennis in the last year and he could challenge Gasquet.
However, the Frenchman is into the fourth round having not lost a set at Wimbledon 2012. Moreover, he has not yet even been pushed to a tiebreaker at this year's All England Club and he is playing sharp tennis.
A former semifinalist at the All England Club, Gasquet is very effective on grass, and Djokovic will need to be at his best to win his quarterfinal match should he face the Frenchman.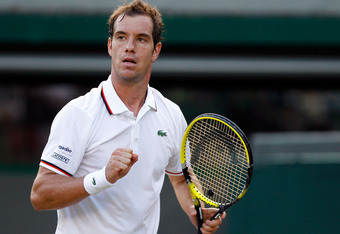 Paul Gilham/Getty Images
The second quarter, at first glance, clearly appears to be all Roger Federer's. He shares a quarter with two unseeded players and a low seed in Mikhail Youzhny.
However, Federer survived a near miss in the third round as Julien Benneteau came within two points of taking the Swiss Maestro out of the tournament.
Xavier Malisse, Federer's fourth-round opponent, might only be the 75th-ranked player in the world, but on grass he's a different story. A former semifinalist at Wimbledon, Malisse has eliminated five seeded players in the last three years at the All England Club, including two this year.
The Belgian, despite his current ranking, is a much better grass-court player than Benneteau and perhaps a close fourth-round match against Federer could be expected.
Youzhny's match against Denis Istomin is one that will produce a first-time Wimbledon quarterfinalist.
For Istomin, he has never actually made a fourth-round match in any Slam prior to Wimbledon 2012.
Youzhny, on the other hand, has been this far in a major on many occasions, but he has to be relishing his chance to make his debut in the Wimbledon final eight through such an inexperienced player.
The bottom half of the draw features what looks like it could be the best match on Monday in terms of competitiveness.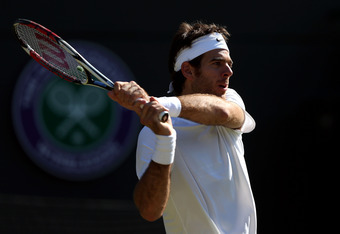 Clive Rose/Getty Images
Juan Martin del Potro and David Ferrer will meet in the fourth round for the right to advance to the quarters.
This matchup is another one that will produce a first-time Wimbledon quarterfinalist.
David Ferrer, a veteran on tour, has been to the final eight of each of the other three slams, but he's never been able to accomplish that feat at SW19.
The same could be said of del Potro, although it should be pointed out that the Argentine is still just 23 years old while Ferrer is 30.
The Spaniard leads del Potro on head-to-heads 4-2. Ferrer is 2-0 since Delpo returned from his wrist injury.
This matchup largely looks like a coin toss with the oddsmakers making the Argentine a mild favorite (-129, via Sportingbet).
The winner between del Potro and Ferrer will meet the winner between Marin Cilic and Andy Murray.
The two players have met six times in the past, and Murray has won five of those matches. Fans of the Brit and the Croat alike will certainly remember Cilic's lone win as it actually came in the fourth round of a major—that being the 2009 U.S. Open.
Cilic is a player who looked to be a major-impact player following the 2010 Australian Open, when he made that tournament's semifinals. However, over the last two years or so, he has been quite disappointing.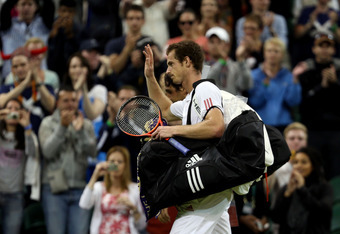 Julian Finney/Getty Images
Perhaps he is returning to form, as he picked up a title just prior to Wimbledon and now he is back into the fourth round of a major for the first time since the 2011 Aussie.
Murray looks great to make the quarters not just due to superior talent, but due to the fact that Cilic played a marathon match in the third round.
Cilic defeated Sam Querrey in the third round in a match that featured three tiebreakers and a 17-15 final set. All totaled, Querrey and Cilic played for about 5.5 hours, and I don't think that Cilic will have anything left in the tank against Murray.
The bottom quarter is one that Jo-Wilfried Tsonga has to be feeling quite ambitious about. He is set to face Mardy Fish in the fourth round, a player that has struggled for large parts of 2012. Fish is just 10-6 on the season and he is 0-2 in his career against Tsonga.
Additionally, the Frenchman is the much more proven player in big matches. He has won seven fourth-round matches in his career, while Fish, at the age of 30, has only three wins this deep in a major.
Tsonga looks great to advance to the quarters, where he would then face a first-time Grand Slam quarterfinalist.
Philipp Kohlschreiber has enjoyed a modestly successful career, but the veteran has never made it to the final eight in a major. His fourth-round opponent is Brian Baker, a player who is playing in his first Wimbledon at the age of 27, having lost a huge chunk of his playable years to health problems.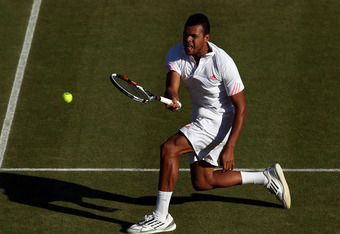 Clive Rose/Getty Images
Baker is the sentimental favorite to advance to the quarters, while Kohlschreiber is the modest betting favorite (-187, via Coral). Both players have to be ecstatic, not just to be into the fourth round, but to be into the fourth round with a match that each player can seriously hope to win. 
The semifinals largely appear to be shaping up as showdowns between Roger Federer and Novak Djokovic in the top section and Andy Murray and Jo-Wilfried Tsonga in the bottom section.
However, Wimbledon 2012 feels like a much more wide open tournament than what we've been accustomed to over the last couple of seasons.
Part of that is due to the fact that Rafael Nadal is out, but it's also partly due to the fact that Federer does not appear to be playing tip-top tennis. Additionally, Djokovic, despite being the defending champion, has suffered some bad losses at the All England Club over the years.
That doesn't mean that a final between Richard Gasquet and Juan Martin del Potro can be expected.
But I think the winner of the Ferrer vs. del Potro match will threaten to catch Murray's attention in a prospective quarterfinal matchup. Richard Gasquet is certainly a possible spoiler on the top half of the draw for Djokovic fans.
In other sections, Tsonga and Federer have draws to the semis that they need to take full advantage of. Neither one of those two players has a prospective opponent in his path ahead of the semis that a Grand Slam title threat should lose to.