MLB Trade Speculation: 3 Teams That Would Sell the Farm for Carlos Gonzalez
July 1, 2012

Doug Pensinger/Getty Images
With the trade deadline roughly a month away, we have a good idea of who the big names are that could be available between now and July 31.
However, each season there seems to be that one surprise big-name star whose team shocks the baseball world and puts him on the block. Last year, it was the Rockies making ace Ubaldo Jimenez available and eventually trading him to the Indians.
So who could be the team that pulls off a shocker this season? How about those same Colorado Rockies, who are currently sitting at 30-47 on the season and have a lot of work to do to get back to contention.
That was enough for New York Post writer Joel Sherman to suggest that the Rockies could explore moving superstar left fielder Carlos Gonzalez before the deadline.
He pointed to the fact that the Rockies, who are a relatively low-budget team, will be paying Gonzalez and shortstop Troy Tulowitzki a combined $36-$40 million per season from 2014-2016.
Following a breakout season in 2010, Gonzalez inked a seven-year, $80 million extension that runs through 2013 when he'd be 31 years old.
There is no denying that Gonzalez is a stud, and after a down year in which he battled injury last season he is back to elite form with a .338 BA, 17 HR, 58 RBI line that should make him an All-Star for the first time in his career.
Sherman points to the fact that the market is incredibly weak on hitting and the Rockies are again struggling as reasons why this could be the time to move:
The question is whether the Rockies should be proactive when they are again a poor team and trade Gonzalez before his expensive years, at a time when offense is in such great demand they may be able to pull off a Herschel Walker-type deal.
So while a CarGo deal is purely speculation at this point, here is a look at three teams that have a need and the trade pieces to pull off a blockbuster deal for the star outfielder.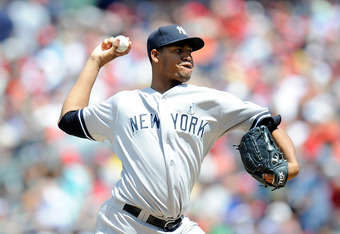 Greg Fiume/Getty Images
The Yankees have spent much of the season with 40-year-old Raul Ibanez as their starting left fielder, with Brett Gardner playing in just nine games this season due to an elbow injury.
On the other side of the outfield, Nick Swisher is in the final year of his contract and could be on his way out of New York despite a solid four-year run with the team.
Adding Gonzalez would give them another relatively young offensive star alongside Robinson Cano and Curtis Granderson. It would cost them a ton, but here is a look at what the Yankees could offer up.
SP Ivan Nova (15 GS, 9-2, 4.03 ERA, 25 Years Old)
SP Dellin Betances (Organization No. 3 prospect, Baseball America No. 63)
CF Mason Williams (Organization No. 5 prospect, Baseball America No. 85)
SP Adam Warren (Organization No. 15 prospect)
IF Eduardo Nunez (.294 BA, 7 R, 51 AB, 25 Years Old)
Dealing for Nova would give the Rockies a solid young starter who would immediately be the best pitcher on the big league staff.
Warren is a big league ready arm with potential to be a solid middle of the rotation guy moving forward, and while Betances is struggling in Triple-A, he still has tremendous upside as well, even if he winds up in the bullpen.
Williams has as much upside as any low-level minor league prospect, while Nunez is a versatile infielder and could slide in as the everyday second baseman.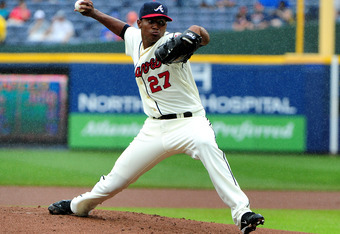 Scott Cunningham/Getty Images
The Braves have been in the market for another powerful bat for the middle of their order since the deadline last season, and Gonzalez could be the answer.
Dealing for him would shift Martin Prado to a super utility role for now, before he slides in as the team's everyday third baseman next season after Chipper Jones retires.
Atlanta has the pieces to pull off the deal, it will just be a matter of whether they would be willing to move their top pitching prospects. Here is what the package could look like if they do.
SP Julio Teheran (Organization No. 1 prospect, Baseball America No. 5)
C Christian Bethancourt (Organization No. 9 prospect)
RP Billy Bullock (Organization No. 24 prospect) 
RP Cory Gearrin (Organization No. 29 prospect)
If the Braves were willing to include Teheran in the deal, it would not only make them front-runners for Gonzalez but would likely mean they wouldn't have to give up a ton more.
They have their catcher of the present in Wilin Rosario, but teams rarely balk at the opportunity to acquire a top-notch backstop and that is exactly what Bethancourt is.
Meanwhile, Bullock and Gearrin would give the team a pair of young relievers capable of stepping into the bullpen right now and improving a group that is one of the worst in the league. Really though, the prize of the deal is Teheran who would give the Rockies a future ace alongside Drew Pomeranz atop the rotation.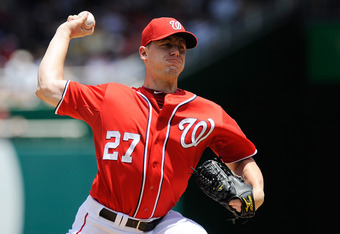 Patrick McDermott/Getty Images
The Nationals have been searching for a franchise center fielder for several seasons, and now that Bryce Harper has proven he can play center, a corner outfielder will do just fine.
With Adam LaRoche likely gone in free agency at season's end, Michael Morse will shift back to first base next year and Werth and Harper would man center and right field with CarGo in left.
The team dealt four of its high-end prospects to the A's for starter Gio Gonzalez this winter, but they may still be able to throw together an intriguing deal that could look like this:
SP Jordan Zimmermann (15 GS, 4-6, 2.77 ERA, 26 Years Old)
SS Ian Desmond (.275 BA, 13 HR, 43 RBI, 26 Years Old)
RP Drew Storen (43 Saves, 2.75 ERA in 2011)
SP Robbie Ray (Organization No. 13 prospect)
This package makes sense if the Rockies feel they can turn things around more quickly as opposed to a full-blown rebuilding effort.
Zimmermann gives them a young staff ace, and while the Nationals would hate to part with him, he has battled injuries in the past and is far from a sure thing moving forward.
Desmond, whose value is likely to never be higher than it is right now, could give the Rockies a long-term answer at second base. The Nationals, meanwhile, could shift Danny Espinosa to shortstop and use either Anthony Rendon or Steve Lombardozzi at second base in the long run.
Storen gives the Rockies a closer now and for the future, as current ninth inning man Rafael Betancourt is 37 years old. Tyler Clippard has proven more than capable of closing and will likely push Storen to a setup role once he returns this season.
Ray, the only prospect in this package, pitched well as a 19-year-old at Single-A last season and has plenty of upside. It may seem as though the Nationals are giving up a lot here, but that is what it would take for a team low on prospects of interest to the Rockies to pull off this deal.