Flyers Rumors: Why Trading for Rick Nash Would Be Risky Move for Philadelphia
June 30, 2012
Christian Petersen/Getty Images
The Philadelphia Flyers are back in the Rick Nash sweepstakes, but a move may end up being too risky and too expensive to have a positive effect on the team.
It seems more likely than ever that a deal could happen soon, according to Tim Panaccio of CSN Philly:
Source says Flyers are again talking with CBJ on Nash and it is serious

— Tim Panaccio (@tpanotchCSN) June 30, 2012
The Columbus Blue Jackets' asking price could be too steep to make the move efficient. Sources told Panaccio that Columbus GM Scott Howson wants both Brayden Schenn and Sean Couturier in the deal.
Schenn is happier than ever in Philly after his brother, Luke, was acquired by the Flyers in a trade with the Toronto Maple Leafs (per The Canadian Press). The last thing Philadelphia would have in mind after making that deal earlier this week would be to part ways with Brayden.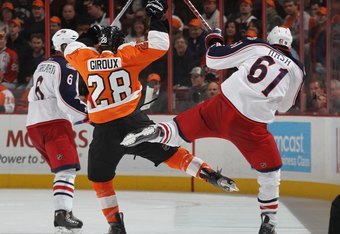 Bruce Bennett/Getty Images
Also, the Flyers had to give up a hefty sum to complete that deal. They sent James van Riemsdyk to Toronto in the trade, who was a high-ceiling youngster that the fanbase had high expectations for. Parting ways with JVR takes a hit on their offensive depth.
At just 20 years old and a former fifth overall pick, Brayden Schenn has been pegged to be Philly's next franchise star. Nash might be one of the best goal scorers in the league, but Schenn's potential could arguably be as important to the Flyers than adding more scoring threats.
Couturier has equally high expectations after being drafted No. 8 overall in the 2011 draft, and the 19-year-old gives Philadelphia a strong core of young players that the organization hopes will translate into decades of continued success.
Deal one or both of those players, and suddenly the Flyers have an incredibly less stable future ahead of them.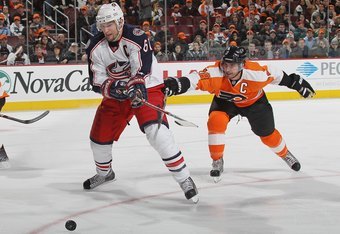 Bruce Bennett/Getty Images
Sure, they'd get one of the best scorers in the league in return, but is that really what they should be looking for?
Philadelphia's shortcomings last year didn't come from a lack of scoring. Hockey sensation Claude Giroux has been putting up Nash-like numbers as of late, and they get a solid amount of production under him from an unselfish team.
Nash would also hurt the Flyers' salary cap. His $7.8 million would be easily consumable by many teams, but Philly enters the free agency period with just $12 million in space, according to Panaccio.
With a hopeful new collective bargaining agreement forthcoming, the salary cap should shrink and make it even harder to hold on to players with Nash's deal eating up so much room. 
It's not doomed to failure, and it's not a home run. It's just risky, which is why the Flyers are best set staying out of the Rick Nash sweepstakes and continuing forward with their strong team.