NBA Draft 2012: 2nd-Round Picks Who Will Become Contributors
June 30, 2012

Andy Lyons/Getty Images
Draymond Green, Doron Lamb and Darius Miller are all second-round draft picks from the 2012 NBA draft that will become contributors for their teams.
It's safe to say that second-round picks don't pan out at a far higher rate than first rounders, so if a team can snag a guy in the second round that ends up being a contributor, they've done well for themselves.
Credit to where it is due in the 2012 draft: The Warriors (Green), Bucks (Lamb) and Hornets (Miller) all made fantastic picks, and they will eventually be rewarded with a player that can help lead them to success in the future. These players may even make quite an impact now.
Let's break these picks down.
Golden State Warriors: Draymond Green, Small Forward, Michigan State, No. 35 overall pick.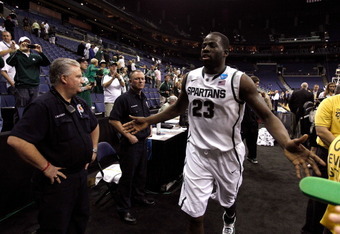 Rob Carr/Getty Images
Green is a player that could have gone in the late first round, so the Warriors are really getting a steal at No. 35 overall. He's coming out as a senior with a ton of experience at Michigan State, was coached by one of the best in Tom Izzo, and was highly regarded as a leader for the Spartans.
He's going to bring those intangibles as a person, but as a player he can be dangerous. He's strong and big enough at 6'7'', 230 pounds to go into the paint, and he's comfortable down low. That said, he was also the floor leader for the Spartans and can dribble and control the ball very well.
This makes him a very versatile option coming off the Warriors bench, and he'll be utilized in a ton of mismatches. 
Milwaukee Bucks: Doron Lamb, Shooting Guard, Kentucky, No. 42 overall pick.
Chris Graythen/Getty Images
The pickup of Lamb in the second round could really play major dividends in the future for the Bucks. He's a guard that can be dangerous from outside, but he can also penetrate the lane, get up a shot and make things happen.
He scored 13.2 points per game on a very talented Wildcats team, and he should be able to fit in nicely with what the Bucks are trying to do. They were able to acquire veteran big man Samuel Dalembert via trade and then drafted North Carolina big man John Henson with pick No. 14. With Monte Ellis and Brandon Jennings in the backcourt, Lamb could prove to be a very reliable scoring option off the bench, which would relieve a ton of pressure from the starters.
Expect Lamb to settle in with the Bucks as a very effective scorer off the bench.
New Orleans Hornets: Darius Miller, Small Forward, Kentucky, No. 46 overall pick.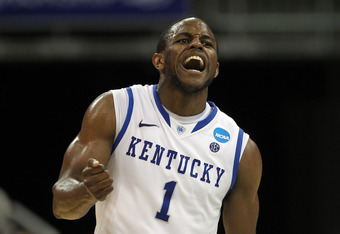 Jonathan Daniel/Getty Images
Surprise, surprise—another Kentucky player. This time though, the Hornets find themselves with the experienced senior that averaged 9.6 points, 2.6 rebounds and 2.1 assists per game for the nation's best team.
Miller is a big guard/small forward type at 6'8'', 225 pounds, so he shouldn't have any trouble transitioning to the NBA game. He has experience coming off the bench and making a big impact, as that's what he did on KU's national championship team, so expect him to do well in that role with the Hornets.
He can come in and give the Hornets a starter's effort when they need him off the bench. Also factor in that he should be a great presence for No. 1 overall pick Anthony Davis, as they were teammates at Kentucky.
Expect Miller to play a huge role on this team in the future, and perhaps even sooner.