NFL Fantasy 2012: Why Ray Rice, LeSean McCoy, Arian Foster Could Disappoint You
June 30, 2012

Rob Carr/Getty Images
It's not a secret that this year's running backs all have huge question marks hanging over their heads, scaring fantasy owners from the prospect of drafting them. There does, however, happen to be a consensus that Ray Rice, Arian Foster, and LeSean McCoy are the top-three backs and generally are "can't misses," right? 
It can happen though. Last year, Chris Johnson let down all his owners. The year before that, it was Maurice Jones-Drew. And the year before that, Matt Forte was drafted, on average, at No.5 overall on ESPN and wasn't even close to the top 10 in points.
The scary part is, there weren't really warning signs, nor any experts to tell you what could go wrong with investing a top-three pick with those guys. CJ2K was expected to dominate an easy schedule, MJD was the consensus No.3, and Matt Forte was coming off a great rookie season and a situation where he was in line for even more touches.
History says that one of 2012's fantasy's Ray Rice, Arian Foster, or LeSean McCoy will not perform super well. I'm going to take a look at each one and tell you why they might follow in the footsteps of the guys above.
Ray Rice
For my money, this guy is least likely to underperform. He's consistent, the Baltimore Ravens absolutely love him, and even without touchdowns, has proven he can be a great fantasy asset.
With every talented back, however, is a variable amount of weight in which he must rely on his offensive line, no matter how good he is. According to ESPN's John Clayton, the magic combined age for an offensive line's stark decline is around 150. That's to say, if your O-linemen are all over 30, their play will suffer.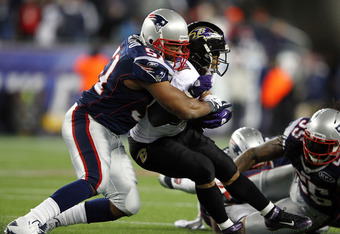 Al Bello/Getty Images
Let's forget about the loss of Ben Grubbs, who is, for my money, one of the best run blockers in the league. They signed Bobbie Williams to replace him, who is 35. Matt Birk, the center, is 35 as well, and just had a procedure done on the veins in his legs. Throw that in with Bryant McKinnie's weight problems, and the writing could be on the wall for these guys. Their combined age, is a startling 155.
If anyone can overcome this, it's the hard-hitting Vonta Leach and the elusive Ray Rice. But many a good runner have been plagued by poor play on the offensive line.
Arian Foster
This guy was a beast last season, so how might one figure he'd underwhelm this season? He basically missed or barely played in three games last season, yet still finished fourth among backs. Like Rice, he suffers from offensive line problems. The Houston Texans let go of Mike Brisel and Eric Winston, the entire right side of his offensive line from '11, who were both unbelievable run blockers.
That's not my beef with Foster, though. It's the fact that he has a backup who, honestly, might be just as good if not better than he is. Ben Tate is a monster. He's two inches shorter than Foster, but runs a 4.4 40 yard dash, and used that to average an absolutely monster 5.4 yards per carry last season. 
He's more explosive, too. According to ESPN's Ken Daube, Tate had 175 carries last season and ran for 10 yards or more on 34 of those. That's compared to Foster, who did it 32 times, but needed 278 carries to do so. We forget that Tate was the one drafted in 2010, they drafted him to be the feature back. Then Tate got hurt, Foster had his magical 2010 season, and now he's the starter.
Tate is a tough runner who always breaks tackles, doesn't get stuffed in the backfield, and will eat into Foster's carries much more than you think in 2012. I wouldn't be surprised if it were an outright platoon.
LeSean McCoy
I picked McCoy to be one of the studs whose production will drop mightily in 2012, and I stand by that. I talked about how he had 20 total touchdowns in '11, but had never broken double-digits before and it would be foolish to expect Michael Vick to have only one rushing touchdown again.
Well, you might point to the fact that McCoy was among the league leaders in carries inside the 10 with 21, and that given those chances, he'll be totally able to repeat, right? Of his 17 total touchdowns, 13 of them were from 10 yards or shorter. However, the year before, he had just seven, and only two of them came from short distance. What gives? Well that was the year Michael Vick had nine rushing touchdowns in just 12 games.
So which McCoy will we see in 2012? Will we see a situation where they protect Vick by letting McCoy handle all the grunt, short-yardage work? Or will they attempt to add more explosiveness to the offense by letting Vick keep it a bit more?