San Francisco 49ers: Can Jim Harbaugh Repeat as NFL's Head Coach of the Year?
June 30, 2012

Thearon W. Henderson/Getty Images
After just one season as the San Francisco 49ers head coach, Jim Harbaugh has already joined some elite company.
Harbaugh and his staff stepped in and immediately righted the ship in the Bay Area, taking a feisty 49ers squad all the way to the NFC Championship game and earning AP NFL Head Coach of the Year honors in the process.
As far as the Associated Press is concerned, only two previous 49er head coaches have been named coach of the year.
Bill Walsh in 1981 and Dick Nolan in 1970. 
Walsh and his team won a Super Bowl the year he was named the winner. And Harbaugh's team came very, very close in 2011.
Heading into 2012, the 49ers are equipped with one of the more intelligent and well-rounded coaching staffs the NFL has to offer.
Offensive coordinator Greg Roman and defensive backs coach Ed Donatell drew interest from teams around the league this offseason, but are ultimately staying right where Harbaugh wants them.
So, the staff Harbaugh has assembled in San Francisco is good. Very good. So good, actually, that they've turned a once-completely lost 49er squad into perennial Super Bowl contender in the matter of one season. And a season with basically no training camp, at that.
But are they good enough to help Harbaugh earn coach of the year honors for a second straight season?
According to history, the chances are slim.
Since the AP NFL Head Coach of the Year award originated in 1957, only two head coaches have been crowned the winner for back-to-back seasons. The last time it occurred was Joe Gibbs with the Washington Redskins in 1982 and 1983.
Plenty of coaches have won the award multiple times; ten to be exact. 
But winning it in back-to-back fashion is no easy task. Not to mention there are quite a few factors working against Harbaugh in 2012.
First of all, expectations will be raised. Harbaugh has helped create a well-oiled machine in San Francisco and the 49ers will now be expected to roll through the regular season more fluidly than in recent years. Typically, the award is handed out to a coach who helped turn around a once-stumbling franchise. 
Thankfully, the 49ers no longer fit that description.
Secondly, the schedule is no joke. Trips to New Orleans, New England and Green Bay await the Niners in the upcoming season.Home matchups with the Lions, Bears and defending champion Giants will be no walk in the park either.
But history also says—recent history even—your team doesn't have to win 13, or even 12 games for you to take home the hardware.
Marvin Lewis won coach of the year in 2009 after leading the Bengals to a 10-6 record. The AP named Mike Smith the winner in 2008 when his Falcons ended up 11-5 and didn't even win their division. 
However, that Lewis-led Bengals squad was 4-11-1 the year prior to 2009. And the Falcons were 4-12 the year before Smith won the award in 2008.
So, those two instances were much similar to Harbaugh's case in 2011.
But, if the 49ers end up 11-5 (which seems quite achievable), you'd have to imagine Jimbo and his staff would receive a solid amount of credit around the league for successfully navigating through one of the NFL's more challenging schedules.
And in Harbaugh's favor, the roster additions this offseason should provide him plenty of weapons to keep opposing defenses on their heels. The second-year coach is an offensive-minded genius, and I'm certain he's anxious to unleash even more creativity onto the gridiron—now that he's more properly equipped to do so.
In addition, the 49ers appear to be making leaps and bounds of improvement throughout their first real offseason under Harbaugh's lead.
We've heard plenty about how the newly-acquired Randy Moss has fit right in with this tight-knit group—both on the field and off. 
Quarterback Alex Smith has been making the most of his offseason, finally getting a chance to get back to basics and fix a couple mechanical flaws. The jury is still out (for some) on whether Alex is the long-term option for Harbaugh and the Niners at QB, but he's taking all the right steps to ensure that he remains entrenched in that starting spot.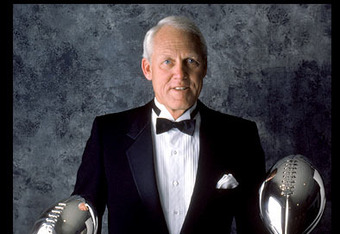 Not to mention, the 49ers are basically returning all 11 starters (2011 part-time outside linebacker Aldon Smith replacing Parys Haralson is the only change) on an already elite and still-improving defense. 
ESPN's Mike Sando recently detailed a few reasons on just how much better this tenacious group can actually get. 
So, maybe history doesn't mean much at all. Maybe the odds are actually in Harbaugh's favor to repeat as the NFL's coach of the year.
Heck, he's already one-for-one. 
May as well try to keep the perfect record.
After all, Jim Harbaugh is a big fan of perfection.