NBA Draft Analysis: What Austin Rivers' Selection Means for Eric Gordon
June 30, 2012

Chris Graythen/Getty Images
While the New Orleans Hornets' selection of Anthony Davis with the first overall selection of the 2012 NBA Draft was nothing short of a no-brainer, bringing Duke's Austin Rivers into the fold was a bit more perplexing.
The Hornets have long been assumed to be building around 6'4" shooting guard Eric Gordon, a scorer with a similar skill set as Rivers. Their coexistence certainly isn't out of the question, but it doesn't seem to be a recipe for seamless chemistry at first glance.
Perhaps Rivers will learn the point and eventually replace starter Jarrett Jack. Maybe he'll accept a long-term sixth-man role in the mold of Oklahoma City's James Harden.
Both scenarios are anything but certain.
If there's one knock on Rivers, it's that he isn't exactly deferential. He likes to shoot the ball, and he's good at it. Maybe he'll cultivate the floor vision needed to run the offense, but that certainly hasn't been his style thus far.
Nor does he seem the type to embrace a role on the bench, especially behind Gordon. Whereas someone like Harden will wind up playing more minutes than starting guard Thabo Sefolosha, Gordon is far more likely to stay on the floor at least 35 minutes a night.
And yet, the Hornets opted for Rivers over a number of solid big men and forwards, prospects who could have helped complete a frontcourt diminished by the trade that sent Emeka Okafor and Trevor Ariza to the Washington Wizards.
There's nothing wrong with taking the best-available talent, but it does create a bizarre situation when that talent so closely resembles the team's best player.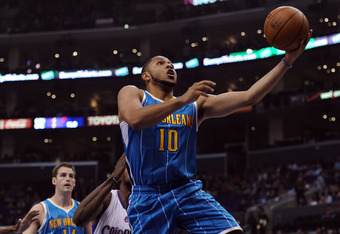 Harry How/Getty Images
It has to make even the least skeptical of us wonder just how much longer Gordon will be part of the Hornets' plans.
According to HOOPSWORLD's Steve Kyler, the two sides may be closer to parting than previously thought:
Word from the draft process is that Hornets guard Eric Gordon is wavering on his interest in a long-term deal in New Orleans and that his preferred destination is the Indiana Pacers.

Apparently the affections for Gordon are mutual as sources close to the new Pacers front office say that they will make a "sizable" offer to Eric Gordon in hopes of either forcing a sign-and-trade with the Hornets or landing him outright.

Sources near the process in New Orleans say that while building around Eric Gordon has always been the plan, they are not about to tie up major money in a guy that clearly does not want to be there.
Bringing Rivers into the fold would certainly fit in with such a scenario. He could replace Gordon as the team's go-to perimeter scorer, and he'd come at a much cheaper rate over the course of the next few years.
New Orleans may prefer to use Gordon as trade bait than shell out a huge deal to a guy who's missed more than his fair share of games over the last three years.
After all, the 23-year-old rising star could return similarly young talent or perhaps even a package of useful assets.
It's not as if letting him go would nullify the fruits of Chris Paul's exit—so long as he wasn't let go for nothing. Since he's a restricted free agent, the Hornets can use their ability to retain him as leverage in making a deal with a team like the Pacers.
Getting someone like Paul George in return wouldn't be too far-fetched, and it may not be a bad move for the Hornets, either.