NBA Rumors: Jameer Nelson Smart to Opt Out of Contract
June 30, 2012

It wasn't a surprise when point guard Jameer Nelson opted out of his contract with the Orlando Magic June 29, per Brian K. Schmitz of the Orlando Sentinel.
The reality is, Dwight Howard isn't the only one who is disappointed with the organization.
Schmitz tweeted on Friday:
Hearing that Jameer Nelson ihas [sic] informed Magic he is opting out.

— Brian K. Schmitz (@MagicInsider) June 29, 2012
Not only were the Magic expected to try to find a big man to replace Howard during the NBA draft this year—they were also expected to find a point guard, given that Nelson had an early termination option.
Instead, the Magic opted to focus on ramping up their frontcourt, selecting St. Bonaventure power forward Andrew Nicholson and Norfolk State center Kyle O'Quinn. 
Nicholson and O'Quinn certainly have potential at the next level (particularly Nicholson), but "potential" wasn't going to keep Nelson in Orlando—or Howard, for that matter.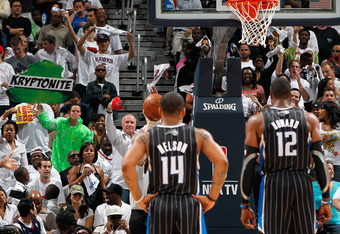 Kevin C. Cox/Getty Images
Both Nelson and Howard have been with the organization for eight years, and they don't have a championship to show for it.
Is that completely the organization's fault? No, but at some point you have to move on, and it certainly looks like that's what Nelson and Howard are thinking.
Nelson, the No. 20 overall pick in the 2004 NBA Draft, is 30 years old now. This is the time players begin looking for a championship to end their careers.
An All-Star in 2009, Nelson has the ability and credentials to help out a contender. Sure, he shot a career-low 42 percent from the field last season, but it's not like he had much help around him, and he could have simply lost his motivation in a miserable season for the Magic.
He can still help a playoff team, even if it means coming off the bench.
It's not like Nelson hasn't been faithful to Orlando. He's been with the team for eight seasons, after all. But you can only go so long without winning a title before you start looking elsewhere, and two consecutive first-round exits out of the playoffs—combined with Howard's likely departure—may have been the last straw for Nelson.
Follow me on Twitter. We can talk about the NBA together.