Los Angeles Lakers Trade Rumors: Adding Jordan Crawford Would Be Huge Blunder
June 30, 2012
Chris Trotman/Getty Images
With the exception of the Orlando Magic and Houston Rockets, no team has been linked to more trade rumors this offseason than the Los Angeles Lakers. The team has been linked to a myriad of different hypothetical deals, and it seems like a new one pops up everyday.
Now, according to Fox Sports Ohio's Sam Amico, the Lakers are considering pursuing Washington Wizards shooting guard Jordan Crawford. 
A late-first-round selection in 2010, Crawford spent the majority of his first NBA season buried on the Atlanta Hawks' bench before being traded to Washington and proving to be a revelation for the troubled team. He averaged 16.3 points, 2.9 rebounds and 3.9 assists for the Wizards while even notching a triple-double.
In his first full season with the team, Crawford had another solid year, averaging 14.7 points, 2.6 rebounds and three assists per game. On paper, these numbers from a 23-year-old shooting guard look promising, but they do not tell the whole story.
Crawford shot 39 percent from the field with the Wizards in 2011 and "improved" to 40 percent in 2011-2012. He is your quintessential shot-chucking 2-guard, someone who is willing to take any bad shot a defense gives him as long as he feels he can knock it down.
Last season, he attempted more than four three-pointers per game while connecting on just 28.9 percent of them. He was unwilling to adjust his game to maximize his effectiveness, continuing to launch low-percentage shots and break the rhythm of his team's offense.
To put it simply, there's a reason the team felt they needed to select Bradley Beal with the third overall pick in the draft.
Obviously, Crawford would not be asked to start or play starter's minutes in Los Angeles as he did in Washington. He would primarily be asked to spell Kobe Bryant or occasionally play alongside him in a smaller lineup with Kobe at the small forward spot.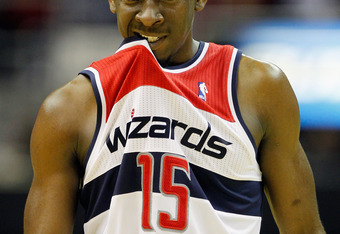 Rob Carr/Getty Images
There is no question that the Lakers bench could use some more scoring punch since the departure of Lamar Odom, as their inability to produce points outside of the starting five was a major reason the team lost to Oklahoma City in the playoffs. Undoubtedly, the team sees Crawford as a cheap option to come in and keep the offense running in a sixth man role.
However, Crawford is the exact wrong kind of players for Los Angeles to bring on board. Sure, he's cheap, slated to earn just $1.2 million next season with a $2.2 million team option for 2013-2014, but his bad habits and selfish style of play make him more detrimental than helpful to the team.
The Lakers need to add a pure shooter to their roster, someone who can camp out at the three-point line and work as a catch-and-release marksman. One of the team's main problems last year was their inability to hit threes and keep defenses honest, which allowed opponents to pack the paint and throw double teams at Bryant, Bynum and Gasol. 
Though Crawford takes plenty of threes, he is an inefficient shooter and Los Angeles needs someone who can consistently hit north of 35 percent of his attempts from long distance.
In addition, a roster with Bryant does not need another ball stopper on offense. Crawford is a gifted passer, but too often he would hold the ball and let the shot clock wind down, which would force the offense to stagnate.
The role of a bench scorer is to keep his team's offense running smoothly by making the right decisions, as evidenced by the success of players like Manu Ginobili, James Harden and Jason Terry in the sixth man role.
Crawford leaves plenty to be desired defensively too, where he does not put in consistent effort, frequently being beaten off the dribble or failing to stay disciplined with his man. L.A. needs an impact defender off the bench, not someone who will put in lackadaisical effort.
Another area of concern is whether Crawford could handle the scrutiny of playing in Los Angeles. He is still incredibly young and relatively unproven.
Would he be able to adjust to coming back off the bench and handle the pressure and criticism that comes with wearing the Lakers' purple and yellow? Coming from a low expectations situation in Washington, could he transition well to the "title or bust" culture of Los Angeles Lakers basketball?
This is a pivotal summer for L.A. as it tries to retool its roster for another championship run behind its Big Three, and the Lakers must be very careful about what kind of players they bring aboard. There are a number of veterans available like Grant Hill and Chauncey Billups, as well as younger players like Landry Fields and Jodie Meeks who would better fill a role off the bench than Crawford.
Crawford is a volume scorer who will occasionally shoot you into a game but also shoot you out, and trying to contain him or change his style of play would simply make him a less effective player. 
There are plenty of players out there that could help the Lakers regain glory, but panicking and trading for Crawford would be a serious mistake. He may have the occasional 25- or 30-point effort, but he is not the right kind of player for Los Angeles to have as a crucial part of its rotation.