Matt Kenseth to Drive for Michael Andretti's New Team in 2013?
June 29, 2012

Darrell Ingham/Getty Images
There have been a myriad of reports lately that have surfaced between Richard Petty Motorsports, Roger Penske Racing and Michael Andretti.
According to Bruce Martin of SI.com, Andretti may buy Penske Racing's engine program to attempt to start a Sprint Cup team in 2013.
Andretti told SI.com a few days ago, "We were looking at NASCAR real close last year, too, but it fell apart. We were looking at it just as hard last year as this year and the year before."
"I'm always looking at all options. I'd be stupid not to listen to Dodge or any other manufacturers. It doesn't matter that we are a Chevy IndyCar team," Andretti continued. "It might be nice if it was all under one roof, but, in our contract, we're a Chevy IndyCar team."
Andretti has been a very successful IndyCar owner. Tony Kanaan won the IndyCar title in 2004 for Andretti. The following season, Dan Wheldon won the Indianapolis 500, and then went on to capture the championship later in the year.
Two years later, Dario Franchitti won the Indianapolis 500 and the IndyCar title for Andretti. It was Andretti's second Indianapolis 500 win as an owner, although he was never able to capture the checkered flag in the event as a driver.
Andretti is hoping to take that IndyCar success to the NASCAR level, although it will undoubtedly take some time. Andretti has never owned a NASCAR team, and it's abundantly clear that the IndyCar series is way different from the NASCAR Series.
"Andretti reportedly wants to buy Penske's engine program for a Dodge-based team he could run from former team owner Ray Evernham's old shop in Statesville, NC. The former IndyCar and Formula One driver and current IndyCar owner has said he's looked at starting a NASCAR team for several years but never could put together the deal."
However, Tim Cindric, Penske Racing's President, denied through his Twitter account that the organization had struck a deal with Andretti:
"2 b clear, @penskeracing hasn't sold the engine shop to @michaelandretti, or any1 else.Still evaluating options 4 2013"
that he will be participating for a new Cup team in 2013. Of course, we won't know where he's going for awhile, but it's likely Kenseth could go to Andretti's new team.
On the other hand, Joe Gibbs Racing has constantly been linked to Kenseth (recent report from Associated Press here). Sporting News has reported that Gibbs would either field a new fourth team for Kenseth or let go of Joey Logano, who won at Pocono a few weeks ago.
When Kenseth said that he would be driving for a new team in 2013, he could have meant that he would be racing for Gibbs' fourth team. Or, he could be driving for Andretti. Apparently, we will find out within the next few months.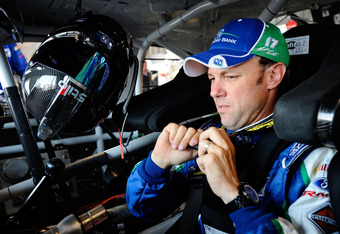 Jared C. Tilton/Getty Images
2011 Nationwide Champion Ricky Stenhouse Jr. will take over for Kenseth.
If Andretti were to land Kenseth, it would be a humongous deal for Andretti. Kenseth is arguably one of the best and most consistent drivers in NASCAR, as he also currently leads the Sprint Cup Series in the points standings.
If Kenseth does go on to win the title later this year, it will be the first time since the Chase was implemented that a Cup champion left his team in free agency and went elsewhere.
In other news, a rumor on autoracing1.com circulated that Richard Petty Motorsports will leave Ford at the end of the season and switch to Dodge. This rumor has since been denied by Dodge.
Penske Racing is currently the only team in the Sprint Cup Series that affiliates themselves with Dodge. Earlier this year, it was announced that Penske Racing would leave Dodge at the end of the season and switch to Ford. Penske leaving the motor company at the end of the 2012 campaign would give Dodge zero teams for the 2013 season.
However, if the Andretti and Petty rumors are 100 percent true, Dodge would have three teams for the 2013 season—Andretti's new team, along with Marcos Ambrose and Aric Almirola, if both are retained, for Richard Petty Motorsports.
As of right now, there seems to be a very, very good chance that Michael Andretti will have a Cup team for the 2013 season.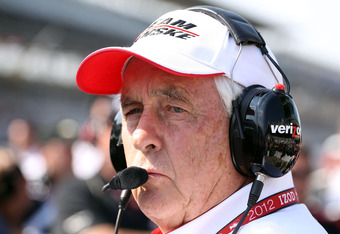 Andy Lyons/Getty Images
I, for one, will be pulling for Andretti's new team if it does happen. Andretti would give NASCAR a lot of new fans. He was, and still is, one of the most popular guys in the IndyCar Series and his fans would likely tune in every Sunday to see how his new team does. It'd get even more attention if he were somehow able to get the 2003 Cup Champion to come to his new team.
It'd truly be an awesome sight to see Andretti succeed at the Sprint Cup level. Over the last few years, we have seen numerous IndyCar drivers come into the series. Juan Pablo Montoya has had mild success at the Sprint Cup level as he has won twice in his career.
However, the same cannot be said for Dario Franchitti who has won the Indianapolis 500 three times including this year. Franchitti, a four-time IndyCar Champion, was scheduled for a full-time ride in 2008 for Felix Sabates. However, he struggled mightily and only participated in 10 events. His best finish was a 22nd place outing at Martinsville, and that was also the only race he finished in the top 30.
Franchitti did have much more success in the Nationwide Series over the 2007 and 2008 campaigns. Over that span, Franchitti participated in 18 events and recorded a fifth place finish at Watkins Glen and a sixth place outing at Las Vegas. He also registered six finishes from 11th to 15th.
Of course, the most recent driver to switch from the IndyCar Series to NASCAR is the famed Danica Patrick. Patrick is currently racing full-time in the Nationwide Series for JR Motorsports, and sat on the pole in the season-opening race at Daytona. Patrick currently sits 10th in the standings, and has only recorded one top-10 in 2012—an eighth place effort at Texas.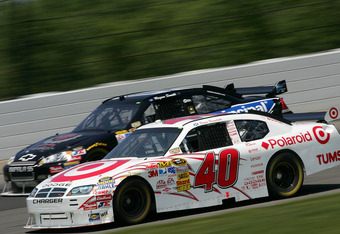 Todd Warshaw/Getty Images
She was headed towards a fourth or fifth place finish last weekend at Road America, but on the final lap Patrick was punted by Jacques Villeneuve in tricky Turn 5. Instead of her first top-five finish of 2012 she came home in 12th.
The best driver to come from the IndyCar Series to NASCAR is undoubtedly Tony Stewart. Stewart won the IndyCar title in 1997 and switched to the then Winston Cup Series prior to the 1999 season. Since then, Smoke has won three Sprint Cup titles, the last of which came last year. Stewart has won 46 times in the Sprint Cup Series and has collected three titles in what is likely a Hall-of-Fame career.
Of course, Michael Andretti will not be actually competing in the Sprint Cup Series like the drivers above, but it would still be awesome to see him succeed as an owner. Roger Penske and Chip Ganassi have had great success at the IndyCar levels and Sprint Cup Series.
So, it wouldn't be a surprise to see Andretti succeed. In all actuality, I hope he does. It'd be awesome if he were to land Kenseth as it would give him a Hall-of-Fame driver in his first year as an owner. Kenseth would be able to exponentially help Andretti's new program, as long as he's participating in the series. But, we don't know for sure if the Kenseth-to-Andretti rumors are true. I guess we'll find out what happens in the next few months.