Cincinnati Bengals: Why Cincy's Defense Will Be the Best in 2012
June 29, 2012

John Grieshop/Getty Images
Cincinnati defensive coordinator Mike Zimmer is good at his job and has been for a long time.  Since becoming a member of the Bengals' coaching staff in 2008, he's had a great impact on this defense.
Zimmer has made the defense consistently good and this year, he's got the tools to make them the absolute best. 
First and foremost, he's returning quite a few of his starters from last season, including his talented defensive line and linebackers.
To highlight the defensive line, Geno Atkins (nose tackle) is coming off a Pro Bowl season.  He collected 48 tackles and eight sacks, providing a lot of pressure for opposing quarterbacks.  Joining him was Pat Sims and the monstrous Domata Peko, who collected 66.5 sacks of his own.
At the ends, Carlos Dunlap spent a lot of the season injured—quite the disappointment after a stellar performance in 2010 as a rookie.  He was picked up by Michael Johnson and Robert Geathers, who combined for 71 tackles.  For the record, they're all returning.
Despite such an already talented defensive line, the Bengals drafted Devon Still out of Penn State and Brandon Thompson out of Clemson.  Both men were considered first or second round talent, and they slid to the Bengals in the later rounds.  There's no reason the defensive line shouldn't be extremely intimidating in 2012.
Moving onto the linebackers, that's an area that will be kind of iffy.  I'll first address Rey Maualuga, the inside linebacker Cincinnati took in the first round of the 2009 Draft.  He's been a hard-hitter since the day he walked through the door, collecting 226 tackles through three seasons.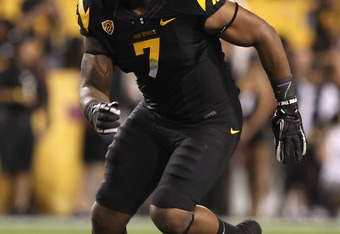 Christian Petersen/Getty Images
What's concerning with Maualuga is that he can't attack the quarterback very well, as his two career sacks would indicate.  Manny Lawson didn't prove to be as valuable as originally expected, but Thomas Howard was really the guy who broke out in 2011.
He recorded 99 tackles, his best since his rookie campaign in 2006.  He will likely have to be the guy to step up and make more of an impact.  While there's still some hope for guys like Dontay Moch (after his suspension) and Dan Skuta, there's one other guy who could prove to be valuable.
Vontaze Burfict.
Only time will tell how the troubled man from Arizona State will turn out, but we know he's good and we know he can play.  If Zimmer can contain his attitude, the Bengals may have dusted off a gem.
Finally, turning our heads toward the secondary, the team made some good improvements there.  Signing veteran Terrance Newman was a great move, one similar to the signing of Nate Clements last season—problem was that Clements proved that he was too far past his prime to really be effective.
Newman put up 53 tackles and four picks in Dallas last season, so he can still go.  Leon Hall will be coming off injury at some point, hopefully as the same guy he used to be.  If so, this is a top notch cornerback team—Newman and Hall are good veterans and Dre Kirkpatrick is going to be a standout corner.  Rookie of the Year perhaps?
Kirkpatrick is very quick and will be able to keep up with any receiver in the league.  He's also been said to be good at reading passers, so it's certainly an upgrade from Clements and Kelly Jennings.
The safety position remains to be seen.  Taylor Mays struggled in 2011, while Reggie Nelson had himself a decent season.  If Mays can improve his game, the safeties will be dangerous too.
Every year, the Steelers and Ravens get credit for solid defenses, but Cincinnati is the team to watch this year.  The 2012 team is going to be incredible to watch;  the defense to put on quite a show again.