Euro 2012: Spain Must Play a Genuine Centre Forward in Order to Win Euro 2012
June 29, 2012

Laurence Griffiths/Getty Images
As many expected, Spain have indeed progressed to their third consecutive major tournament final and are in pole position to retain their status as European champions in Kiev on July 1 this Sunday night.  
While their midfield play, as has become synonymous with the Spanish national team, has been fluid, exciting and precise, the one thing they appear to lack against the bigger teams is goals in open play.
Notably, so far in the knock-out stages, Spain have scored from open play just once—a Xabi Alonso strike twenty minutes into the quarter final with France.  Through two hours against Portugal, though the midfield conjured up plenty of inventive attacks and threatened the opposition defence often enough, their play failed to result in any goals, despite 11 attempts.
Though this could well be attributed to many things, the most logical conclusion seems to be Vicente del Bosque's reluctance to play a genuine centre forward from the off, rather than the "false 9" tactic he has employed with mixed success thus far.  Barcelona's Cesc Fabregas has been utilised in said role, one he is generally unfamiliar with since being used as a central midfielder for his club.
And yet while Fabregas did score an excellent, instinctive, piledriver of a fourth goal against the Republic of Ireland, he simply lacks the desired qualities of an ideal centre forward—the awareness, the movement in the 18-yard box, the strength to fend off physical defenders and create goal-scoring opportunities from seemingly nothing.
While del Bosque may well have figured this out on Wednesday night in the goalless draw with Portugal that was eventually decided by victory via a penalty shootout by starting Sevilla's Alvaro Negredo, this wasn't exactly an intelligent move from the World Cup-winning coach.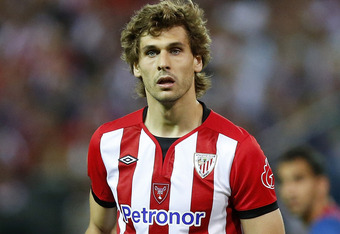 Angel Martinez/Getty Images
Negredo may well have experienced club success last season, with a solid 14 goals, but judged solely on his performance on Wednesday, he was absolutely the wrong sort of player to spearhead Spain's attacking effort.  His lack of movement into space noticeably detracted from finishing off potenial goal-scoring opportunities, as did his target man play.
While Fernando Torres of Chelsea has featured for his country in Poland and Ukraine, scoring twice, it may prove fruitful for his manager to plump for Athletic Club Bilbao's Fernando Llorente.  With 29 goals in 45 starts for his club throughout the 2011/12 season, Llorente has the scoring pedigree and attributes to net for his country at this crucial stage.  The only question that remains is whether del Bosque will give him the chance to prove himself.
Italy's defence is probably the toughest Spain have faced thus far in the tournament; they know this already, having opened their campaign against them.  It would prove foolish to make the mistake of starting a false 9 once more.
To win the European Championships, Spain require an incisive, strong centre forward for an entire 90 minutes.  They need one of Torres and Llorente to lead the charge to continental success.