WWE Flashback: The Impact of CM Punk's First World Championship Victory
July 1, 2012

Being the WWE historian that I am, I enjoy reminiscing back on past moments that made a major impact on the entire industry as whole. With almost each and every day being an anniversary of something special, I take you on a trip back in time to explore WWE's ancient history and modern mysteries.
Yesterday's date of June 30th was the celebration of numerous important occurrences in WWE history. Not only was it three years ago yesterday that we witnessed the ECW debuts of Tyler Reks, Yoshi Tatsu, Abraham Washington and current reigning World Heavyweight Champion Sheamus, but also the date that a certain star was born.
Four years ago, CM Punk was carrying around the Money in the Bank briefcase that he won at WrestleMania 24. Although he originally planned on cashing it in on then-World Heavyweight Champion Edge on his presumed wedding day of July 11th, the Straightedge Superstar quickly changed his mind once the opportunity presented itself.
Seven days prior to this illustrious day marked the 2008 WWE Draft, which saw major stars such as Batista, Punk and even then-WWE Champion Triple H switch shows. However, when all was said and done, the Raw brand was left without a World Champion.
One night removed from the Night of Champions pay-per-view, SmackDown's newly acquired commentator Jim Ross made his farewell address at the start of the following night's Raw broadcast. Shortly thereafter, Edge interrupted Ross mid-speech and called for his Edgehead buddies Curt Hawkins and Zack Ryder to escort the WWE Hall of Famer from the building.
Subsequently, Edge mocked the Raw audience in explaining that Monday nights would no longer feature a World Champion on its show and claimed that you'd never see him nor his World Heavyweight Champion on the flagship show again.
Lo and behold, an enraged Batista prevented Edge from leaving the arena and then went on to demolish the Master Manipulator due to what had occurred during their title encounter the night previous. As the Animal was making his way to the back knowing he had exacted his revenge, "The Fire Burns" struck the sound system much to the surprise of Batista, Edge and every viewer watching worldwide.
No more than a minute later, Punk handed his Money in the Bank briefcase and connected with the Go to Sleep finishing maneuver on Edge to secure his first World Heavyweight Championship.
The crowd went ballistic, as did the Second City Saint. Who would have ever thought an indy schmuck like CM Punk would have won a top-tier title in WWE?
Although it was the final night of June, it was the first night in the World Championship reign of CM Punk. History was undoubtedly made that night, and it was the start of something much, much bigger.
From there, Punk would go on to defend his golden prize numerous times that summer, but it was evident that he wasn't yet ready for the major title victory. After dropping the strap to Chris Jericho that September, Punk worked his way back up the card for the next six months before capturing the Money in the Bank briefcase for a second time at the 25th Anniversary of WrestleMania.
Sure, history repeated itself, but not everything that summer season was replicated from the year previous. Punk went on to cash in his opportunistic briefcase against Jeff Hardy that June before gradually turning heel during his feud with the Charismatic Enigma over the next few months.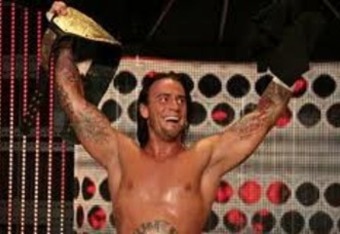 It was then that Punk solidified himself as a star in the eyes of WWE Universe, but it wouldn't have occurred had he not successfully cashed in his Money in the Bank briefcase on the historic night of June 30th, 2008.
Now, CM Punk reigns as the WWE Champion atop of the company with title defenses against the likes of Daniel Bryan, Kane, Chris Jericho, Dolph Ziggler, Mark Henry, Alberto Del Rio and The Miz. While Punk has stated in recent interviews that his in-ring retirement is imminent, I still do expect him to be treated as a main event player for the rest of his WWE tenure.
What was your immediate reaction once CM Punk emerged victorious as World Heavyweight Champion for the first time four years ago yesterday? What impact do you believe the huge title victory had on the career of the Punk and the WWE as a whole?
Thanks for reading, Bleachers, and be sure to drop a comment below with your memories and thoughts of this historic June night that forever changed the landscape of the industry. Also, please be sure to include whether you believe I should continue this series of articles where I look back at some of the most memorable occurrences in WWE's history.
GSM out.
Visit my website at Next Era Wrestling, as well as listen to my SAVE US GSM radio show that airs every Thursday night at 10/9c for more of my thoughts and writings, along with WWE/TNA news, reviews, recaps and more.
Listen to internet radio with Spoilerspodcast on Blog Talk Radio