NFL Network Top 100 Poll: Aaron Rodgers Knows All About Being the Best
June 29, 2012
Ronald Martinez/Getty Images
The votes by the current NFL players have been counted and tabulated. Aaron Rodgers is the very best player in the NFL, based on the results from The Top 100: Players of 2012 that NFL Network has been running for several weeks now.
Rodgers, as usual, was ready to share his glory with others.
"It's very humbling," Rodgers said via telephone talking to the panel on NFL Network after hearing the news. "It's a great honor anytime you're recognized with that professional respect from your peers, that really means a lot to me, so I have to thank them for the votes.
"Obviously, this is in a recognition that doesn't get done without an incredible group of people around you. That's often lost when the focus is on one individual. My teammates, my coaches, our tens of thousands of owners that we have there in Green Bay and across the country, I have to give them a lot of things, as well."
Rodgers also knows that the goal in the NFL is not about winning individual awards, but team awards...like winning another Vince Lombardi Trophy. 
"It's all about championships," Rodgers said in the same interview. "It's about winning championships and it doesn't matter other than championships. It doesn't matter other than proceeding how you do in the regular season. It's about how you're playing at the end of the season because championships are what you're remembered for. We tasted that feeling in 2010-11 and it was a special run.
"You get in that mode when you come into the next season where you feel like that's going to happen every year and you realize how special that time was and how badly it makes you want to get back to that feeling and that stage.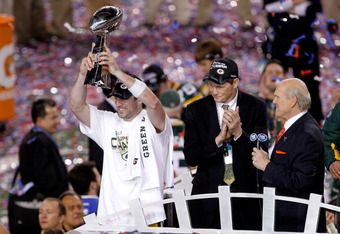 Joe Robbins/Getty Images
"I think last year we slipped a little bit and got comfortable, and hopefully this year people will talk about the Giants and other teams, the Saints, Niners and Eagles making a comeback, some of those other teams and we can kind of fly under the radar and be the same kind of team we were a couple years back."
But Rodgers also knows how it feels to be No. 1, both as an individual and as a team. But it was a very tough road he had to go down to reach those achievements.
Just think back to the summer of 2008. Brett Favre decided he wanted to play football again after retiring in March of that year. I remember the situation vividly. The Packers as an organization had decided to move on to Rodgers at QB, as he had been working out as the starting QB of the Packers after Favre's retirement.
Favre wasn't just any QB either. He was a living legend in Green Bay after starting for 16 consecutive years for the green and gold. Favre's stats were mind boggling.
Favre had started 275 straight games, including the playoffs, as a Packer. He also had 160 wins (the most ever in NFL history at the time), seven NFC Central/North titles, two NFC championships and one Super Bowl win.
Plus there was the 442 TD passes (the most ever again in NFL history at the time), was named All-Pro six times, was named to nine Pro Bowl teams and also won three NFL MVP awards.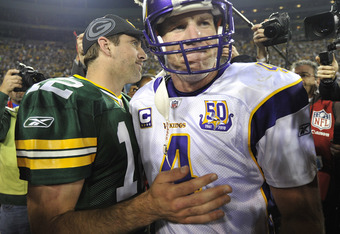 Jim Prisching/Getty Images
Rodgers was right in the middle of that ugly scene, as a number of fans were voicing their displeasure that Favre was not allowed to be back on the team at the early training-camp practices in 2008.
Rodgers remained stoic and classy through all of that adversity.
Rodgers went on to have a very nice season his first year as a starter in 2008, as he threw 28 TD passes vs. 13 interceptions for 4,038 yards and had a QB rating of 93.8. Rodgers has gotten better every year since the 2008 season.
In fact, Rodgers has never had a QB rating below 100 in any season since the 2008 season.
It all came together in 2010, when Rodgers led the NFC in passing with a 101.2 QB rating. That was a nice individual accomplishment. But what he was able to do leading his team in the NFC playoffs that year was much more significant.
Rodgers was spectacular in the playoffs that postseason, as he threw nine TD passes compared to just two interceptions for 1,094 yards and a QB rating of 109.8. Rodgers accomplished all that, as the Packers won three straight road games in very difficult environments in the NFC playoffs and then the Super Bowl against another very tough opponent.
The Packers defeated the Pittsburgh Steelers in Super Bowl XLV 31-25, as Rodgers was named MVP. Rodgers threw three TD passes and had no interceptions for 304 yards and a QB rating of 111.5 to win that award.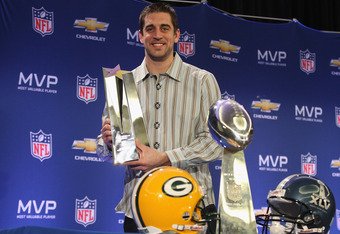 Streeter Lecka/Getty Images
In 2011, Rodgers threw 45 TD passes to just six interceptions for 4,643 yards and had a QB rating of 122.5 of 2011. The 122.5 QB rating was the best in the NFL and also broke the all-time record set by Peyton Manning in 2004, when Manning had a 121.1 QB rating. 
Rodgers was also named first-team All-Pro and was named the starting QB for the NFC in the Pro Bowl in 2011, as he led the Packers to a 15-1 regular-season record, the best record in the NFL and the NFC North.
That all led to Rodgers being named the NFL's Most Valuable Player in 2011.
So Rodgers knows all about being the best. But there is more.
Rodgers not only had the best-ever QB rating in a single season in 2011, but Rodgers is also the all-time leader in QB rating in both the regular season and the postseason.
Rodgers has thrown 132 TD passes vs. just 38 interceptions for 17,366 yards and has a 104.1 QB rating in his career during the regular season.  Rodgers is the only QB in NFL history to have a QB rating of over 100 based on 1,500 passing attempts.
Bottom line, Rodgers has tasted the ultimate success in the NFL, both individually and as a member of the Green Bay Packers.  
But remember what Rodgers said after he won the Top 100 designation as the best player in the NFL in 2012.
"It's all about championships," Rodgers said. "It's about winning championships, and it doesn't matter other than championships."
Spoken like a true champion.