2012 Stanford Football: Why Ty Montgomery Is Key to Cardinal Success
July 2, 2012

Donald Miralle/Getty Images
David Shaw will have his fair share new offensive starters to work with in 2012. The Cardinal have lost quarterback Andrew Luck, who many considered to be the best NFL prospect in a decade, two first-team all-conference linemen in Jonathan Martin and David DeCastro and freakishly athletic tight end Coby Fleener.
With these superstars now on NFL rosters, the Stanford offense may see some early struggles in 2012. What many fail to realize, however, is that the loss of electric wide receiver Chris Owusu is potentially just as big a blow. 
Owusu showed his blistering 4.36 speed in the NFL combine earlier this year. Unfortunately, he was unable to demonstrate that elite speed in several games last season due to injury. Owusu was on the receiving end of sickening hits against both USC and Washington State, forcing him to spend much of his time on the sideline with concussions. 
Any offensive struggles for Stanford last season can be attributed to the absence of their significant vertical threat. With Owusu in the lineup, defenses had to respect his speed, and they tended to play a bit more conservatively. Without Owusu's speed to worry about, opposing teams were able stack the box against the run and call more aggressive blitzes. Luck's next favorite target on the outside, Griff Whalen, had much less threatening 4.6 speed. While the Cardinal certainly had three excellent tight ends, none were quite the electrifying deep threat that Owusu was. 
The Stanford offensive line only allowed 11 sacks in 2011, which is less than one per game. However, seven of those 11 sacks came in the three games in which Owusu never saw the field. Oregon sacked Luck three times while Cal and Oklahoma State each sacked him twice. None of these teams had to game-plan against Owusu. This reflects the ability of defenses to become more aggressive when they have no vertical threat over the top to worry about.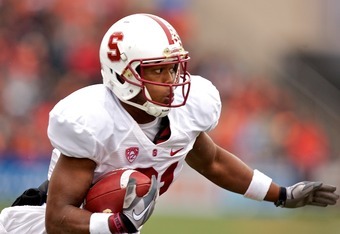 Craig Mitchelldyer/Getty Images
While the loss of Owusu certainly hurts the Cardinal, I believe David Shaw has the right man to replace him. Ty Montgomery joined the Cardinal last season as a 4-star recruit from Dallas, Texas. He impressed as a true freshman, hauling in 24 passes for 350 yards and two touchdowns. Montgomery also averaged 25 yards per kick return as the Cardinal's leading return man. 
At 6'2" and 205 pounds, he possesses great size for a receiver. In addition, he also has great 4.4 speed. While that is not quite as fast as Owusu, it should be good enough to create more anxiety for defenses and force them to be a bit more conservative in their coverage schemes. 
If Montgomery improves on his 2011 season, he should become one of the better receivers in the Pac-12. His threatening speed and talent on the outside should take some of the pressure off of his new quarterback, as well as Stepfan Taylor and the running game. However, if he does not perform as a true No. 1 receiver and significant vertical threat, Stanford may have a tough time moving the ball in 2012. 
I don't have a problem imagining Montgomery emerging as Stanford's leading receiver for a few years to come. Look for him to have a big season as the Cardinal break in an offense full of fresh faces.