Germany vs. Italy: 4 Things We Learned from Euro 2012 Semifinal
June 28, 2012

Michael Regan/Getty Images
Italy made it through to the final of Euro 2012 after a springing a mild upset against Germany. The Italians triumphed by a 2-1 scoreline, courtesy of a brace from controversial striker Mario Balotelli.
Here are the four key points to emerge from Italy's win and Germany's exit:
Andrea Pirlo is far from finished at the top level
When AC Milan dismissed Andrea Pirlo in the summer of 2011, it seemed as though the aging playmaker's time at the game's top level was up.
However, since being gratefully snapped up by Juventus, Pirlo has been revitalised. The veteran schemer performed admirably for the Old Lady this season and has continued in that vein at Euro 2012.
Pirlo has been easily Italy's best player at the tournament. He followed up his commanding display in the quarterfinal against England, with an equally intelligent and assured performance against Germany.
The 33-year-old shows no signs of letting up and few midfielders at Euro 2012 have been able to match his speed of thought, creative flair and accurate distribution.
Mats Hummels may be ever so slightly overrated
The hype surrounding the group stage performances of Borussia Dortmund central defender Mats Hummels has gone into overdrive. Pundits have lauded the 23-year-old as though he has redefined the art of defending.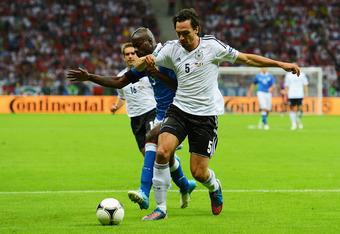 Shaun Botterill/Getty Images
However, Thursday's game showcased the very real deficiencies in Hummels' game. He was baffled and turned inside out by the trickery of Antonio Cassano for Italy's first goal. And most troubling was his inability to cope with direct, straight-line pace. The Italians ruthlessly exploited this issue with long balls over the top, and that combination allowed Balotelli to net his second.
Hummels had lost the speedy forward and seemed unable to recover and react to quick movement on more than one occasion. He is strong in the challenge, but Hummels' weakness against pace is likely to be taken advantage of again in the future.
Mario Balotelli should always be played through the middle
One of the problems of the rise of 4-3-3 and 4-2-3-1 formations is that natural central strikers are often forced into wide roles. Mario Balotelli has been no exception.
He has been played wide for Manchester City and previously Inter Milan. Yet the temperamental ace has always looked his best when deployed through the middle. He has certainly proved that point at Euro 2012.
He was dangerous against England, and Balotelli simply tormented the German defense by being allowed to use his best attributes: his raw strength and natural pace. His often languid demeanour obscures the fact that Balotelli has the quickness to stretch any defense and the aerial power of a true central striker.
Lack of pace in the forward line ultimately cost Germany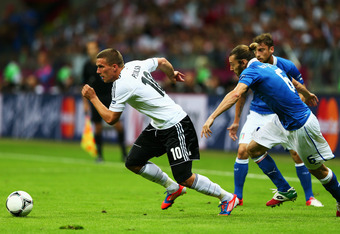 Michael Steele/Getty Images
Another painful semifinal defeat to Italy, highlighted that lack of pace across the forward line, is the biggest weakness of this Germany team. Poor movement and the inability to threaten to go beyond a back four cost Germany when it mattered the most.
Despite his goalscoring exploits, Mario Gomez is a rather static target man. His range of movement in and around the box is not subtle or quick enough.
The problem has been compounded by poor Euro 2012 displays from Lukas Podolski. Arsenal's new signing has not done much to inspire confidence about his ability to make an impact in the English Premier League.
Germany's sluggish trio made life too easy for an Italian defense, usually frightened of pure speed. The Germans looked more dangerous once they added some true pace in attack, in the form of Marco Reus. They will need more from fleet-footed youngsters like Reus and Mario Gotze in the near future.