NBA Rumors: Is Dion Waiters in a Draft-Day Deal with the Raptors?
June 28, 2012

Gregory Shamus/Getty Images
Speculation mounted earlier today when it was reported by ESPN's Andy Katz that the Cavaliers were thinking of taking SG Dion Waiters with the fourth overall pick in this years NBA draft.
However Sam Amico of Fox Sports Ohio stated that if the Cavs do in fact select Waiters it will not be for the Cavs, but for the Toronto Raptors.
Yahoo Sports and Basketball guru Adrian Wojnarowski reported earlier that the Raptors are very aggressive in their pursuit of Dion Waiters. So, the possibility of the Raptors trading up to grab Waiters is a real one.
What do the Raptors do to move up, do they include a roster player? Or will this just be a straight draft-pick swap, with the Raptors possibly giving the Cavaliers their second round pick, 37th overall, as well?
Looking at this from an outsider's perspective, the Raptors would probably be better off holding onto their picks and selecting at eighth, instead of trading up four spots. I could handle taking Waiters sixth maybe, but to trade up to four and pass on Thomas Robinson, Anthony Davis, Brad Beal or Michael Kidd Gilchrist would just be silly.
This looks like a classic smokescreen tactic to possibly sucker a team into selecting a player, hoping that another player might fall right into the Raptors lap. Much like Jonas Valanciunas did last year, and Ed Davis the year before that. A player that might attract the Raptors is SF Harrison Barnes of UNC.
Barnes is a prototypical small forward who shoots the ball well, has good size and defends his position pretty soundly.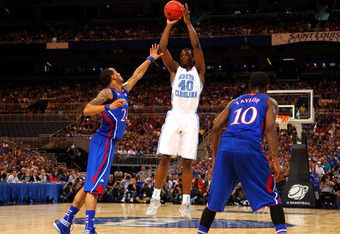 Dilip Vishwanat/Getty Images
Looking at the Cavs, other than Kyrie Irving, Tristan Thompson and Anderson Varejao, none of Cleaveland's roster players would entice the Raptors to make a player-for-player trade along with the swapping picks.
The key word in Amico's report was "possibly." It's mere speculation on his part, he's simply putting two and two together. The Raptors, looking to trade up, hear Waiters' stock is skyrocketing and he won't get past the Warriors' 7th pick.
If "Bryan" Colangelo picks Waiters fourth he will be taking a huge risk, but hopefully one that will pay off. Waiters' game has been compared to the likes of Dwyane Wade, Fred Jones and Rodney Stuckey.
If I were picking fourth and the likes of Beal, Robinson and Davis were gone, I'd certainly entertain a trade with the LA Lakers, or just plain select SF Michael Kidd Gilchrist or Harrison Barnes.
If the Raptors hold onto their eighth pick, expect the Raptors to take the best player available and worry about making him fit into the roster later.
The NBA draft is slated to begin at 7 PM Eastern, live from Madison Square Garden.