Pac-12 Football: Major Upsets USC Trojans and Oregon Ducks Must Watch out for
June 28, 2012

Harry How/Getty Images
Upsets are a part of life in sports.
Those expected to win sometimes fall short. It can be heartbreaking for the coaches, the teams and the fans. For football fans, a major upset can cost their team a rivalry game, a conference championship and even a national title.
Going into the 2012 season, two programs face an immense amount of pressure: USC and Oregon. With the Trojans returning to postseason play after a couple years of being banned from it and Oregon continuing to be a pretty dominant force, who could actually upset these two teams? One game each stands out more than the rest.
USC @ Washington, Oct. 13, 2012
Favored to win it all, the Trojans could finally very well be able to say this is their year. However, if too confident, USC could face uncertainty against key teams this season.
One particular matchup will be when USC travels to CenturyLink field in Seattle to face the Washington Huskies. Not only is Washington always a concern, but now the Huskies have an even greater advantage as they are the home team in one of the loudest venues in the NFL.
Also, the Huskies are returning quarterback Keith Price. In 2011, Price threw for 33 touchdowns. The team may have posted a 7-6 overall record, but don't place the team's mediocrity completely on Price. The 6'1", 195-pound junior put together one of the best individual performances in the country last year.
The Trojans will need to tread lightly, as the they lost to Washington back to back in 2009 and 2010. This game will also be their second consecutive road game. They will visit Washington having just faced Utah, who will be their primary competition for the Pac-12 South.
It won't be an easy two weeks for USC, but if they can survive it and come out with two wins, they will have set themselves up nicely at a shot for the Pac-12 title.
Oregon @ California, Nov. 10, 2012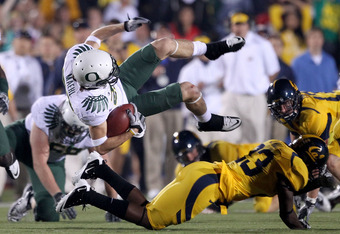 Ezra Shaw/Getty Images
Cal definitely got lucky with scheduling against Oregon, as the Ducks will visit Memorial Stadium just one week after a showdown with USC in Los Angeles. A second week on the road for Oregon will be tough and the USC game will be a draining one.
While often inconsistent, the Bears have put up a fair fight against Oregon. In 2010, the Ducks barely escaped from Berkeley with a win. Ultimately coming down to a field goal, the first attempt was nullified by a penalty, only for the second kick to be missed. Ducks walked away with a 15-13 win.
Will the Ducks be so lucky in 2012? Oregon is expected to win, but Cal very well could give them a run for their money. They aren't the most consistent but they are a team that could destroy a powerhouse's chance at a title. It won't be the biggest game of the season for Oregon, but it could be a loss if the Ducks do not prepare correctly.
Ultimately, Oregon currently sits at the top of the Pac-12 North with USC at the top of the Pac-12 South. Will either of these two still be there by season's end? We're only one good upset away from knowing.