Projecting Starters for the 2012 Washington Redskins Roster
June 28, 2012

Dilip Vishwanat/Getty Images
With Washington Redskins training camp beginning four weeks from today in Ashburn, Va., let's look ahead to potential positional battles by forecasting the Week 1 starters, along with key backups (in brackets).
Quarterback: Robert Griffin III (Rex Grossman)
I don't think they want to risk backing up a rookie with a rookie. So as much as it pains Redskins fans, they'll likely keep Grossman around to provide insurance for Griffin in 2012, with Kirk Cousins serving as the No. 3.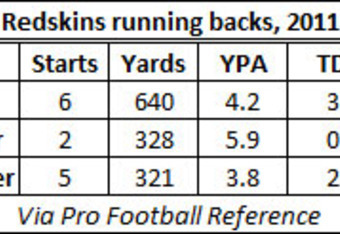 Running Back: Tim Hightower (Roy Helu, Evan Royster)
Hightower was outplayed by Helu and Royster last year, but he only started five games before going down for the year. That sample size was too small (for all three backs), and I think the veteran will be the early favorite to start. 
That said, expect Helu to have plenty of opportunities early. I'd be shocked if any of these backs started more than 10 games in 2012.
Fullback: Darrel Young
The 25-year-old did a decent job replacing Mike Sellers last season, but he still needs to become a better blocker. There's no competition for his spot, though, so as long as he can stay healthy, he'll start throughout 2012.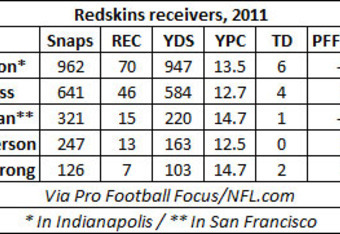 Wide Receiver: Pierre Garcon, Santana Moss (Josh Morgan, Leonard Hankerson)
Garcon is being paid to become the No. 1 guy, and he should work well with RG3. Moss has experienced a renaissance this offseason and should benefit from a return to health and better weapons around him. Beyond that, Morgan will begin the year as the favorite to earn the slot role, especially since he's probably a better blocker and is more reliable at this point than Hankerson is.
Tight End: Fred Davis (Niles Paul, Chris Cooley)
Assuming he can stay clean (he's one flunked drug test shy of being suspended for the entire year), Davis could be the on the verge of a monster season. Paul, who was converted from receiver, has the tools to beat out the aging, injury-prone Cooley. 
Offensive Tackle: Trent Williams, Jammal Brown (Willie Smith, Tyler Polumbus, James Lee)
At the risk of sounding like a broken record: Assuming he can stay clean (he's one flunked drug test shy of being suspended for the entire year), Williams could be the on the verge of a monster season. 
Obviously, this is Brown's last chance. He seems to have renewed focus this offseason, and he clearly has the talent to dominate. The problem is that there isn't a lot of depth at the tackle position. Smith was terrible in relief of Williams last year, and Polumbus is merely a jack-of-all-trades backup.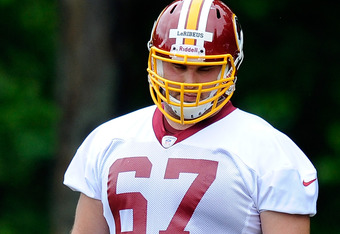 Patrick McDermott/Getty Images
Guard: Kory Lichtensteiger, Chris Chester (Maurice Hurt, Josh LeRibeus)
If Lichtensteiger is 100 percent again, the line will receive a large boost. Chester really struggled last year, especially early, but the veteran could benefit from more stability elsewhere on the line. If he can't rebound, that could give Hurt a chance. He was awful as a rookie, but a full offseason could help the seventh-round pick out of Florida. 
And don't forget about the rookie, LeRibeus, who could be starting by midseason if the right guard position doesn't pan out. He's also versatile enough to play center, in case they decide to move Will Montgomery over again.
Center: Will Montgomery (Erik Cook)
Cook didn't perform very well in limited snaps when Montgomery slid over to replace Lichtensteiger last season, which is why I'm thinking they'll push to see if LeRibeus can be that guy. I'm a bit surprised they didn't address the depth along the interior offensive line more aggressively in the draft, especially since Montgomery is only an average-at-best veteran starter anyway.
Defensive End: Jarvis Jenkins, Stephen Bowen (Adam Carriker, Kedric Golston)
Jenkins still technically has to beat out Carriker for the starting job at left end, which is no guarantee, considering Carriker earned an extension this offseason. But so long as the Jenkins is healthy, he should get plenty of reps on that side.
That said, he's essentially a rookie, and they obviously feel strongly about Carriker, so expect both players to earn lots of playing time as part of the rotation. That might also involve the underrated Golston, who was playing well before suffering a season-ending knee injury in Week 10.
Nose Tackle: Barry Cofield (Chris Neild)
They're sticking with Cofield after a bit of a rough ride in his first season with the Redskins. He's undersized, but he proved in New York that he can be a difference-maker against the run while also helping the pass rush. Hopefully for the Redskins' sake, he benefits from a full offseason to prepare for the role in 2012.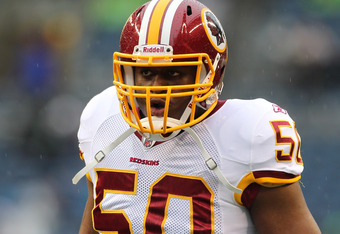 Otto Greule Jr/Getty Images
Outside Linebacker: Brian Orakpo, Ryan Kerrigan (Rob Jackson)
Barring injury, both of these young pass-rushing studs will play pretty much every down in 2012. That was the case last year, and both are only expected to get better this season.
The veteran Jackson has proven over and over that he's the next-best player they've got at this position. So if something were to happen to either starter, it wouldn't completely crush the 'Skins to use Jackson for a short period of time.
Inside Linebacker: London Fletcher, Perry Riley (Jonathan Goff, Lorenzo Alexander, Keenan Robinson)
Fletcher is Mr. Consistent and Mr. Reliable. That's right, he has two fake last names that represent how important he is to this defense. Riley, though, could be on the verge of a breakout season. The 24-year-old stood out often when he finally got the chance to start in the second half of 2011. He'll keep building momentum in 2012.
Goff and Alexander will battle for reps behind those two, but Alexander can always fall back on being a quality special-teamer. Eventually, the rookie Robinson could emerge as the first man in line to replace either starter.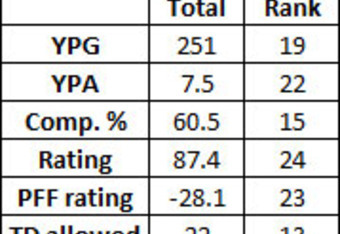 Cornerback: Josh Wilson, DeAngelo Hall (Chase Minnifield, Cedric Griffin)
There's a chance Kevin Barnes doesn't even make the final roster after struggling badly last season in the nickel spot. It really is a toss-up after Wilson and Hall, but the undrafted rookie Minnifield has arguably looked the best thus far. 
The veteran Griffin is a huge question mark due to knee problems, but if he can stay healthy, he could be a huge asset in the secondary.
Safety: Tanard Jackson, Madieu Williams (Reed Doughty, DeJon Gomes)
I don't think they want Brandon Meriweather to stick around, but he's a name providing a veteran presence in camp. Ideally, Doughty and Gomes emerge to take over for the departed O.J. Atogwe and LaRon Landry, but I think Jackson—if he can stay out of trouble—is probably the most talented safety on the roster.
I'm not sure how long the 30-year-old Williams will hold off Gomes, but I'm betting the veteran leader at least begins the season as a starter.
Kicker: Neil Rackers
Graham Gano missed too many makeable field goals last season. I'm going out on a limb and predicting that Rackers will beat him out this year in camp. But honestly, it's almost impossible to predict kicker outcomes.
Punter: Sav Rocca
No camp competitions, so it looks like they're sticking with the 38-year-old. Rocca was pretty so-so in 2011.