What the Dallas Cowboys Need from Anthony Spencer in 2012
June 28, 2012

Ronald Martinez/Getty Images
Few Dallas Cowboys have taken as much heat in recent years as Anthony Spencer has, but much of the criticism directed at the former first-round pick is less than fair. 
Fans and media expect more sacks from Spencer, which isn't totally unreasonable. Surely, even he's disappointed with the fact he has just 21.5 quarterback takedowns in five seasons. 
Yet since he became a full-time starter in 2009, Spencer has been one of the most consistent and versatile 3-4 outside linebackers in football. He's superb against the run, and he brings more pressure than most realize.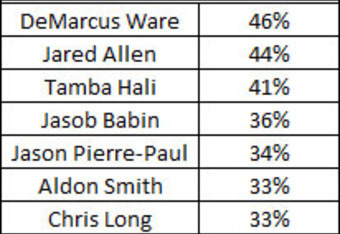 He could obviously manage to be a better closer—something that's reflected in his high missed-tackle rate. Pro Football Focus rated him as the second-least efficient tackler among 18 qualifying outside 'backers in 2011, and he's missed 18 tackles altogether in three years.
Playing in DeMarcus Ware's shadow doesn't help. In the fall, I spoke to PFF's Khaled Elsayed about the idea of a pass-rusher benefiting from playing opposite an elite rusher. Here's what he had to say:
"I think it's overplayed to a degree, because you don't get as many double-teams as people would like to believe there are. A double-team does happen on occasion, but you'll probably find it happens more on the inside and especially on running plays than in pass protection. I think the average NFL team will leave maybe five, five-and-a-half guys on every pass play—they're normally sending their skill position players out. So I do think it's overplayed to a degree."
With that in mind, I don't necessarily think it was fair for Bleacher Report's James Dudko to list Spencer as one of six players and coaches lucky to have their jobs, but Dudko's prevailing point is that the 28-year-old's sack numbers simply need to be higher. 
I can't disagree.
Regardless of the fact that, according to PFF, Spencer brought nearly as much pressure per snap as sack king Jared Allen in 2011, you can't be considered a top-end edge rusher when you're never getting to the quarterback more than six times a season.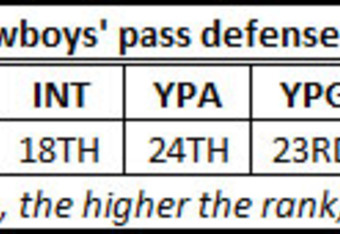 Of course, it's a luxury for any team to have two top-end rushers, so who are the Cowboys to think they need a pair of 'em? After all, the pass rush is still clearly the strong point of this defense.
The problem is that Dallas is in the fiercest pass-rushing division in the league. They look at the Eagles, who have Trent Cole and Jason Babin. They look at the Redskins, who have Brian Orakpo and Ryan Kerrigan. And of course, they look at the Giants, who have Jason Pierre-Paul and Justin Tuck and Osi Umenyiora.
All four NFC East teams were in the top 10 in sacks last year, but the Redskins, Eagles and Giants all appear to be on an upward trajectory heading into 2012. The Cowboys risk falling behind. There's only so much more Ware can do. He's about to turn 30 and is coming off a 19.5-sack season. 
And so, with few other viable options (Victor Butler?), the Cowboys will finally need Spencer to take the next step and take down more than just half a dozen quarterbacks in 2012.
He'll be playing under the franchise tag this year, so it'll be the biggest season of his career. He's been an underrated and highly effective player for three years running, but now it's finally time he becomes the finisher he was during his senior year at Purdue. 
Here's what Ware and Spencer both did in 2011, along with what I'm expecting from them in 2012: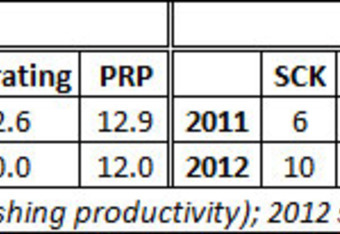 What are your expectations for Spencer in 2012?