Is Chicago Blackhawks Jonathan Toews Trying to Recruit UFA Shane Doan?
June 28, 2012

Christian Petersen/Getty Images
Chicago Blackhawks center Jonathan Toews wears many hats. One of the NHL's best two-way forwards, Toews is a Stanley Cup winner, Olympic gold medalist, playoff MVP and the captain of the Blackhawks.
Is Tazer now taking on the job of recruiter as well?
Both Adam Jahns of the Chicago Sun-Times and Chris Kuc of the Chicago Tribune tweeted from the NHLPA meetings in Chicago regarding Toews and Phoenix captain Shane Doan.
Taking Kuc's tweet at face value, one gets the impression that Toews is trolling the various meetings and seducing the league's best players. Add the fact that Doan is going to test the waters of free agency in the face of financial uncertainty in the desert and the concept of Doan being courted by Chicago takes on legs.
Doan would certainly be an addition capable of making the 'Hawks tougher to play against. The question is, how realistic is it that GM Stan Bowman makes Doan the kind of offer that he can't refuse?
Before we move Doan into Chicago, consider the first three words of Jahn's tweet: "With a grin".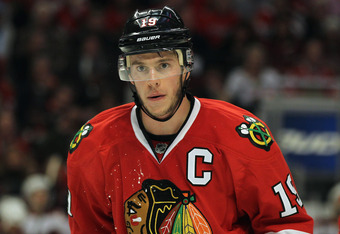 Jonathan Daniel/Getty Images
Keep that in mind before meeting Mr. Doan at the airport.
I'm sure a lot of players have lobbied each other while passing time between meetings. It's hard to think that it's much more than pillow talk.
It certainly can't hurt for Toews to pump up the 'Hawks to the rest of the NHL. Having the NHLPA meetings in Chicago can't help but showcase the city to prospective UFAs.
However, Toews isn't going to be handing out any big contract offers. Any serious pitches will come from Bowman on Sunday, if at all.
Of course, it's never a good idea to sell Toews short, even with a grin on his face.