Seattle Seahawks: Why Marshawn Lynch Will Dominate the NFC West in 2012
June 28, 2012

Jonathan Ferrey/Getty Images
Marshawn Lynch's electric romp in which he shook both Saints defenders and the earth to seal the Seahawks' stunning upset in New Orleans in the 2011 divisional round will forever go down in franchise lore.
Luckily for Lynch and the team, it looks like that play was just the start of an impressive Seattle tenure for the Cal alum. Now in his third season in Seattle, Lynch looks like the best running back in a Seahawks uniform since the record-setting Shaun Alexander. Finally healthy, it now appears that Lynch is ready take over against NFC West competition with due to his punishing stiff-arms and powerful running style.
The Seahawks rewarded Lynch's 2011 campaign with a four-year, $31 million extension in the offseason after he rushed for a career-high 1204 yards and 12 touchdowns.
The scary part? Lynch only got better as the season continued.
After rushing for 263 yards in the Seahawks' first six games, Lynch rushed for 941 his last time. Oh, and he set a Seahawks record with a touchdown in 11 straight games. Not bad production in exchange for a fourth and fifth round pick that the Seahawks spent in order to trade for Lynch from the Bills back in 2010.
Lynch did not take it easy against his in-division rivals in last season, rushing for 502 yards on 122 carries with three touchdowns in six games against the 49ers, Cardinals and Rams. He learned and adjusted from his struggles too, improving his rushing total in the second game against all three NFC West squads.
The most impressive of these outings might have been in a Week 16 loss to the 49ers, where Lynch became the first to score a rushing touchdown against the Niners' top-ranked run defense all season, and became the first running back in over two years to reach 100 yards against San Francisco, ending up with 107.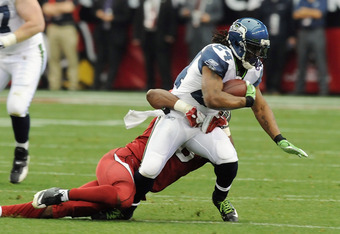 Norm Hall/Getty Images
Offseason roster moves also stand to improve Lynch's prognosis for 2012.
The Seahawks' passing attack was anemic last year, and new quarterback Matt Flynn should at least make opposing defensive coordinators respect the pass. Opponents could simply load up on the run last year, but will be able to less in 2012 with Flynn in the pocket.
The Seahawks also traded for Kellen Winslow. With the pass-catching tight end in stow, incumbent Zach Miller will now be more involved with blocking. Miller can now even switch to fullback, where he sometimes played in 2011, and could pave paths for Lynch more regularly there.
Lynch will have a new backup with the Hawks' bruiser of a fourth-round pick in Robert Turbin out of Utah State. It will by no means be a two-back system, but Turbin will carry the rock occasionally on early downs to give the physical Lynch a quick respite.
Finally, and most importantly, the offensive line will be improved on the simple basis of consistency.
The Seahawks young linemen went down like flies as the season wore on, but recent first-round picks James Carpenter and Russell Okung will be forces at the tackle spots if they can stay healthy. That is a huge "if," but that pair along with John Moffitt and Max Unger give the Seahawks a youthful, but above-average line.
As prolific as Lynch's ability and his supporting cast is, the run defenses he faces in the division do not plan to roll over and play dead.
With Pro Bowlers across the front seven, the 49ers are the NFL's best at stopping the run. Lynch had success against them once in 2011, and will need to bring his A-game to manufacture a repeat performance.
The Cardinals finished 21st in the NFL in rushing defense last season while the Rams finished next-to-last. Yet, both clubs are taking steps to improve their respective units.
Cardinals' mammoth defensive end Calais Campbell signed a five-year, $55 million deal while the Rams spent their first-round pick on defensive end Michael Brockers and brought in a new defensive line coach in Mike Waufle. Both units will be improved from last year, but still not to the point of shutting down Lynch for an entire game.
A new contract is signed in ink. The hair extensions are in. The Skittles are stocked on the sidelines. After the best season of his career, Marshawn Lynch is ready to maintain his excellent play and make the Seahawks a dark-horse playoff contender in 2012.