2013 NFL Draft: Which Prospects Should the Bengals Already Be Scouting?
June 28, 2012

Streeter Lecka/Getty Images
The 2012 NFL season is still three months away, but it's never too early to start looking ahead to next year and the possible players the Cincinnati Bengals might be interested in drafting.
Thanks to two solid drafts in a row and an organization that—finally—appears to have a plan in place, the Bengals are already drawing rave reviews from experts, with several already talking about the team being a possible riser in the AFC.
But that doesn't mean the team doesn't have holes—or at least positions that will need to be shored up. The upcoming season will go a long way towards determining where the main problem areas are, but the biggest areas of concern at the moment are safety, pass rusher, running back and linebacker.
What follows is a list of 10 players (in alphabetical order) who the Bengals should scout for the 2013 draft. Because I expect Cincinnati to be selecting in at least the middle of the first round, I have tried to stay away from some of the draft's top prospects who are expected to go in the top 10.
Montee Ball, Running Back, Wisconsin
Ball isn't going to run away from defenses, but he's big, fast, strong and more than capable of being the bell-cow kind of back that Marvin Lewis covets. With Ball in the backfield and a ball-control quarterback in Andy Dalton, the Bengals could be an offensive force.
Matt Elam, Safety, Florida
Elam is undersized (5'10") but has shown a tremendous ability to affect games, something that the Bengals need. He could be available in the second or third rounds and would be a steal for a team that needs to upgrade the position.
Brandon Jenkins, Defensive End, Florida St.
With 13.5 sacks and 21.5 tackles for loss, Jenkins is definitely the kind of guy who catches the eyes of scouts. While not as big as teammate Bjoern Werner (see below), the 6'3", 250-pound Jenkins is still a force who would instantly make the Bengals' defense better.
Marcus Lattimore, Running Back, South Carolina
Lattimore could end up going too high for the Bengals, but he certainly deserves a look just in case. A threat both in running and catching the ball, Lattimore would improve any team that ends up drafting him.
T.J. McDonald, Safety, Southern Cal
A sure tackler who has shown playmaking ability, the 6'2", 250-pound McDonald fits the mold of what the Bengals need. In a division with Troy Polamalu and Ed Reed, the Bengals could use their own playmaker at the back of their defense.
Barkevious Mingo, Defensive End, LSU
The Bengals have been better at rushing the passer, but they have still not found that player who can take over the game. Mingo could fit the bill, and while he appears to be a little weak in run defense, there is no question about his pass-rushing abilities; he had eight sacks to go along with 15 tackles for loss last year.
Eric Reid, Safety, LSU
A second team All-SEC selection last year, Reid has the pedigree of coming from one of the best defenses in the nation. He tied for the team lead in tackles and added two interceptions. Like McDonald, he could fit in perfectly with what the Bengals need.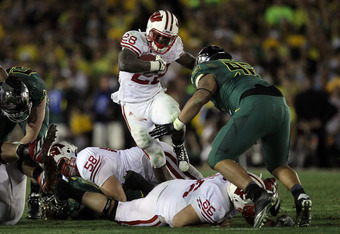 Stephen Dunn/Getty Images
Da'Rick Rogers, Wide Receiver, Tennessee
Rogers is certainly not the best receiver in the class, but thanks to possible disciplinary issues, he could fall into the second or even third rounds and could be a huge steal. With 67 receptions for 1,040 yards and nine touchdowns last year, he's worth watching.
Manti Te'o, Linebacker, Notre Dame
Linebacker could be in flux, despite the Bengals' best efforts to shore up the position over the past few years. Rey Maualuga is a free agent, and with his off-field problems, the Bengals may choose not to re-sign him. Te'o, who had 128 tackles and five sacks last year for the Irish, would be a great replacement.
Bjoern Werner, Defensive End, Florida St.
At 6'4", 273 pounds, Werner is a monster and the kind of guy who can single-handedly take apart an offense. He had seven sacks and 11 tackles for loss last year and even added an interception. The Bengals haven't had a dominating defensive lineman in a long time, and Werner could be the man.