Tampa Bay Buccaneers: Who Is the Best Player in Tampa Bay?
June 28, 2012

Ezra Shaw/Getty Images
Who is the best football player in Tampa Bay?
This question is deceptively hard to answer, largely because the Buccaneers were not a great team last year due to the lack of elite players. This is not to say that there aren't great footballers in Tampa, it just means there is no one in Tampa Bay among the top three in the NFL at their respective position.
To restate the point that I just made, the Bucs did not have any elite players in 2011. 
In free agency, that changed. Seemingly out of nowhere, the Bucs swooped in to add the best left guard in the league (Carl Nicks) and one of the best wideouts in the league (Vincent Jackson).
For the purposes of this article, I will only count players who donned pewter in 2011. My reasoning is simple: Until we see how a player performs as a Buc, we cannot rate him above other Bucs. So even though Carl Nicks may be the consensus top dog, he will be ignored in this article. We do not know how he will do in Tampa Bay, and therefore cannot judge him for his time as a Saint. 
Far too often, it's the system that makes the man, There are numerous examples of seemingly-great players moving to new towns and underperforming. Chad Ochocinco as a Patriot is a pretty recent one. Conversely, think of how much better Drew Brees (is? was?) as a Saint than as a Charger.
Perhaps some of you will say that systems do not apply to offensive linemen, but I disagree profusely with that statement. Each coach uses his own distinct blend of zone-blocking, man-blocking, and combo-blocking, and beyond this, the other players on the line make just as much of a difference. Nicks might have a tougher time opposite Davin Joseph than he did opposite Jahri Evans.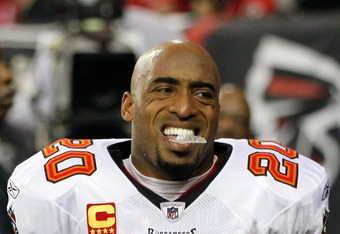 Kevin C. Cox/Getty Images
Thus we ignore those who were not Bucs in 2011.
So, who is the best player in Tampa Bay?
A name that comes to mind is Ronde Barber, mostly because of his past as a top tier cornerback. Key word: past. These days, Barber has slowed down considerably and is missing far too many tackles, so we can cross his name off the list.
Aqib Talib could be brought into discussion, but he had a serious drop off in production last season. He landed too few tackles (34) in his 13 games to make a case for himself.
In fact, I think we can leave out the entire defense. The unit was so terrible as a whole that I can't justify any defender taking the crown of best in town. Even if you want to bring up Adrian Clayborn and his 7.5 sacks, I can just point to the worst rush defense in the NFL. A big part of that awful statistic was the defensive line, which Clayborn is a part of. 
Looking to the offense, we can immediately rule out all skill positions. Not a single tight end, wide receiver or running back played with enough week-to-week consistency to merit a mention. If you really want to make a case for Mike Williams or LeGarrette Blount, Nurse Ratched wants you back in the ward. 
And because of Josh Freeman's 22 interceptions, we have to knock him out, as much as we want to see him improve in 2012. 
We're really just left with the offensive line, where we find two guys who are more than worthy of the title.
They are Davin Joseph and Donald Penn.
Davin Joseph, the right guard, made the Pro Bowl and was solid all season long. 
Meanwhile, left tackle Donald Penn was ranked in the NFL Top 100, a list of the top 100 players in the NFL as voted on by NFL players. 
In this one, I'll give the edge to Donald Penn. He has the better game tape and plays one of the more difficult positions in football. His skills in blocking gave the Bucs a brick wall on the left side of the field, keeping Freeman off the grass as much as humanly possible.
If you disagree with my reasoning, tough.
Just kidding. 
Please, comment below and tell the Internet all about your opinion of who should be named the best.