2012 NHL Free Agents: Could Alexander Semin Be on Detroit Red Wings' Wish List?
June 28, 2012

Paul Bereswill/Getty Images
If Alexander Semin will "most likely hit the market" come unrestricted free agency on July 1, then he should be on the Detroit Red Wings' radar.
After the lack of scoring by the Red Wings in the first round of the playoffs this year (nine goals in five games), the Wings should be (and are) in the market for forward Zach Parise.
But with the Red Wings needing to re-sign Justin Abdelkader and Kyle Quincey, pay for a top-tier defenseman (likely Ryan Suter), sign a back-up goaltender and possibly get bigger in their bottom-six forwards, signing Parise as well might be out of the question when the money figures boil down to it.
Although Parise led his team to the Stanley Cup Finals, his regular season numbers weren't altogether spectacular with 31 goals and 69 points. If he had been a Red Wing this season, he would have led the Red Wings in goals (they didn't have anyone with 30 goals this season).
Parise made $6 million dollars this season, and his performance in the playoffs probably entitles him to a raise.
No Red Wings fan wants to face the unfortunate reality that the Red Wings could lose Parise to someone else. But as plenty of teams are interested in Parise, if it becomes a bidding war to acquire his services, the Red Wings could be forced out of contention.
Right now, Zach Parise is the best unrestricted free agent forward on the market. But the money is still concerning, especially because the average Red Wings fan doesn't see the need for a back-up goaltender or a bigger bottom-six forward when we could sign Zach Parise.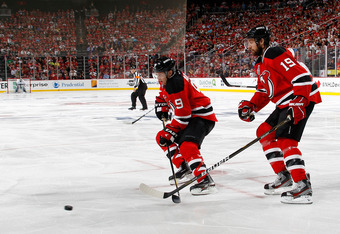 Bruce Bennett/Getty Images
But this is exactly where Alexander Semin could fit in the Red Wings' financial plans if Parise becomes unavailable and signs with another team.
Coming off one of the worst seasons of his career, Semin could be available at a discount.
After the Colorado Avalanche signed David Jones to a four-year deal worth $16 million, they effectively set the bar for other free agents. Detroit could lose Jiri Hudler to free agency if he decides to ask for anything in the neighborhood of the David Jones deal.
Signing Semin wouldn't be cheap; it could be as much as $5 million a season.
For all 54 points that he put up last season, (tied for career low with his injury shortened 2007-08 season) Detroit fans could argue that Parise plays a more complete game and would benefit the Red Wings more often than Semin would.
But seeing as how Detroit desperately needs a sniper (or just someone to shoot the puck) on the power play, Semin could fit better for Detroit than Parise would.
But with the clock ticking until free agency begins and with teams continuing to make trades (and big trades at that) Detroit should join the trade party before one or more of their targets slips out of their grasp.
Signing Alex Semin would take Detroit out of the market for Zach Parise and would ensure that they don't overpay for a forward, while still guaranteeing that the Red Wings got help where they need it most: the power play.
Signing Semin wouldn't be guaranteeing a Stanley Cup, but it would make Detroit a remarkably better team if he could come and play a complete game every night.
That possibility, combined with a lower cap hit, could give Detroit the necessary pieces financially to make the moves they need to make and still be cap-compliant.
What it would cost to get him is under discussion, but each day that passes before free agency starts would seem to make it easier in terms of compensation to acquire the pending unrestricted free agent sniper.
For more article updates, follow Follow @isaacesmith91