London 2012: Why This Olympiad Is Tyson Gay's Last Chance for Gold
June 28, 2012

Christian Petersen/Getty Images
Tyson Gay is desperate for an Olympic medal.
Although he's been one of the most consistently elite sprinters of the last five years, the fastest 100-meter runner in U.S. history has yet to qualify for the finals on the most coveted stage in his sport.
He'll have another chance at the 2012 Summer Olympics in the 100 meters. But there are plenty of reasons why this probably is his last chance.
Time Is of the Essence for Tyson Gay
This August Tyson Gay turns 30 years old. So, that means he'll be 34 years old when the 2016 Summer Olympics roll around.
As great as Gay is right now, age and time are significantly against him. The legendary Carl Lewis may have qualified for the Olympics at age 34 in 1996, but that was for the long jump only.
Lewis' last Olympics as a sprinter occurred in 1992.
Even other great Olympians like Michael Johnson and Maurice Greene didn't compete past their early-30s.
Surely we can expect Gay to compete for a little while after these Olympics, but 2012 is his final opportunity on this kind of stage.
Potential Injury Concerns Limit Events
According to Luke Cyphers of ESPN back in March, Tyson Gay dropped the 200-meter dash from his repertoire:
Gay ended his 2011 season last July when he underwent arthroscopic surgery to repair a torn labrum muscle in his hip. He said that injury is fully healed, but adductor muscle strains and inflammation around his pubic bone have forced him to stop his training twice since November, and his schedule doesn't allow enough time to prepare for both the 100 and 200.
So, Gay is putting all his eggs in one basket, with the 100-meter dash. Combine his age and physical condition, and it's a smart move to focus strictly on the 100.
This also, however, limits his odds for a medal because it's all or nothing without the 200.
And if things don't go as planned in the 100, Gay may be kicking himself for parting ways with the 200. 
Tough Times at the Olympics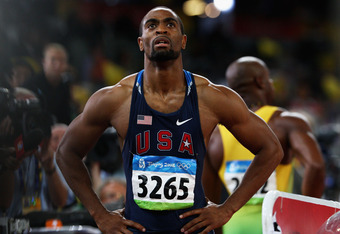 Michael Steele/Getty Images
Unfortunately, Tyson Gay has not seen much success at the Olympics.
In 2004 Gay failed to make the finals at the US Olympic Trials, so, he had to train and wait for four more years before the next chance.
When 2008 happened, Gay qualified in the 100-meter dash and was part of the 4x100-meter relay team for the Beijing Olympics.
There, Gay failed to make the finals in both events and thus remains medal-less.
With hope and optimism in 2012, though, Gay was happy just to make the team. In an article by the Associated Press, via ESPN, Gay said:
"At the end of the day, it was about making the team. I got to make sure I turn this little bit of a frown into a happy face. For me to start training in March and make the team is a beautiful accomplishment."
Looking ahead to these Olympics, Gay's best chance to medal is in the 4x100-meter relay. As a veteran, he'll be competing against younger sprinters, closer to their primes in the 100, so utilizing his speed will benefit Team USA in the relay.
Regardless, let's hope for Gay's sake that he performs well in London.
Follow John Rozum on Twitter.