Cleveland Indians: Moves and Trades They Need to Make to Remain in Contention
June 27, 2012

Mike Stobe/Getty Images
All season long, the Cleveland Indians have been in and out of first place with the Chicago White Sox. It seems like a cat-and-mouse game, and neither team can figure out who is who.
However, with the recent acquisition of Kevin Youkilis from the Boston Red Sox, Chicago has made it clear it expects to win this division and will do what is necessary to make sure that happens.
On top of that, the Detroit Tigers are juggling their wins and losses right underneath the Tribe, waiting to catch fire at any given moment.
The Indians have lost four out of their last five series and at this pace, will be below the Kansas City Royals at season's end. Moves need to be made.
The Indians' Achilles heel this season has been left-handed pitching, and in that department, the offense is dead last in all of baseball. The first thing Cleveland needs to do is address this major flaw in the team.
Move number one: The calling up of first baseman Matt Laporta
Last season LaPorta hit .247 with 53 RBI and 11 home runs. For Triple-A Columbus this season, he is batting .306 with 16 home runs and 37 RBI. His biggest criticism is he just cannot hit major league pitching.
The point is neither can Casey Kotchman.
His line is abysmal. His .226 average does not belong starting on any team, let alone a contender. The Indians signed him because they expected his average to level out near .300 like it did last season.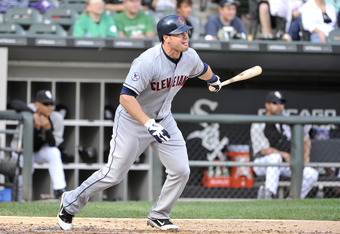 Brian Kersey/Getty Images
LaPorta, even if he never reaches his potential, is a better stick than Kotchman, and in the drought of offense spreading throughout the roster, he needs to be starting at first base as of yesterday.
Move number two: The acquisition of Alfonso Soriano
Again the need to force the issue against left-handed pitching, as well as the need for power and a respectable stick in the Indians order.
Soriano is owed a lot of money over the next two-and-a-half seasons, and the Cubs want nothing to do with that. They are out of contention and are looking to save money. They will pay out most of the contract, leaving the Tribe to pay minimally for Soriano's services.
If they want to win, they have to pay.
Now Soriano is not the best defender, and that is a solid argument until you take a look at Shelley Duncan and Johnny Damon.
It makes no difference in the outfield.
The good thing about Soriano is, with Travis Hafner's often being injured or needing a rest, and Santana swinging and missing like playboys buying drinks, he brings versatility.
He can play outfield. He can DH. He could even play second base if Jason Kipnis needed a day's rest.
He won't come extremely cheap, but the Indians will not have to break the bank for him, either. When Travis Hafner comes back, the Indians lineup would then become respectable: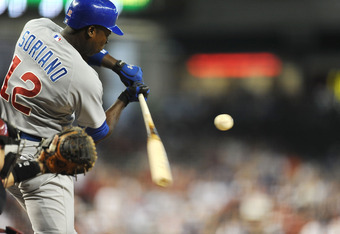 Norm Hall/Getty Images
Shin Soo Choo RF
Asdrubal Cabrera SS
Jason Kipnis 2B
Alfonso Soriano LF
Travis Hafner DH
Michael Brantley CF
Matt LaPorta 1B
Carlos Santana C
Lonnie Chisenhall 3B
I know I have Santana low, but he needs to realize if he doesn't start hitting, the Indians will do to him what they did to Laporta. Not to mention the lowered amount of pressure might help him relax.
The best news is, against left-handers, the Indians now have four right-handed sticks at minimum. Problem solved.
Move number three: They should push for starting pitcher Ryan Dempster
In the same deal that lands Soriano for the Indians.
He is almost done with a stint on the DL for right-lat tightness, but when and if he clears, he and Soriano would do wonders for the Indians.
Dempster this season is 3-3 with 2.11 ERA in 12 starts. He is what the Indians need to solidify their rotation. The Indians rotation has had mixed reviews.
Every starter has shown flashes of brilliance, then thrown it all away the next start.
Jenmar Gomez just will not cut it, and Carlos Carrasco has been out all season long.
Dempster would be a half-season rental to keep the Tribe in contention, and when he becomes a free agent, Carrasco should be healthy again.
If Dempster keeps up the productivity, and Justin Masterson and Ubaldo Jimenez can get hot, the Indians could skyrocket to the top of the division, especially if the offense is scoring on left-handed pitching.
If these three moves can be made, the Indians will without a doubt make it to season's end in contention—if not take the division by storm.