LaDanian Tomlinson: Why Tomlinson's Hall of Fame Preference Is Correct
June 27, 2012

Kent Horner/Getty Images
LaDainian Tomlinson is the latest NFL superstar to retire without a Super Bowl ring on his finger. Tomlinson, who had an incredible 11-year career, totaled 162 total touchdowns and more than 18,000 yards.
Tomlinson is a lock for the Hall of Fame, but he recently turned heads when he appeared on NBC SportsTalk and explained that he is happy with his career and would take the Hall of Fame over a Super Bowl ring.
Do Tomlinson's comments hold any ground? Many people in the media have ripped Tomlinson over the comments, and they all give very solid points, but in reality there is nothing wrong with what Tomlinson said. His feelings makes a lot of sense.
Here is the full quote of exactly what Tomlinson said while on NBC SportsTalk when asked whether he'd rather have a Super Bowl ring but not get into the Hall of Fame, or be a Hall of Famer without a Super Bowl ring:
"Hall of Fame player without a ring, because you've got to sacrifice so much individually just to be good," Tomlinson said. "They draft you individually and you've got to back them up and make them right. I think at the end of the day, even though I didn't win a Super Bowl ring, I felt like I backed them up for drafting me. I backed up the San Diego Chargers for picking me with the fifth pick."
When talented players coming out of college are drafted, they find themselves on a team that is struggling. Tomlinson, who was drafted fifth overall by the San Diego Chargers in the 2001 NFL draft, found himself on a team that had not finished a season above .500 since 1995.
Tomlinson would not appear in the playoffs until the 2004 season, when the Chargers finished with a 12-4 record and the AFC West title. They would eventually lose to the New York Jets in the Wild Card round. They would miss the playoffs the following year but would return to be one the best teams in the NFL in 2006.
LT is not known as a dominant playoff running back. Many Chargers fans still have the image of him sitting on the bench with his helmet and a jacket on as the Chargers fell to the New England Patriots in the AFC Championship.
But should his legacy be tainted because he was never on a team good enough to win a Super Bowl? There are 30 or more men on a football team that all contribute to the team's success. It is unfair to think that Tomlinson did not win a Super Bowl because he was not good enough.
Could he have played better in the playoff games? Could we blame his health? Sure, but when it comes down to it, the San Diego Chargers were never good enough to win the Lombardi Trophy.
Every year men are crowned Super Bowl champions, they could have played every snap or zero snaps—it does not matter. They are still champions and will get to wear their rings with pride.
Currently, rosters are limited to 53 players. If you multiply that number by the number of Super Bowls, you get 2,597 Super Bowl champions. Sure the roster used to be smaller and teams have repeated as champions, but there still are far more NFL players crowned as a Super Bowl champion than players in the NFL Hall of Fame (273).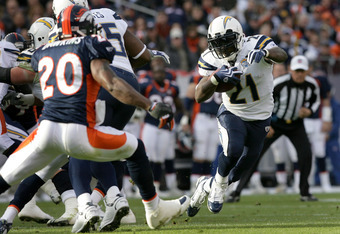 Doug Pensinger/Getty Images
In reality, the NFL Hall of Fame is a much more exclusive club, and like LT, I believe that it is a much bigger achievement.
"You play to win the game!" Many people who disagree with Tomlinson's opinion are using this famous saying to dispute his thoughts.
However, if you ever watched Tomlinson play as a Charger, you know that 100 percent of the time Tomlinson was on the football field, he gave it his all. He wanted to win just as much as the next guy, but like I said before, football is the ultimate team sport, and one player can not win a Super Bowl by himself. 
LaDainian Tomlinson accomplished everything you can as a football player, except winning a championship. Football players destroy their bodies getting ready for the pounding that they will take during the season. They do it because they want to be the best in the NFL.
If players are consistently performing at an elite level, much like LT did, then they have the ability to be voted into the Hall of Fame, which is the highest honor any football player can earn.
Is LT disappointed that he never won a Super Bowl? I'm sure he is, but is he correct in saying that he would not trade being a Hall of Famer in order to win a Super Bowl? Yes, while you play to win the game, you also want to be one the best players who ever played football, and that is exactly what LaDainian Tomlinson is.