Spotlighting the Pittsburgh Steelers' Safety Position Heading into 2012 Season
June 27, 2012

Justin Edmonds/Getty Images
There are two thoughts that instantly spring to mind when considering the Pittsburgh Steelers' safeties: Troy Polamalu and what Ryan Mundy did (or didn't do) in last season's playoff game against the Denver Broncos.
But there's more to the position than that. With four roster spots (and no more than five, at least through the first week of the season) reserved for safeties and seven currently on the team, a battle is about to break out for that fourth roster spot.
So let's take a look at these seven safeties and see what the 2012 season may hold for each of them.
Troy Polamalu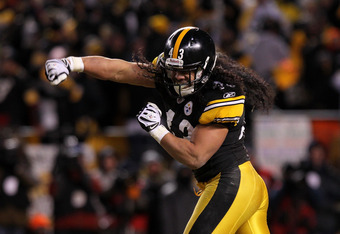 Nick Laham/Getty Images
There's no chance, as long as Troy Polamalu is a Pittsburgh Steeler, that anyone will be challenging him for his starting strong safety job. Polamalu is a future Hall of Famer who has helped build the Steelers' defense into one of the most fearsome in the league.
Yes, he's 31 years old, and yes, sometimes his reliance on speed leads to over-pursuit and missed tackles, and yes, his 2011 season wasn't his all-time best, but those facts do little to diminish his overall importance to the Steelers.
He's even more important this year. With a number of veterans like Hines Ward and James Farrior released by the team in the spring, Polamalu has taken on an increased leadership role. He showed up at this year's OTAs (something he generally does not do) and will likely and gladly serve as a mentor for the team's younger players.
Invaluable in both pass and run defense and unpredictably all over the field, Polamalu has changed the safety position. Who knows how many more years he will play, but we do know he'll be on the field for the entirety of the 2012 season.
Ryan Clark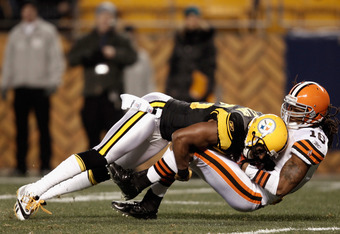 Jared Wickerham/Getty Images
Free safety Ryan Clark led the Steelers in tackles in 2011, with 100, and also added an interception and a sack to his stat total last season. Though he's 32 years old (33 in October), he hasn't yet begun to show his age and should be an effective starter for more than just the next two or three seasons.
Clark won't be able to suit up for the Steelers in their season opener at the Denver Broncos; the dangerous high altitude aggravates his sickle-cell trait (in 2007, playing there caused him to have his gallbladder and appendix removed), and Ryan Mundy will replace him.
Not so quietly, Clark has become one of the most talented free safeties in the league. It's both to his benefit and detriment, however, that he's outshined by the better-known Polamalu. He gets the joys of being underestimated and the lows of being overlooked.
Ryan Mundy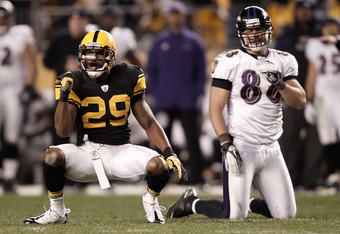 Jared Wickerham/Getty Images
Ryan Mundy is the backup strong safety to Polamalu but also spot-starts as a free safety when Clark cannot take the field. He's solid when it comes to helping out with run defense (and is used situationally in that capacity), but he struggles in pass coverage—a fact which was painfully clear in the Steelers' playoff loss to the Denver Broncos in January.
Mundy is reliable—he's played in all 16 games for the past three seasons—and is a useful special teams contributor. He had 37 total tackles and an interception last year. Mundy will get the start over Clark in Week 1 at Denver but then slip back into his role on special teams and run support.
Will Allen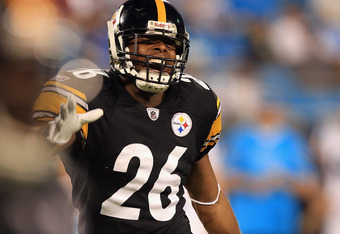 Streeter Lecka/Getty Images
Will Allen's primary contributions are on special teams kick and punt coverage, racking up nine special teams tackles last year. Though Allen would be on the roster bubble on many other teams, his ties with Mike Tomlin (who was defensive backs coach for the Tampa Bay Buccaneers when Allen was there) help him stay safe.
Allen is the front runner to win that No. 4 safety job because of those ties to Tomlin and his seniority in the organization. But the competition will be fierce this summer between him and the three other safeties he'll be battling for the job; if another proves to be a stronger backup and special teams contributor, Allen's time in Pittsburgh could very well be up.
Myron Rolle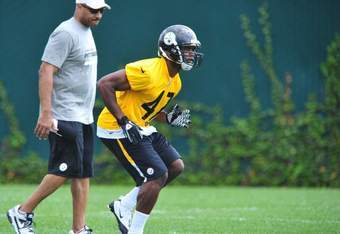 The Steelers extended a futures/reserve contract to safety Myron Rolle, a 2010 Tennessee Titans draft pick and Rhodes Scholar, at the end of January. Rolle has yet to take the field in a regular-season game, spending his rookie year on the Titans' practice squad before being waived at the beginning of the 2011 season.
For Rolle to win a spot on the Steelers' 53-man roster, he'll need to beat out Allen both as a backup safety and on special teams. His intelligence makes it seem like he won't struggle to learn Dick LeBeau's defense, but he may simply be athletically limited. The Steelers could opt to keep him on the practice squad this season.
Robert Golden
Robert Golden is an undrafted free agent who played both cornerback and safety during his college career at Arizona. However, he played safety in just his senior season, meaning that the learning curve is going to be quite steep.
Golden's only chance to make the Steelers' roster this year is if he can prove to be a solid addition to their special teams unit. That's where rookie defensive backs generally get a chance to demonstrate their skills while learning the ropes. 
Da'mon Cromartie-Smith
Continuing the tradition of NFL cornerbacks named "Cromartie" is Da'mon Cromartie-Smith, a 2010 undrafted free agent who has spent the majority of his time with the Steelers on the practice squad (he was activated for four games in 2011 as a special teams contributor, notching three tackles).
With two years learning the Steelers' defense behind him, Cromartie-Smith has more than a passing chance to beat out Allen for the fourth safety job. If Allen should worry about anyone this summer, it's Cromartie-Smith.