NHL Free Agency 2012: A Complete Breakdown of the Pittsburgh Penguins' Plans
June 29, 2012

Paul Bereswill/Getty Images
36 hours.
That's approximately how much time remains before the free agency window will open for NHL teams.
With rumors swirling as to where star free agents Ryan Suter and Zach Parise will land, it seems as though the Pittsburgh Penguins have injected themselves into that conversation in the last week or so, after they dealt away both Jordan Staal and Zbynek Michalek.
Now armed with about $14 million in salary cap space heading into Sunday, Penguins GM Ray Shero has left his options wide open.
Following yesterday's announcement that the Pens had re-signed one of their franchise players in Sidney Crosby to a 12-year mega-deal, Shero can now focus solely on improving this year's team in free agency and, perhaps, he can even use the Crosby extension to lure in other big name free agents.
So what should Ray Shero look to add come Sunday? What voids do the Pens need to fill and which players will be the most effective in doing just that?
Pittsburgh's Needs
Pittsburgh two main needs entering free agency would be adding leadership and a body or two on defense.
When it comes to adding a veteran presence in the locker room, who better than pending free agent Shane Doan?
Christian Petersen/Getty Images
With news surfacing earlier this week that Doan may not be staying in Phoenix, he would be the perfect target for the Pens front office to pursue.
Not only would Doan ooze leadership and experience in the Pittsburgh locker room, but he'd also be a more than capable winger for Pittsburgh second line and powerplay unit, playing alongside Evgeni Malkin.
As for addressing their defensive needs, the first priority for the Penguins should be to re-sign restricted free agent Matt Niskanen, who, over the past few seasons, has shown that he can be an effective pcuk-moving offensive defenseman in the NHL.
The next target for the Penguins is the most obvious of the bunch in Ryan Suter.
After clearing all that cap space and re-signing captain Sidney Crosby to a lengthy extension, you'd have to think that Ray Shero would be extremely disappointed if he wasn't able to land one of the two most coveted free agents on the market.
Since the Pens are pretty much set up front and adding Parise would be more of a luxury, it stands to reason that Suter will be the center of Shero's focus.
It won't be easy for the Pens GM, seeing as Suter has had his name associated with the perennial hockey power Detroit Red Wings, but he certainly has all the necessary weapons to lure the 27-year-old All-Star to the Steel City.
Who the Penguins Need to Avoid
This may come as a surprise to some, but I am of the firm belief that the Penguins need to stay away from free agent winger Zach Parise.
Why on earth would the Pens do that?
Well, the reason is two-fold.
For starters, the Penguins already have all the talent they need up front. Players like Crosby, Malkin and James Neal will provide more than enough firepower up front for the Pens this season.
Secondly, once Sunday rolls around, Zach Parise will undoubtedly command a long-term contract that averages something like $7-$7.5 million per season.
This means that the Pens would be adding a fourth long-term deal worth $5 million or more to their cap (assuming they extend Evgeni Malkin at some point in the next year or so) and all of those contracts would be for forwards.
Eating up well over a third of your cap for the prolonged future on just four forwards may not be the smartest for Shero to make.
Instead, the Pens should look into making a move for 25-year-old winger Bobby Ryan, who has been vocal in his desire to leave Anaheim.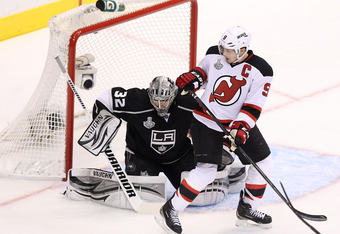 Christian Petersen/Getty Images
He would be cheaper, would not be on the books for the foreseeable future (but he'd be around long enough to help Pittsburgh contend for three Stanley Cups) and has already had four consecutive 30-goal seasons.
Other Goals for the Penguins
Other than going after the big names and filling a few holes on the roster, there are still a few other things that Ray Shero should try and get done.
First and foremost, re-signing veteran forward Steve Sullivan would be a solid move for Pittsburgh, as Sullivan provides some of those intangibles that every team could use.
Even at his age, Sullivan can still be an offensive threat, he can provide leadership and he is a defensively responsible forward. Sullivan is someone the Pens cannot afford to let walk away for nothing.
Finally, Shero should be doing everything in his power to find a team for defenseman Paul Martin and convince Martin to waive his no-trade clause.
While this past season may have only been a bump in the road for the 31-year-old blue liner, his $5 million per season salary takes up a good chunk of Pittsburgh's cap space and he's also taking up a roster spot, preventing youngsters like Simon Despres and Joe Morrow from taking the next step.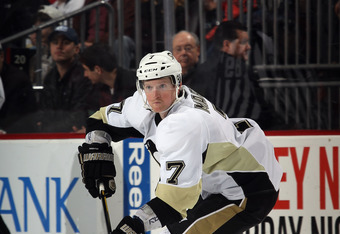 Bruce Bennett/Getty Images
Moving Martin (assuming Shero can land Ryan Suter) would do wonders for Pittsburgh's future and would give Shero the necessary funds to re-sign Brooks Orpik and Kris Letang when the time comes.
Conclusion
While the current Penguins roster is one that is already set to be a contender in 2012-13, there are certainly a few big moves that can be made, as well as some smaller moves that could end up paying dividends both in the short-term and long-term.
Luckily for Pens fans, all signs point to Ray Shero preparing for a move that would send shockwaves throughout the league and make the Penguins instant Stanley Cup favorites.
Whether that move is to bring in Ryan Suter, Zach Parise or Shane Doan remains to be seen.
Thankfully there are just over 36 hours remaining until the speculation will start to subside and questions will be answered.