NFL Offensive Trends and the New Rules to Drafting a Fantasy Team
June 27, 2012

Last season, for the first time in NFL history, three quarterbacks passed for more than 5,000 yards and six crushed the 4,500-yard mark. But it wasn't due to quarterbacks passing the ball significantly more than in the past. In fact, only three quarterbacks attempted more than 600 passes, something that also occurred in 2002 and 1994.
No, more accurate analysis suggests that the top tier of quarterbacks are simply putting up better statistical seasons than ever before in history, and middle-of-the-road quarterbacks' numbers are comparable to good NFL seasons in the 1990s.
In 2009, for example, 18 NFL quarterbacks passed for 20 touchdowns and in 2010, 22 broke 3,000 yards through the air. But in 1999, only nine quarterbacks hit 20 touchdowns and just 12 hit 3,000 yards.
In other words, 40 (touchdowns) is the new 30.
Though league trends tend to ebb and flow with time, there is no doubt an overall trend is pushing passing numbers to the stratosphere for the league's most elite passers.
In 2011, when only 14 quarterbacks matched 20 touchdowns and 20 others tore through the 3,000-yard milestone, six were spectacular, busting 4,500 yards passing and 30 touchdowns.
Does this mean 2012 is the year you draft a quarterback first overall? No, but it does mean Aaron Rodgers and Tom Brady have an argument for being taken in the first round (following Ray Rice, LeSean McCoy, Arian Foster and, arguably, Calvin Johnson). Other quarterbacks should be taken in the late second and early third rounds because if last season was any indication, you're going to want to snag one of the top five for your team.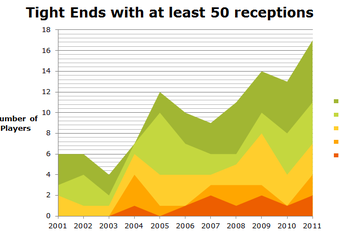 But as you might guess, it isn't only quarterbacks going through change. Tight end is by far the most affected position in memory, skyrocketing in offensive involvement over the past decade. From 2001 through 2011, the number of tight ends with at least 50 receptions nearly tripled (from six to 17) and the number with at least 600 receiving yards more than tripled (from five to 17).
The very best tight ends, who caught at least 90 receptions or broke the 1,000-yard mark (two did it in 2011), didn't even exist in 2001.
Add it up, and you have a new rule for drafting tight ends. Rob Gronkowski and Jimmy Graham are worth a second-round pick, though trouble in New Orleans forces me to suggest waiting until the early third round of your draft to snag the latter. Other tight ends can wait until the fourth or fifth round, where they've traditionally begun leaving the board, but the importance of grabbing a good tight end who will act as a consistent source of receptions and an end-zone threat has never been higher.
Yet, when I discuss fantasy trends, most players limit the conversation to the demise of the running back position. But overall, running back has held steadier than most positions, with one caveat: After charting 20 years of data, I can say that running back has been on a decline since 2006, when 27 running backs handled at least 200 carries. Last season only two broke 300 carries, compared with '06, when 10 did it.
Despite that fact, however, the number of running backs with at least 750 rushing yards is about where it was in 2007 and above the mark set in 2005. Most of the decline is being felt in the top tier of running backs, where it's getting more and more difficult to find a back who will break 1,250 rushing yards.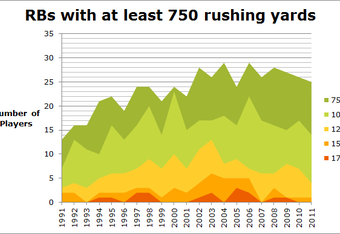 Therefore, if the opportunity presents itself during your draft, take one. Having LeSean McCoy, Ray Rice or Arian Foster is absolutely crucial this season; the NFL simply doesn't have more than a handful of workhorse backs who will touch the ball 300 to 350 times in a season. On the flip side, it has more than enough quarterbacks who will pass for 4,000 yards (10 in 2011) or 25 touchdowns (nine in 2011).
So if you're keeping score at home, here's a recap of the rules:
1. If you're drafting in the top three, take a running back.
After that, calculate your options: Is there a back confident of breaking 1,500 yards from scrimmage and scoring double digits? If not, Aaron Rodgers and Tom Brady present tempting options.
2. After you pick up a running back in the first round, look for a quarterback or elite tight end in the second.
Matthew Stafford, Cam Newton and Drew Brees will all still be on the board and all are better options than a second- or third-tier running back. Similarly, Rob Gronkowski is well worth a late second-round pick and Jimmy Graham presents a terrific option for the third round.
3. If you pick a quarterback in the first round, Round 2 will look much dicier.
You'll need to consider between drafting an elite wide receiver (Larry Fitzgerald is really the only option), elite tight end (Gronk) or taking a flier on a running back. Depending on the backs available, I suggest either of the former two options.
If you don't find the idea of an elite tight end or receiver compelling, as many owners don't, consider point one again. Because while the rules may have changed a bit, a running back is still your best bet in the first round.