Oklahoma Football: Odds Sooners Fall to Big 12's Newest Teams in 2012 Season
June 27, 2012

Mike Ehrmann/Getty Images
The turmoil amongst the Big 12 continued during the offseason, as the conference added two new members, West Virginia from the Big East and TCU from the Mountain West. Both teams bring new styles and—most importantly to Sooner Nation—new challenges to the conference.
Texas Christian
While many OU fans will be quick to brush aside the Horned Frogs, head coach Gary Patterson has notched 77 wins in his last seven years, five more than Bob Stoops in the same time period. They return three of four top receivers and three running backs that all topped 700 yards last season.
It's not offense that has propelled TCU to national prominence, though. Its staunch defense led the nation in yards per game in 2008, 2009 and 2010. Yes, all three years. It had a drop-off last season, finishing 31st nationally with 351 yards per game, but you better believe Patterson will have that group firing on all cylinders come next year.
The Sooners are more talented on both sides of the ball, but TCU will have all season to think about the Dec. 1 matchup in Fort Worth, giving its defense plenty of time to scout the OU attack. Expect a game much closer than you think.
Chance OU loses to TCU: 35 percent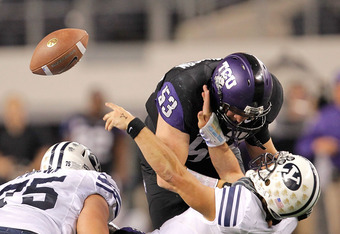 Sarah Glenn/Getty Images
West Virginia
There might not be a team outside the SEC riding as much momentum into next season as West Virginia. After putting an all-time beatdown on Clemson in the Orange Bowl—racking up 70 points on almost 600 yards of offense—the Mountaineers accepted a bid to upgrade to the Big 12 Conference.
Head coach Dana Holgorsen is very familiar with Oklahoma, having spent nine seasons in the Big 12 at Texas Tech and Oklahoma State. The point-scoring wizard returns eight starters to his offense, including his leading rusher and receiver as well as senior Heisman-mentioned quarterback Geno Smith.
Judging by how the Sooners struggled with pass-happy teams last season—three losses to Texas Tech, Baylor and Oklahoma State—the Crimson and Cream will have their hands full with the West Virginia offense.
The Mountaineer defense is a slightly different story, however, returning only six starters from a unit that allowed 353 yards per game in 2011, up from only 270 yards the previous season. A co-defensive coordinator setup doesn't bode well for continuity, so I would expect an all-out shootout Nov. 17 in Morgantown.
A more talented and experienced defense give OU an edge, but home-field advantage will play a major factor for West Virginia, so I give this one a draw.
Chance OU loses to West Virginia: 50 percent