Which Miami Dolphins Are Most Likely to Earn a 2013 NFL Pro Bowl Berth?
June 27, 2012

Marc Serota/Getty Images
During discussions between the NFL and the players' union shortly after this season ended, there were questions about whether or not the NFL would be keeping the Pro Bowl around. The Pro Bowl has been lacking in player's effort causing the public viewership to feel disinterested about the game.
After the player's promised that the game will be more competitive, Roger Goodell announced that the Pro Bowl will continue its run next year, making it its 33rd year in Hawaii.
With the Pro Bowl being scheduled, we'll take a VERY early look at which Dolphins will make a run at making it to Honolulu.
Last year, Miami had three players help the AFC to victory. The most memorable of the trio was former Dolphin Brandon Marshall, who caught six passes for 176 yards and a Pro Bowl record four touchdowns, earning him MVP honors.
The Dolphins have quality talent in the roster this year to send more than three players to Hawaii, but it all depends on how the season plays out for them. These players have the best chance as of RIGHT NOW to make the Pro Bowl next year.
Jake Long
A regular in Hawaii, there is no reason why Jake Long won't make the Pro Bowl again this year. That is, if he stays healthy. Long remains one of the premiere left tackles in the game and can dominate any opposing rusher. He started all 14 games he played in last season and should play a complete season this year.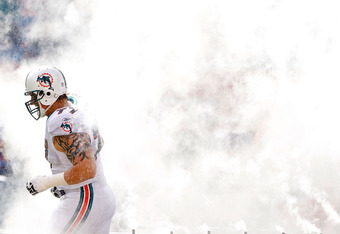 Mike Ehrmann/Getty Images
Long will have a very strong season protecting Miami's revolving door at quarterback and helping Reggie Bush run for a spot to join him in Hawaii.
Reggie Bush
Last year, Reggie Bush rushed for his first career 1,000 yard season, topping his previous high of 581 in his sophomore season. With the new West Coast offense that Joe Philbin is installing, Bush will be used a lot more in the open space, allowing him to rack up more yards—both rushing and receiving. 
Bush will be looking for his first ever Pro Bowl appearance and will really need to have a big season given the amount of talent around the league at the position
Cameron Wake
For the last two years, Cameron Wake has been the best and most consistent defensive player for the Dolphins.
He was a Pro Bowl starter in the 2010-2011 season after he recorded a career high 14.0 sacks in just his second season in the NFL. Wake will be lined up more as a pass rushing defensive end this season, allowing him to rack up sacks and try to reach this number or higher once again.
Wake will also benefit from a solid defensive line that also includes Paul Soliai, Jared Odrick and Randy Starks. Wake will be near, if not at the top of the league leaders in sacks next year.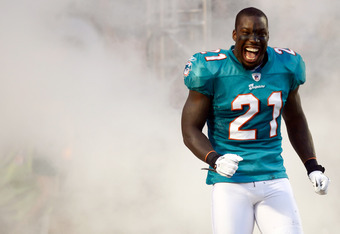 Mike Ehrmann/Getty Images
Vontae Davis
Vontae Davis is due for a breakout year. He has improved every year he has been in the league and this should be the year where he proves that he is capable of being a Pro Bowl cornerback.
He has been linked to Sean Smith from the day they were drafted and many expected them to grow together. They have both improved every season, but Davis is clearly the better and more talented corner.
He will have many chances to prove himself as he will go up against receivers like Santonio Holmes, Andre Johnson, Larry Fitzgerald and A.J. Green.
Paul Soliai 
It will be hard for Paul Soliai to return to the Pro Bowl this season after having a very good season last year.
Miami will be lining up often with a base four defense, which may either hurt or help Soliai, who is considered a nose tackle. He will have an improved Jared Odrick, a solid Randy Starks and a stud in Cameron Wake lining up next to him.
However, Soliai is not a pass rusher and will not rack up any eye opening stats. He will force offenses to double team him, allowing Wake to at times be single teamed, which allows him to rack up sacks.
Soliai will definitely have a big impact on the Dolphins defense, but his production won't be based on stats. Instead, it will be based on how he affects the rest of the defense and the opposition, making it hard for him to convince voters that he is a Pro Bowl player once again.