Baltimore Ravens: What Sets Ray Rice Apart from Other NFL Running Backs?
June 27, 2012

Rob Carr/Getty Images
Baltimore Ravens running back Ray Rice was a dominant factor last season. The fourth-year player out of Rutgers rushed for more than 1,300 yards on nearly 300 attempts and crossed the goal line 12 times.
He is running with great confidence and is showing that he certainly has many productive years ahead of him.
The Ravens just placed the franchise tag on Rice, and contract negotiations are not anywhere close to being done. He wants a deal similar to Tennessee Titans running back Chris Johnson, who will be receiving $56 million over six years.
Despite this setback, Rice is still one of the most dangerous running backs in the league. Time and time again, he has proven why he is a force with which to contend.
Here are a few of the strengths that set the Baltimore Ravens running back apart from the rest.
Size
Standing at 5'8", Rice is one of the shortest running backs in the NFL. He certainly does not let it hold him back, though.
Rice's shorter height allows him to be lower to the ground than other rushers. As he bursts between the tackles, it is more difficult to bring him down because offensive linemen must go further in order to round him up.
Also, because he is down lower, Rice has better vision and can hit lanes that others might not even see. These holes allow him to push through the traffic and burst into the open field, where he displays his ability to outrun any defensive back with his lightning speed.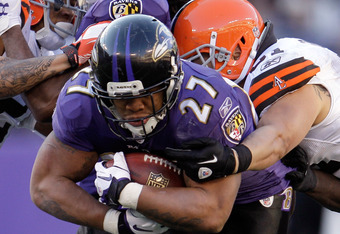 Rob Carr/Getty Images
Ball Security
Over his entire NFL career, Rice has recorded less than 10 fumbles; three of these came in the 2011 season.
However, Rice is known for having hands like glue. He is always covering the ball with two hands and lowering his head as extra protection as he attacks the lanes between the tackles.
Even when he squirts through or bounces to the outside into the open field, Rice keeps an eye out for lurking defensive players ready to punch the ball out from behind. He also holds the ball high and tight against and in front of his body, minimizing chances for a turnover.
Dual Threat
If nothing else sets the Baltimore Ravens running back apart from the rest of the field, it is certainly his dual-threat ability coming out of the backfield.
As noted before, Rice led the team in rushing, with more than 1,300 yards. His ability to grind between the tackles or take it to the outside are outstanding and make him a dangerous force for defenses to bring down.
Rice also has great hands. He was second on the team with 76 receptions behind wide receiver Anquan Boldin. His versatility allows him to sneak out from behind the quarterback, line up out wide or even in the slot.
This makes it difficult for opposing teams to match up with him because they never know from what angle or position the Ravens star will be coming from.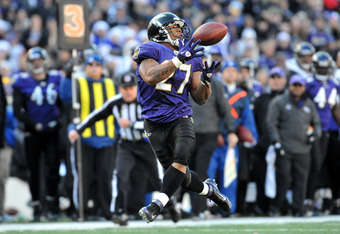 Larry French/Getty Images
Fitness
Due to the struggle to hammer out a long-term contract, Rice has missed OTAs and may miss the beginning of training camp. This is a vital time for fitness and to work on team chemistry.
With many of the starters returning on offense, Rice should have no problem edging back into the flow of things with the offensive unit he is used to lining up behind.
Fitness, however, could be another story. Luckily for Baltimore, Rice is a workhorse, and he's one of the most durable and fit running backs in the league.
The former Rutgers player recently posted a video (h/t Blogs.BaltimoreRavens.com) of one of his workout sessions, in which he was running a set of bleachers with two kegs above his head and a weighted vest. It also has been reported that he has benched more than 400 pounds and squatted more than 500 pounds.
His endurance will certainly be tested as he heads into his fifth year and will be expected to carry more of the load than in past seasons. Rice will show he still has it in him, and that he can and will outwork anyone on the football field.