Are You Kidding Me? MLS Does Not Want Nesta
June 26, 2012

Marco Luzzani/Getty Images
This one is hard to figure out. On one side of the coin you have a 36-year-old defender who is one of the greatest of all-time, if not the greatest (even if other greats may have won more trophies). He is more than willing to come and continue his career in the United States in Major League Soccer. He loves it here and spends much of his free time away from the pitch at his home in Florida.
Italy's Alessandro Nesta is more dominant than Fabio Cannavaro, MVP of the 2006 World Cup and subsequently the FIFA World Player of the Year.
He helped his first club Lazio win the Scudetto (Serie A title) in 2000. It was its first Scudetto since 1974.
Moving on to AC Milan in the summer of 2002, Nesta continued by helping the Rossoneri win the Scudetto in 2004 and 2011. The club also won the 2003 and 2007 UEFA Champions League, the 2007 FIFA Club World Cup. Sadly, he missed most of World Cup 2006 due to injury even though he was regarded as Italy's top defender entering the tournament.
He also won a number of individual honors. Perhaps Nesta's biggest claim to fame is one many forget.
The magnitude of the strength of his partnership with fellow legend Paolo Maldini in the center of the AC Milan defense allowed then-coach Carlo Ancelotti to try an experiment that was certainly risky given that the Rossoneri don't settle for anything but top results.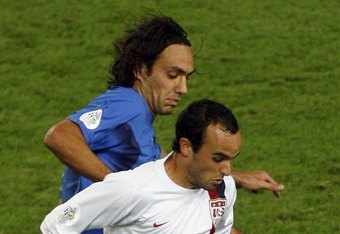 Michael Steele/Getty Images
Ancelotti was able to insert current legend Andrea Pirlo into a defensive midfield position even though he was a player with offensive-minded skills and was considered at the time a very weak defender.
The experiment worked over time as Pirlo improved defensively while still bringing a new dimension in his play-making abilities from just in front of the defense. AC Milan won two Champions League titles and could have won a third had it not been for a loss in a penalty shootout with Liverpool in 2005.
Nesta announced in May that after a decade with the club he would be leaving AC Milan. He immediately had offers to play for a number of teams, including current Serie A champion Juventus.  Plenty of other sides in Europe also offered contacts.
But Nesta made it clear he was open to moving to the United States.
However, as of this weekend, he says he has received no offers. 
"I don't have a shot to play in MLS," Nesta told Goal.com. "I tried to play [in the league] but I never received any offers."
It has been suggested that perhaps Major League Soccer clubs are looking for goal scorers instead of defenders as "designated players."
But any sports fan knows that championships are won through defense.
A quick look at any YouTube video exploiting Nesta's highlights as a defender would show one that his level of play is nothing short of spectacular.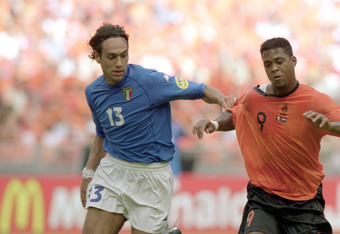 Graham Chadwick/Getty Images
One theory for MLS not wanting Nesta could be that his dominance might influence shutouts, which league officials might fear could in turn cause fans to lose interest in watching scoreless matches.
MLS has made great progress in recent years in bringing in top talent from around the world. Rejecting a chance at bringing in one of the greatest ever would be a major setback.
One can only hope this gets resolved quickly. If it doesn't Nesta will either return to Europe or simply retire and the game will lose one of its greatest players.