NHL Trade Rumors: Acquiring Roberto Luongo Would Be Terrible Move for Panthers
June 26, 2012

Harry How/Getty Images
The Florida Panthers won the Southeast division title this past season, earning their first playoff berth in over a decade. With things finally starting to come together, acquiring Vancouver Canucks goaltender Roberto Luongo via trade this summer would be insane.
According to Aaron Portzline of the Columbus Post-Dispatch, there's one team that Luongo would waive his no-trade clause to go to.
Only place Luongo is willing to be traded, as of today, is back to the Florida #Panthers.

— Aaron Portzline (@Aportzline) June 25, 2012
Top goaltender prospect Jacob Markstrom is not far away from being a quality NHL starter and could probably begin the season as the No. 1 goalie on the Panthers' roster.
Florida isn't a team that normally gets close to the salary cap, so why would they take on one of the worst contracts in the sport? Luongo's current contract has a $5.33 million salary cap hit until 2022, and he will be over 40 years old when that deal finally expires.
If the Panthers trade for Luongo, they will eventually have the same problem the Canucks have now, plus they already have a younger and arguably more talented goalie who needs to play.
The Panthers will likely have to give up a lot of value to acquire Luongo, who in all honesty is still an elite goaltender despite his recent playoff struggles. Giving up top prospects like Jonathan Huberdeau would be foolish, and young NHL players such as Erik Gudbranson should also be untouchable.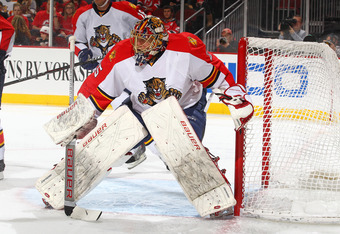 Al Bello/Getty Images
Not trading for Luongo and making Markstrom the starter of the present and future is the cheaper plan for the Panthers, and it's also the smartest course of action. It makes sense in every way.
If Luongo is determined to veto any trade outside of the Panthers, then it's likely he'll be playing in Vancouver next season, and probably not as the starter.