Jeremy Lin: What Knicks PG Must Do to Turn N.Y. into NBA Championship Contender
June 26, 2012

Chris Chambers/Getty Images
If the New York Knicks do get to keep the Bird rights of Jeremy Lin after the league appeals last week's ruling, on paper, the Knicks will look like one of the teams to beat in the NBA next season. That is, if Lin can handle the pressure of being the point guard of one of the better teams in the league for an entire 82 game season.
There's a lot he will have to do in order to turn the Knicks into championship contenders.
On paper, the Knicks should be very good. A starting five that could potentially consist of Lin (if re-signed), Iman Shumpert (when healthy), Carmelo Anthony, Amar'e Stoudemire and Tyson Chandler should be one of the better five-man units in the game.
In addition, Mike Woodson's club should be very deep. In addition to Landry Fields and Steve Novak, who can be re-signed, the team has the option to bring back J.R. Smith. It can also now afford to add a backup point guard and a big man, plus whoever they select with the No. 48 pick in Thursday's draft.
But that's all on paper, as the Knicks will have a lot of work to do in order to improve from the team that was only the No. 7 seed in the East in 2012. It all starts with Lin and what he needs to do in 2013.
Chemistry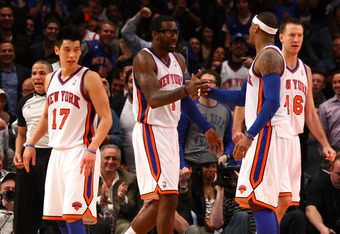 Chris Chambers/Getty Images
Chemistry has been an issue between Anthony and Stoudemire, as well as between Stoudemire and Chandler.
Lin will have to keep everyone happy and make things work.
What people fail to realize is that the Knicks' projected starting five was only the 19th most-used combination of the season last year, so a full training camp can hopefully get things heading in the right direction. 
Reel 'Melo In
If Anthony thought there was pressure in the Big Apple before, wait until next season.
Now that LeBron James has won a ring, the pressure will be on 'Melo to now perform. He will hear a lot about how he's lost in the first round in eight of nine seasons.
When the pressure begins to mount, Lin can't allow 'Melo to try and play hero ball. If 'Melo tries to carry the team, similar to what LeBron was able to do in the postseason, the Knicks won't be any better than they were in 2012. 
Value the Basketball
That's especially true in crunch time, as Lin had as much chance of turning the rock over as the Knicks did at executing on the offensive end.
He's still young, and it's a lot to ask of him to become a pure point guard overnight. But he's the one driving the car, and he must put more stock in valuing the ball. The good news is that he can correct the turnover problems with experience.
In addition, bringing in a veteran point guard can only help Lin's development. 
Reel Himself In 
It was nice when Lin was able to carry the Knicks, but that came when Anthony and Stoudemire were missing time with injuries.
His job is different now.
Everyone saw how Russell Westbrook was criticized in the NBA Finals for not being the pure pass-first point guard. Lin has to show more Steve Nash to his game and less Westbrook. 
New York should have enough scorers on the floor; Lin's job is to put them in the best position to have success. He will get his shot opportunities still, but when he takes them, he has to knock them down. 
Ignore the Hype
This shouldn't be a problem, as Lin is as humble as they come, but there will be a ton of hype around him. People will expect Linsanity and view him as the savior of a franchise that hasn't won a title since 1973.
Nothing could be further from the truth. Lin doesn't need to save anything. He needs to quarterback what looks to be a talented offense on paper. He needs to be a great decision-maker and keep things simple.
It's a lot to ask a young kid who has 25 starts under his belt, but if Lin can accomplish a lot of this, the Knicks could be dangerous in 2013.