US Olympic Track Trials: New Olympian Ryan Bailey Won't Be a Nobody for Long
June 27, 2012

Christian Petersen/Getty Images
Justin Gatlin, Tyson Gay and Ryan Bailey are going to the London Olympic Games.
As the nation—and much of the world—watched last Sunday's 100-meter finals at the US Track and Field Trials, a tangible, collective double-take followed the announced order of finish.
Gatlin? No surprise there. His well-documented comeback is already up and running.
Gay? Second place seems about right, considering his accelerated rehab from two recent surgical procedures.
Bailey? You could hear the rustle of pages as the crowd turned to their Trials programs for more information.
Not that Ryan Bailey is a nobody.
But it won't be long before the world (through the mainstream media) discovers the world-class sprinter that Ryan Bailey is, and that he too, brings an interesting backstory to the table.
Bailey's formative years are marked with the life of a vagabond, moving from town to town across the Oregon countryside, often sleeping on the floor, or living in a car.
His single and disabled mom did what she could to provide, but with no father figure and a stepfather behind bars, Bailey lacked guidance and stability.
Gangs, truancy and trouble filled the void.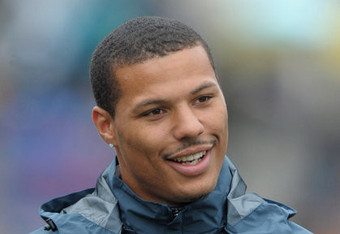 After eventually landing at McKay High School in Salem, social studies teacher and track coach John Parks accidentally overheard Bailey's private but verbal challenge to the existing school sprint records. Parks invited Bailey to prove it—on the track.
But Bailey was into football and considered track a bit nerdy.
In time though, Bailey did venture to the track. Parks, stopwatch in hand, recognized his potential and a bond gradually formed between the two. Over months, it finally gelled into a true father-son relationship.
Now, armed with Parks' positive influence, it was about this time that Bailey realized the futility of gang activity and he broke from many of his old negative patterns.
By the time Bailey was a senior—and on the same track (at Hayward Field) where he earned his ticket to London—he became the state 100 and 200-meter champion. Then during that summer, he broke the McKay and state high school records in the 100 (10.42) and 200 (20.13).
Because of poor grades, Bailey was not able to get a Division I scholarship, so he enrolled at tiny Rend Lake college in Ina, Illinois—a miniature track mecca. There, he established a new national junior college record in the 100 (10.05).
In late summer 2009, Bailey accepted a contract with Nike and turned pro.
Bailey then called on the expert services of sprint coach John Smith (think Maurice Green, Carmelita Jeter, Walter Dix).
Much of Bailey's obscurity may be due to injury, which kept him out of action most of last year.
At 23, and still a bit rough around the edges in his start phase, Bailey's upside is immeasurable. He has a personal best of 9.88, clocked in Rieti, Italy in 2010. His 9.93 in the Trials final is currently No. 8 in the world.
His physique is comparable to Usain Bolt's—about 6 feet 4 inches and 215 pounds.
Bailey will likely be doing double duty in London as anchor on the 4x100 relay team. With his strong closing speed he has already helped two relay teams achieve times of 38.39 and 38.47 this year.
But, perhaps his most dangerous attribute? An overcomer's heart.
And a believing mom. Since 1998 his mother, Debra Galban, has kept an Olympic coin, believing that someday her son would be an Olympian.
I wonder if she's given it to him yet?

Sources: Kerry Eggers, Portland Tribune, June 29, 2008
              Ryan Goldberg, New York Times, April 23, 2010