NHL Free Agency: Why Boston Bruins' GM Peter Chiarelli Must Make a Big Move
June 26, 2012

Bruce Bennett/Getty Images
The Eastern Conference grew startlingly more competitive over the weekend in the 2012 NHL entry draft.
The host Pittsburgh Penguins improved themselves in the first round with two elite defensemen in Derrick Pouliot (eighth overall pick) and Olli Maatta (22nd overall).
The Philadelphia Flyers made like their intrastate rivals, who swapped Jordan Staal to Carolina for the Pouliot pick, by shedding some of their offensive surplus, namely James van Riemsdyk, in exchange for defense in Luke Schenn.
That deal means a valuable injection of offense for the Toronto Maple Leafs, who also took on blueliner Morgan Rielly with the fifth overall draft choice.
A revamped Toronto squad combined with a consistent, healthy lineup for the likes of Buffalo and Montreal will make for a more formidable Northeast Division in the coming campaign. Similar stories for the likes of Tampa Bay and Washington could make for more conference-wide gridlock than in 2011-12.
And the circuit's reigning regular season champions from Manhattan do not exactly figure to retract, especially with young scorers Derek Stepan, Carl Hagelin and Chris Kreider coming back from a learning experience.
Okay, the point ought to be tucked in tightly now. The Boston Bruins need to get in the game of shoring up their roster this summer if they expect to remain certifiable favorites in the next divisional and conference derby.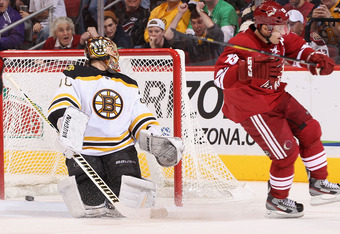 Christian Petersen/Getty Images
But there is one relatively simple way to ensure that task is met.
After meticulously keeping the remaining core from the 2011 Stanley Cup championship intact, save for goaltender Tim Thomas, general manager Peter Chiarelli's priority should be collecting a free-agent forward.
With Thomas officially tradable, though highly unlikely to bring much of a return package, Chiarelli is in a favorable position to swell up the Bruins' cap space to $8,877,857. That ought to be enough to compose a new contract with heir-apparent goalie Tuukka Rask and to bring on at least a one-year rental on or after July 1.
Of the pending free agents set to be turned loose on Sunday, there are multiple options that bear an enticing set of criteria to fill the Bruins' checklist in one clean sweep.
There are a handful of relatively inexpensive veteran forwards who can be lured to Boston on the grounds of one more crack at a cup and contribute to the top six and power play, the two areas most in need of improvement.
In other words, somebody who can replace virtually everything that was lost when Mark Recchi retired last summer.
Ray Whitney is coming off a cap hit of $3 million and a team-leading campaign with the Phoenix Coyotes. The 40-year-old winger tallied 24 goals and 53 assists in the regular season with an 8-12-20 log on the power play.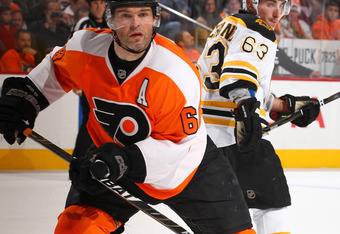 Al Bello/Getty Images
Whitney, who won a cup with Recchi as teammates on the 2006 Carolina Hurricanes, is reportedly anything but certain to return to the Coyotes in spite of a pleasantly surprising run to the Western Conference finals.
Another 40-year-old former cup-winning teammate of Recchi's, Jaromir Jagr, has had his name passed around the Bruins' press corps of late.
In his return from Russia this past season, Jagr cost only $3.3 million to give the potent Flyers 54 points and an 8-12-20 power-play production log identical to Whitney's.
The 41-year-old Teemu Selanne came at a cap hit of $4 million in the final year of his soon-to-expire contract with the Anaheim Ducks. He earned that income with a team-best 66 points, including 12 goals and 16 assists on the power play.
Selanne has hit double digits in both the goal and assist column on the power play in each of the last four seasons. And while reports have him looking to re-sign with the Ducks, Chiarelli must leave no pucks unturned.
Selanne's now-former teammate, Jason Blake, could also be helpful, but is much less promising in terms of meeting the Bruins' needs. He has never been an elite scorer and his recent health history, combined with Anaheim's expressed lack of interest in re-signing him, might as well be a "stay away" sign for Chiarelli.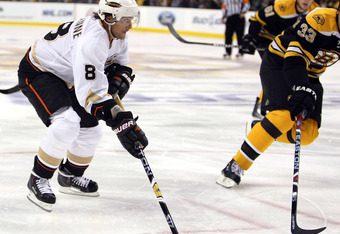 Elsa/Getty Images
But the likes of Whitney and Jagr, among others, are both radiant invitations for the Bruins to address their short, but vital list of offseason needs.
Even if it is just for 2012-13, they must enlist a hungry and capable veteran who can relieve such younger guns as Milan Lucic of unrealistic expectations and reignite the incentive throughout the dressing room.
After all, the Penguins, Flyers, Rangers and Leafs, just to name a few, are sure not going to slow down and egg Boston on to keep up.
Chiarelli has taken admirable care to retain as much key personnel from his championship core as he can. But that will ultimately not mean much if he does not make the right import to ensure his club's status as long-term, bona fide contenders.