Monday Rams News and Notes at Noon
June 25, 2012

Dilip Vishwanat/Getty Images
Welcome to St. Louis Rams "News and Notes at Noon," the hottest spot for Rams junkies to score their daily fix. 
I'll be filling in for Shane Gray as I kick off the week for you. As I mentioned last Thursday, it's the slowest time of the NFL year, but lucky for you, there's never a dull day in Rams Nation. 
Billy Devaney on ESPN 101 With Bernie Miklasz 
Billy Devaney was recently in the news for an appearance he made on Seattle AM radio, where he discussed the problems he witnessed during his time as general manager from 2009 to 2011. 
The former Rams GM, who is now unemployed in the NFL after accumulating only 10 wins in three years, is not done gossiping about old times.
Devaney joined Miklasz on his radio show earlier in the afternoon and can be heard on the ESPN 101 website.
During Devaney's interview with Seattle, he mentioned that he could sense the impending doom during training camp, and everyone assumed he was referring to last season's camp. But on Bernie's show, he actually made a correction and insisted that he was referring to the 2009 team's training camp.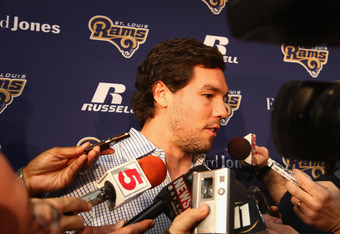 Dilip Vishwanat/Getty Images
Generous Sam 
If you're an Oklahoma Sooner student athlete and you enjoy quality food, then you're thankful for Sam Bradford's recent $500,000 donation. 
According to an article from ESPN, the Rams quarterback donated half a million to the university, which will be used towards the construction of the Headington Hall residence. 
The new dining facility will be called "The Sam Bradford Training Table" in Bradford's honor. 
The donation was a way for Bradford to show his appreciation for what the university has done for his career. As most people know, Bradford was drafted No. 1 overall in 2010 and signed a $78 million rookie contract.
Coaches Feeling Good About Saffold's Return
Rodger Saffold was arguably the best rookie offensive lineman of the 2010 season, but he regressed in 2011 and missed the final seven games of the season with a torn pectoral muscle. 
According to a report from Pro Football Weekly, coach Jeff Fisher feels that Saffold is performing up to par and will be cleared for training camp health wise.
"We're just holding back the contact. He's very, very close to being cleared — definitely for camp."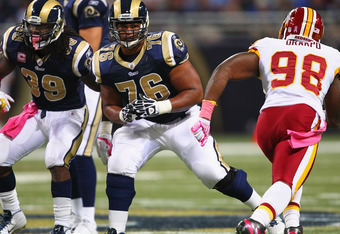 Dilip Vishwanat/Getty Images
The Rams surrendered an NFL-high 55 sacks last season, so Saffold's ability to regain his rookie form on the blindside is absolutely vital for the offense. 
Walter Joins the Sheep
As some of you may remember from the "News and Notes" I did last week, I mentioned ESPN's John Clayton and his 4-12 prediction for the Rams in 2012. 
Well, it looks like Walter agrees with Clayton. 
In a preview article on WalterFootball.com, they also have the Rams finishing with a 4-12 record. And while that might not be horribly inaccurate through the eyes of an outside observer, the reasoning is flawed. 
Here is a glimpse into his argument:
It definitely doesn't help Bradford's cause that the front office failed to find a No. 1 wideout for him. St. Louis spent top-100 selections on receivers Brian Quick and Chris Givens, but both are rookies and cannot be counted on...

Making matters worse, Steven Jackson is all but done. Almost every single running back in NFL history has seen a sharp decline in production after 2,100 career carries.

The linebacker position is a mess. James Laurinaitis, manning the middle, is a very good player, but there are nothing but no-talents surrounding him... If McIntosh can't play well, it'll be up to 2010 undrafted free agent Justin Cole, who has never played a single defensive snap in his professional career. 

The free safety position will be a battle between the anemic Darian Stewart and third-round rookie Trumaine Johnson. 

 
So you heard him right...
The Rams didn't find Sam Bradford a No.1 receiver because they're not allowed to count the 6'4" receiver they drafted (Brian Quick) or the Pro Bowl veteran (Steve Smith) who happens to be healthy again. 
And like he says, to make matters worse, star running back Steven Jackson is done. No evidence supports that; it's just "because".
Also, he mentions how there's nothing at the linebacker position without even mentioning Mario Haggan. He goes on to mention rookie Justin Cole, who isn't even the best rookie linebacker on the team.
And then, in what universe was Darian Stewart "anemic," is it the same universe where Trumaine Johnson plays safety? 
Walter seems to be attacking the talent on the roster, but that was far from the problem last season. If talent was the problem, then the Rams would not have been consistently picked as the division favorites leading up to the season. 
The problem was injuries and poor execution (or coaching), which he seldom mentions in the entire piece. 
Rookie Week Tours St. Louis
As mentioned in my "News and Notes" last week, the Rams kicked off Rookie Week with a bowling event for special needs children as well as a youth football camp. 
According to StLouisRams.com, the Rams continued Rookie Week with a tour of the city.  
In order to get the rookies more acclimated with their new home, they visited various tourist attractions throughout the city, such as the Goody Goody Diner, the City Garden, the Candy Kitchen, the Magic House and Pi Pizzeria. 
Some of the notable rookies in attendance included Brian Quick, Chris Givens, Janoris Jenkins, Isaiah Pead and Trumaine Johnson.