NBA Offseason: How to Rebuild the Portland Trail Blazers
June 25, 2012

Jonathan Ferrey/Getty Images
Oh, what could've been.
That's been in the air around Portland's Rose Garden for the last five seasons, as their beloved Trail Blazers, once one of the most promising teams in the NBA, disintegrated.
Knee injuries to All-Star Brandon Roy and number-one draft pick Greg Oden effectively ended their careers and the potential for a new "Big Three" that would finally get a snake-bitten franchise over the hump.
With the sixth and 11th picks in Thursday's NBA Draft, Portland has been rumored to be looking to move into the top five. But the overhaul of the Trail Blazers goes beyond simply retooling the roster. Having gone through three general managers from 2007-2012, and now with an unproven coach in Kaleb Canales (who took over for the ousted Nate McMillan at midseason last year), Portland is in need of a total remodel to make themselves a playoff contender again.
Issue 1: General Manager
Portland has already rectified this by bringing in former Clippers exec Neil Olshey a couple weeks ago. As the Oregonian's John Canzano noted in his June 20th article, "Some critics say he benefited greatly from simply having been present when the NBA dumped Chris Paul in his lap." 
I haven't heard enough about Olshey to really form an up-or-down opinion, but having been in Portland for over 20 years now, I have a guess of what sort of GM the Blazers need and what they don't.
They don't need another "yes man" for billionaire owner Paul Allen, and they need someone who understands the city for what it is.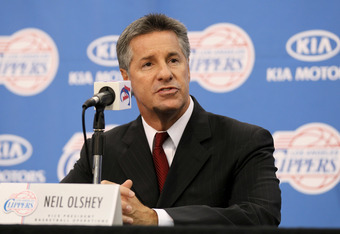 Stephen Dunn/Getty Images
Let me be clear. Portland is a fantastic little city in the northwest. You have friendly people, a nice atmosphere (250 days of rain not withstanding), a marginally low cost of living by comparison to other NBA cities, and above all, a rabid fanbase that appreciates hard work and discipline almost as much as they do success.
As seen during the dreaded "Jail Blazer" era of the late 90's, Allen and then-GM Bob Whitsitt swung for the fences to capitalize on the teams' NBA Finals run at the start of the decade. Yes, Damon Stoudamire, Rasheed Wallace, Bonzi Wells and Jermaine O'Neal could play, but off the court their conduct was such that they alienated even the most hardcore Blazer fans.
In NBA terms, Portland is a "small market," maybe one or two steps removed from Sacramento, Golden State, or Milwaukee. Yes, Paul Allen has deep pockets, but even that only goes so far.
They're also not too far removed from San Antonio. A team which figured out how to thrive despite having neither deep pockets or mass marketability. 
Hopefully, Olshey will be a guy who sees Portland and the Trail Blazers for what they are, a team that is going to have to do it the hard way. The days of throwing money at big name free agents are long gone under the new salary cap model, and Allen himself said he has no interest in paying the luxury tax anymore.
Olshey's job is to make Portland attractive to whatever quality free agent talent they can get, which is easier said than done.
Issue 2: Head Coach
Nate McMillan wasn't a terrible coach during his time in Portland. In a situation where the team and front office crumbled around him, he was essentially the scapegoat last season.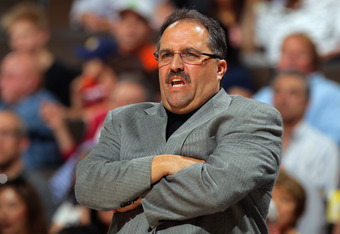 Doug Pensinger/Getty Images
With Mike D'Antoni and Stan Van Gundy also getting the sack, the logical assumption is the Blazers would pursue either of them to take over the bench duties.
By the end of McMillan's tenure I'd heard chatter in the post-game locker room that he'd "lost the players." And considering D'Antoni was let go as the Knicks were still basking in Lin-sanity and Stan Van got the heave-ho by Dwight Howard, is there any guarantee that either guy would somehow unite Portland's locker room?
Which brings us to Kaleb Canales, the 34-year-old interim coach Portland currently has. He finished last season with an 8-15 record, along with losing a good chunk of his underperforming roster in trade deadline deals. He comes off as a nice guy and doesn't take himself too seriously, but my fellow press-row colleagues and I couldn't help but joke during his first few games that he looked like the kid at the end of Big walking to his front door in Tom Hanks' oversized suit.
Canales is also an unknown commodity, much in the way Erik Spoelstra was when he arrived on the scene in Miami. The one gaping exception is Portland doesn't have three Hall of Famers on their roster and a solid supporting cast the way the champion Heat do, so there's far from any guarantee that the Blazers can replicate that sort of success.
If I had to flip a coin between either Van Gundy or D'Antoni, I think I'd have to go with Van Gundy. Yes D'Antoni's offense is more flashy and up-tempo, but given the issues Portland has had with injuries over the last five seasons, a run-and-gun style is a risky proposition at best. There may be nights where they win big, but it could also end up putting a percentage of the roster on the injured list for who knows how long.
Van Gundy seems to be a bit more defensively minded, which was helped by having a beast like Dwight Howard in the paint. But given the skills of LaMarcus Aldridge on both ends of the floor, if he can stay healthy and the club works out a deal to keep 6'9" PF J.J. Hickson, it might be the sort of nucleus a guy like Van Gundy could utilize to positive effect.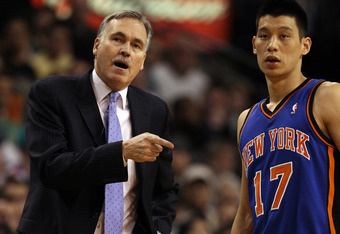 Elsa/Getty Images
Issue 3: Roster
Okay, we get it. Brandon Roy had grannie's knees and Greg Oden was a more brittle Sam Bowie. Tell us something Portland fans haven't heard before.
The combination of Roy, Aldridge, and Oden was supposed to be the anchor of a team that would reach its prime this season. Sadly, and for reasons which may never be fully made clear, it didn't happen, and the fans have been forced to accept that.
If there is a bright side to the situation, it may be this. Before Greg Oden, there was Sam Bowie, taken number two (over some guy you've heard of who went to Chicago and did pretty well) in 1984. Over the next five seasons he also proved brittle enough that he was eventually shipped off to the New Jersey Nets and NBA obscurity.
By that time, however, the Blazers had found a legitimate successor in unheralded seven-footer Kevin Duckworth, as well as having a starting five that included Clyde Drexler, Jerome Kersey, Terry Porter and Buck Williams.
Portland also went to their first NBA finals since 1977 that year, losing in five to the Detroit Pistons. They'd go back in 1991-92, losing in six to the Bulls (and that guy I mentioned before. Not him, the pretty one.)
Right now, the Blazers have Aldridge, Hickson (provided they can keep him), Nicolas Batum, and a lot of spare parts that are either old or underdeveloped. They MUST get younger at center, because having 39-year-old Kurt Thomas and a worn out Joel Pryzbilla just isn't going to cut it.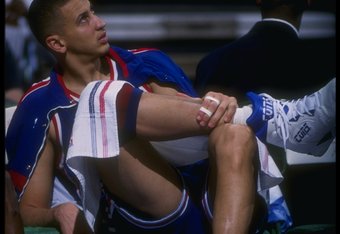 Layne Murdoch/Getty Images
They also have question marks at the one and two. Raymond Felton (a.k.a. the Cream Puff in the Blazers' Media Lounge) somehow survived the trade deadline purge last season, despite being considered one of the worst disruptors of the team's chemistry. Backup Jonny Flynn showed flashes of potential, but with Eliot Williams missing all of last year due to injury, a more proven commodity may be needed to run the floor.
Wesley Matthews was never intended to be the main shooting guard, but had to step up with Roy missing so much time. He's a hard worker and has the right attitude most nights, but his execution is just not there consistently enough in both shooting and passing.  More than once, I've seen him throw an up court pass that was more Nuke Laloosh than D-Wade, leaving fans and pundits scratching our collective heads wondering what he was even aiming at.
The rumor mill in the city has the Blazers leaning towards 6'3" PG Damian Lilliard or 6'5" SG Jeremy Lamb with the sixth pick (provided they don't deal it.) There is also the tempting idea of getting J.D. Sullinger from Ohio State, who wasn't even invited to the draft and isn't seen as a top-15 pick. But with a similar body in Hickson at the four, and seeing what happened the last time Portland picked a big name Buckeye, would they really be smart to go there again?
I've always wondered what the harder piece of a championship team is to fill, the first or the last? The Portland Trail Blazers are far from a playoff team again, let alone a finals contender. We'll see how they look after Thursday's draft, but at this point they really have nowhere to go but up.