What If...the Washington Redskins Hadn't Hired Mike Shanahan?
June 25, 2012

Patrick McDermott/Getty Images
When the Washington Redskins hired Mike Shanahan to take over for Jim Zorn two offseasons ago, they were probably hoping to see their win total increase a little more substantially than it has. After going 4-12 in Zorn's last year, Shanahan and new general manager Bruce Allen have won only 11 games in their first two years in office.
But when you consider the state of that 2009 team that was molded by Zorn and Vinny Cerrato and compare it to what Shanahan and Allen have in place right now, it's easy to see significant progress.
Obviously, there's Robert Griffin III, whose ceiling is stories higher than Jason Campbell's. They've also cleared mega-bust Albert Haynesworth from the books while adding a potential pillar left tackle in Trent Williams and a superb complementary pass-rusher in Ryan Kerrigan. Additionally, they've deepened the talent pool at receiver, running back and defensive end.
Of course, there have been hiccups. Shanahan and Allen rolled snake eyes on Donovan McNabb, and the team was docked $36 million in cap space for front-loading contracts in the summer of 2010. Both errors delayed the rebuilding process.
Pinning the second mistake completely on this regime is like blaming Obama for debt based on checks signed by Bush, but it's still safe to place at least part of the blame on them for disobeying league orders and getting caught. This franchise could really use that extra $18 million in 2012 and 2013.
But let's pretend the 'Skins didn't land Shanahan back in January of 2010. Maybe Daniel Snyder goes in another direction in a stubborn attempt to maintain power, or maybe Shanny simply decides that burgundy isn't his color. 
What kind of shape would the team be in right now? Would they have RG3, or would they still have a void at quarterback while at least possessing first-round picks in 2013 and 2014? And if that were the case, what would they have done with their top two picks this past April?
Maybe they don't trade away a second- and fourth-round pick for McNabb, but maybe they also fail to unload Haynesworth in exchange for a fifth-round pick.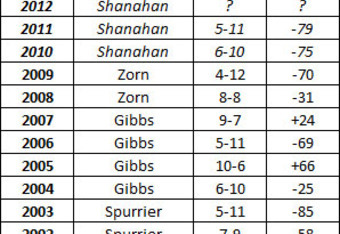 The jury's still out—especially in 2012—but I'd argue that, under those circumstances, Redskins fans couldn't have asked for better draft results the last three years. Shanahan and Allen had only two picks in the first five rounds in 2010, but they still managed to add two quality starters in Williams and Perry Riley. 
What's more, there's a decent chance that their first five picks of the 2011 draft—Kerrigan, Jarvis Jenkins, Leonard Hankerson, Roy Helu and DeJon Gomes—will be in the starting lineup this season. The two picks that followed—Niles Paul and Evan Royster—are also key contributors.
Talent evaluation was never Shanahan's strong suit, so maybe they've just lucked out or maybe Allen has been a bigger factor than we realize. Or maybe Shanny's just killing it as he gets older and wiser. 
But what if Snyder had instead lured Brian Billick or Pete Carroll? What if Jim Haslett had taken over not just the defense, but the entire team? They also could've gone with a hot coordinator candidate such as Mike Zimmer or Leslie Frazier.
I can't envision any of those coaches gambling on McNabb, but I don't think I can envision any of them lobbying Snyder to sell the farm, the truck and the family dog in order to land Griffin. No one really knows how significant of a role each front-office cog played in those franchise-shifting decisions, but there's a good chance that without Shanahan on board, the 'Skins don't have Kerrigan or Griffin and instead have Jake Locker, Blaine Gabbert, Christian Ponder or Ryan Tannehill running the show at quarterback right now.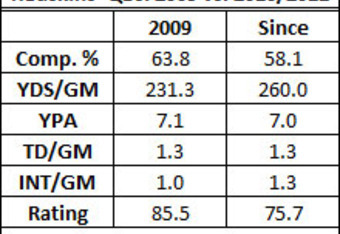 Because without McNabb, they probably draft a pivot early in 2011. And with a pivot going early in 2011, Kerrigan doesn't get selected 16th overall.
And without Shanahan and his son Kyle making their mark on the offense, would there be this much promise in the running game right now? Helu, Royster and Tim Hightower give the 'Skins one of the deepest running back depth charts in football. When Shanahan took over, Rock Cartwright and Quinton Ganther were the top two backs in town. Seriously.
Despite the injuries in 2011, they've become much more lethal since 2009, and that's before replacing Jason Campbell/Donovan McNabb/Rex Grossman with RG3.
I'm guessing that the majority of Redskins fans are able to look past the lack of improvement in the standings and some embarrassing mistakes (what was with that McNabb contract extension midway through the 2010 season?) and realize that Shanahan was the best man for this job. 
Of course, his fate is now tied to the future, which often looks more promising than reality reveals. If Robert Griffin III doesn't succeed, then neither will Shanahan. And it's at that point when we'll be left wondering if they'd have been better off with a guy like Billick.