Nathan Adrian to Become Fan Favorite at USA Swimming 2012 Olympic Trials
June 25, 2012
Nick Laham/Getty Images
In the past ten days, Nathan Adrian has acquired 411 Twitter followers. That is an impressive number of Followers in itself, yet that number brings up his grand total to more than 7,000. If you think that is a fast following, just wait until he hits the water in this week's USA Swimming Olympic Trials.
Hundreds of swimmers from around the country have made the pilgrimage to Omaha, Nebraska, where dreams are turned into possible realities and sacrifice pays off. On the other hand, it is also where training and previous performances count for nothing as one bad race sends a swimmer packing with the note, "four more years." Some swimmers are not even lucky enough to get that, as age is often a factor.
For Adrian, "four more years" would not be as devastating as that would put the sprinter at a ripe 27 years. Not exactly peak, but not veteran. But for Nathan and the rest of the swimmers, an encouraging pat on the back is not what they swim for. They swim to win the chance of competing in the Olympics. Not the next one, but this one.
USA Swimming released the official psych sheets earlier this week as swimmers made their way to the pool a few days ahead of competition to familiarize themselves with the aquatic center, the media, and the competition. According to the psych sheets, Adrian has nothing to worry about should he perform as consistently as he has the past few years. He is seeded at the top of each of his events, ahead of the likes of Michael Phelps and Cullen Jones. He holds Phelps with a .03 lead in the 100 meter freestyle and bests Jones with a .47 second margin. He holds the National Championship titles for both events as well as won them multiple times in the various Grand Prix series.
With his times and placement at the top solidified over recent years, it seems the only way Adrian would miss his chance at another Olympic medal is if an unanticipated disaster happens. An equipment or wardrobe malfunction would be terrible, but Adrian had proved he is capable of working past such incidents and winning despite the circumstances. At the 2012 Indianapolis Grand Prix, Adrian's suit tore on the blocks, yet he won the race anyway. His maturity and concentration showed in his effort and he took the mishap in stride.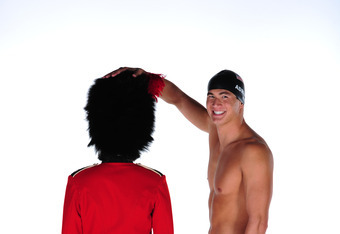 Harry How/Getty Images
While most of the attention so far has been on the ever present friendly rivalry between Phelps and Lochte, this athlete who swims under the radar is sure to emerge as a fan favorite for reasons inside and outside the pool. His performance in the water is noteworthy in itself, but his infectious personality will certainly capture audiences as well. The Bremerton, Wash. native swam four years of NCAA competition for Cal and has just completed his undergraduate degree in Public Health with department honors. The former student-athlete joins the rank of fellow swimmer Natalie Coughlin as a Berkeley grad and Olympic gold medal winner for his part in the 4X100 meter relay in the Beijing Olympics. In addition to helping the California Golden Bears win the 2011 NCAA Swimming National Championship, he continues to help the team to this day by training with them under swimming coach, Dave Durden. His presence in the pool has pushed teammates to perform their best and the camaraderie made in his competitive years remains there today. Even as his competitive years are over, Adrian still swims exhibition races at Cal's home swim meets, treating Cal and visitor fans alike with spectacular races in friendly fashion. Whether it be for an international championship or collegiate dual meet, Adrian thrills audiences no matter what.
Despite his busy schedule of multiple training sessions a day, Adrian still manages to have a somewhat normal life, much of which he shares on Twitter. A huge fan of the hashtag, his tweets usually have lengthy subnotes that make Followers laugh. His tweets frequently make it to USA Swimming's Tweets of the Week as well as NBC Sports' similar competition. The yoga enthusiast shares his difficulties in being a professional athlete and student, jokes with mansionmates, and the perils and complications involved in cooking recipes. The self described "kid at heart" will certainly be one to watch during this week's trials and most likely in the 2012 Olympics.