Lakers Trade Rumors: LA Must Trade Pau Gasol for Andre Iguodala to Secure Future
June 25, 2012

Marc Serota/Getty Images
LA needs plastic surgery.
The Los Angeles Lakers can't go into the 2012 campaign with the same core that the Oklahoma City Thunder trounced in the Western semifinals. Jim Buss and Mitch Kupchak must make moves if they plan on orchestrating one last championship push in the Kobe Bryant era.
Dealing for Deron Williams is their best option, but if he chooses to sign with the Dallas Mavericks or Brooklyn Nets like ESPN's Mark Stein reported, then that solution would be eliminated. Los Angeles' next best option is to swap Pau Gasol for Andre Iguodala.
John M. Mitchell of the Philadelphia Inquirer reported that Pau and Iggy's names continue to surface in trade rumors, and this time, they're in the same one.
Now, trading Gasol for Iguodala and calling it an offseason would be asinine. But if the Lakers set up a deal to immediately follow such a swap, it would take the team to another level.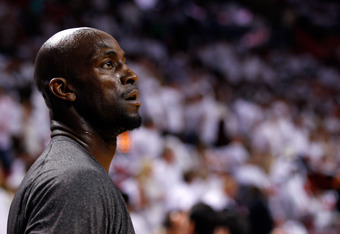 Mike Ehrmann/Getty Images
Earlier this offseason, Stephen A. Smith told Mark Willard on 710 ESPN that Kevin Garnett is a realistic signing if the Lakers rid themselves of Gasol. While KG is a shell of his former self at 36 years old, he still averaged 15.8 points and 8.2 boards last season. And with only the mid-level exception to spend, LA wouldn't find a more impactful player in free agency.
A forward combination of Iguodala and Garnett is a major upgrade to Gasol and Metta World Peace. First off, Iggy and KG are superior defenders to Pau and World Peace. But on top of that, they're a much better fit alongside Kobe Bryant and Andrew Bynum.
World Peace is literally useless on the offensive end.
When Kobe or Bynum are double-teamed and the ball swings to the small forward on the floor, Los Angeles needs a player capable of making the defense pay. While World Peace recorded a pitiful 29.6 shooting percent from downtown last season, Iguodala shot 39.4 percent. And unlike World Peace, Iggy is a phenomenal ball-handler and an elite finisher at the rim.
Garnett isn't necessarily an upgrade to Gasol on the offensive end—he doesn't boast Gasol's scoring ability down on the block—but the Lakers don't need two dominant low-post scorers.
LA ran into chemistry problems in the playoffs because Bynum and Gasol both need their touches. Not only would KG allow Bynum to be the man on the offensive end, he would never, never let him loaf like he did throughout the postseason.
Iguodala and Garnett would not only improve the Lakers as individuals, but they'd make everyone around them better as well.
David Daniels is a featured columnist at Bleacher Report and a syndicated writer.