Arsenal Transfer Rumors: Under-the-Radar Players on Whom Gunners Must Pass
June 25, 2012

Stu Forster/Getty Images
Arsene Wenger has been able to bring some talented players to Arsenal this season.  However, there are some players he should avoid.
As Arsenal closes in on finishing Olivier Giroud's contract (according to ESPN Soccernet), the team's attention needs to shift towards the defensive positions.
In order to do so, Wenger needs to stop tracking the following players: Hatem Ben Arfa of Newcastle, Fernando Llorente of Athletic Bilbao and Jose Salomon Rondon of Malaga.
There is not enough need nor enough room for Ben Arfa, Llorente or Rondon.
According to Daren Lewis of the Mirror, Ben Arfa has displayed interest in Arsenal because he believes he will not secure much playing time with Chelsea, the team that had been scouting him first.  
Arsenal does not have a place for Ben Arfa, and he would only see time on the bench, as he would be competing against Podolski, Giroud, Van Persie and Oxlade-Chamberlain.
Arsenal has good depth at the striker position with Giroud, and Podolski will be a dynamic winger and create scoring chances to alleviate some pressure from Robin Van Persie, who was the team's leading goal scorer last season.
Alex Oxlade-Chamberlain had a great performance in Euro 2012 and will most likely receive more playing time up top for Arsenal .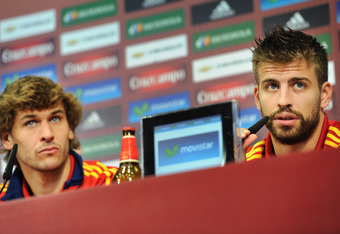 Jasper Juinen/Getty Images
As of now, Van Persie will be staying with Arsenal, and the team does not have room for the Newcastle star; this is according to Wenger who spoke to Corriere Della Sera (via the Telegraph).
Simon Jones of the The Daily Mail has reported that Llorente is eyeing a move to Arsenal and the Premiership, but there has not been much recent news to support that claim.
Llorente's price tag of £28million is far too steep, especially for Arsenal. He is a good striker but not good enough for Arsenal to sign at that price.
If Van Persie leaves Arsenal, then that might be the right time to sign Llorente, but until anything happens, Arsenal should focus on signing a strong midfielder and remaining content with the present strikers.
Finally, Chris Beattie of TribalFootball.com reported that Wenger has been trying to sign Venezuelan striker and Malaga star Rondon.
Now, Chelsea has entered the scene and that will make this deal harder for Wenger. 
Rondon is a young striker who does not command too high of a price, but a bidding war may erupt with Chelsea, and Wenger might have to pay far too much. 
Wenger should stay with acquisitions he has signed thus far and focus on finding some strong defensive players to bolster the Arsenal back-line.